Entertainment One will be bringing the remake of the horror classic Night of the Demons to Blu-ray just in time for the Halloween celebrations on October 19, 2009.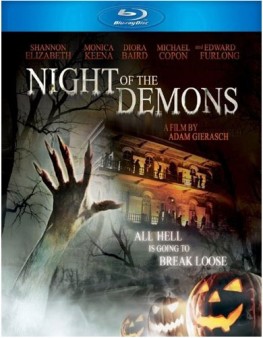 Starring Shannon Elizabeth (American Pie, Wes Craven's Cursed), Edward Furlong (Terminator 2: Judgment Day, American History X) and Monica Keena (Freddy Vs. Jason, Undeclared), Night of the Demons "tells the terrifying tale of a group of friends partying on Halloween night at New Orleans' notorious Broussard Mansion.  When they discover a horrifying secret in the basement and unleash the wrath of blood-thirsty demons, all hell breaks loose.  Infused with a fast-paced, in-your-face punk rock attitude and dripping with gruesome body parts, gory demonic transformations, terrifying special effects and copious nudity (along with a truly twisted take on demon sex), NIGHT OF THE DEMONS is a sexy, gory remake not be missed!"
The Blu-ray features DTS-HD Master Audio and English SDH subtitles for the deaf and hard of hearing. The disc will retail at a suggested retail price of $24.98 and will be available October 19, 2010.
[amazon-product]B003VE9WO2[/amazon-product]