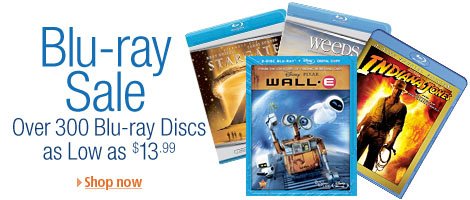 Amazon has launched a new discount Blu-ray promotion on over 300 Blu-ray releases. The online retailer heralds prices as low as $13.99, but keen shoppers will notice many titles priced even lower, with titles such as Total Recall and Stargate, priced as low as $9.99.
Some other popular Blu-ray titles available in the offer are Wall●E, Transformers, Vicki Cristina Barcelona, Iron Man, No Country for Old Men, and The Chronicles of Narnia: The Lion the Witch and The Wardrobe.
The offer ends March 22nd and the offer is only good while supplies last, so prudent shoppers are advised to hurry if they want to get that title they've been holding out for at a great price!
Amazon Blu-ray Sale