PBS Distribution has announced they will be bringing their three-part documentary series on the impact and development of comic book heroes top Blu-ray and DVD on October 15, 2013. Superheroes: A Never-Ending Battle will start airing on PBS stations on October 15 at 8 PM and will be released to disc the same day. The 180 minute series will sell on Blu-ray at a SRP of  $29.99 and on DVD at a SRP of $24.99. See below for details on the series and its individual episodes.
"SUPERHEROES: A NEVER-ENDING BATTLE"
TRACES THE DEVELOPMENT OF COMIC BOOK HEROES AND THEIR POWERFUL LEGACY
Available on DVD and Blu-ray from PBS Distribution October 15th
Airs on PBS Tuesday 0ctober 15th Starting at 8pm
Hosted and Narrated by Liev Schreiber
("X-Men Origins: Wolverine," Showtime's "Ray Donovan"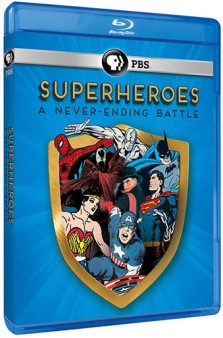 Arlington, Va. – September 17, 2013 – PBS Distribution today announced it will release "SUPERHEROES: A NEVER-ENDING BATTLE" on DVD and Blu-ray. This is the first documentary to examine the dawn of the comic book genre and its powerful legacy, as well as the evolution of the characters that leapt from the pages over the last 75 years and their ongoing worldwide cultural impact. It chronicles how these "disposable diversions" were created in large part by the children of immigrants whose fierce loyalty to a new homeland laid the foundation for a multi-billion-dollar industry. In the next generation, comic books were subject to intense government scrutiny for their influence on American children, and superheroes triumphed over that challenge to become an influential part of our national identity. Among the notable on-camera talents in the film are Stan Lee, Adam West, Lynda Carter, Pulitzer Prize winners Michael Chabon and Jules Feiffer, and interviews with the late greats Joe Simon (co-creator of Captain America) and Jerry Robinson (who helped create the Joker).
"SUPERHEROES: A NEVER-ENDING BATTLE" will be available on DVD and Blu-ray October 15, 2013. The run time of the program is 180 minutes. The DVD SRP is $24.99 and the Blu-ray SRP is $29.99. The program will also be available for digital download. DVD and Blu-ray bonus features include The Marvel Super Heroes themes performed by songwriter Jack Urbont, and additional interviews with Adam West, Stan Lee, Joe Simon, Lynda Carter, Jerry Robinson, and more!
"A show about superheroes needs a superhuman force to lead it; Liev Schreiber was perfectly cast as Sabretooth in 'X-Men Origins: Wolverine,' and he is the perfect host for this series," said Michael Kantor, filmmaker behind "SUPERHEROES: A NEVER-ENDING BATTLE" and president of Ghost Light Films. "Liev's commanding presence takes us through 75 years of heroes and villains –both in print and in real-life– as well as the multifaceted, multimedia industry whose characters continue to enthrall Americans and fans all over the world. We promise that after watching this series, no parent will ever dare to throw away their kid's comic books again."
The three episodes that make up "SUPERHEROES: A NEVER-ENDING BATTLE" are detailed below.
"Truth, Justice, and the American Way" (1938-1958)
During the Depression, the popularity of dozens of superhero characters opens the door for a new generation of artists and writers. World War II creates a patriotic fervor for star-spangled adventurers to represent the American spirit at war and on the home front, but in the 1950s, superheroes are caught in the fire of government scrutiny and regulation. When the thrilling "Adventures of Superman" is broadcast on the new medium of television, America's first and greatest superhero leads the entire comic book industry to renewed strength.
"Great Power, Great Responsibility" (1959-1977)
In the 1960s, a new breed of superhero emerges in the pages of Marvel Comics, inspired by the age of atomic energy and space travel and, in turn, inspiring the pop culture and Pop artists of the time. Spider-Man, the Hulk, and others are the first to have "problems" with which an adult audience can identify, and contemporary social issues make their way into comic books. Black powerhouses such as the Black Panther and Luke Cage appear on the scene and the pages of "Green Lantern/Green Arrow" explode with relevant storylines, as comic books are forced to confront the reality of an increasingly complex world.
"A Hero Can Be Anyone" (1978-Present)
This episode captures the enthusiasm for superheroes as they are embraced in all forms of media and by all demographics, beginning with the historic "Superman" movie featuring Christopher Reeve as the Man of Steel. In 1986, Batman is overhauled as The Dark Knight to reflect the nocturnal underside of his character, and "Watchmen" brings new sophistication to comic book narratives, illuminating a violent and politicized world. In the burgeoning new millennium, superheroes have taken over popular culture with feature films, television shows and video games complementing a new generation of web-based comics that bring superhero adventures to every corner of the world.
Based on "SUPERHEROES: A NEVER-ENDING BATTLE," a new book, Superheroes!: Capes, Cowls, and the Creation of Comic Book Culture by Laurence Maslon and Michael Kantor will be available on October 1, 2013 from Crown Archetype, a division of Random House. This stunning companion volume tells the story of the superhero in American pop culture, featuring interviews, character biographies, and over 500 illustrations both essential and rare.
[amazon-product]B00EE8AIV0[/amazon-product]