In an early announcement to retailers Warner has revealed they will be bringing the Sci-Fi horror thriller Splice starring Adrien Brody, Sarah Polley, and Delphine Chaneac to Blu-ray+DVD+Digital Copy Combo Pack on October 5, 2010 at a suggested retail price of $35.99.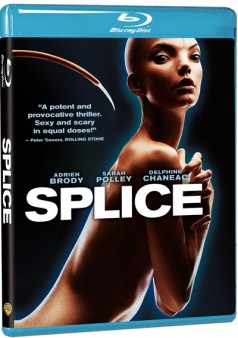 Technical features will include a 1080p 1.85:1 encoding, English DTS-HD Master Audio soundtrack, Spanish Dolby Digital 5.1 with English SDH and Spanish subtitles.
The Blu-ray comes the special feature, A Director's Playground: Zoom in on the innovative filmmaker on the global cult sensation Cube as he and his creative team explore new movie making territory.
[amazon-product]B003EYVXT6[/amazon-product]