Walt Disney Studios has announced the details for the forthcoming, January 25, 2011 release of the inspiring film Secretariat, on Blu-ray Combo Pack, DVD, and Digital Download. Secretariat will be available in stores nationwide as a 2-Disc Blu-ray Combo Pack (Blu-ray + DVD in a single package) for the suggested price of $39.99 U.S./$44.99 Canada and a 1- Disc DVD for the suggested price of $29.99 U.S./$35.99 Canada. Technical specifications for the Blu-ray include a high definition 2.35:1 encoding, English 5.1 DTS-HD Master Audio, English DVS 2.0 Dolby Digital, French 5.1 Dolby Digital, Spanish 5.1 Dolby Digital sound with  English, English SDH, French & Spanish subtitles.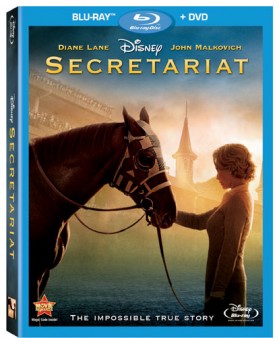 Bonus features include:
BLU-RAY:
The same as the DVD, plus…
Choreographing The Races – This piece looks at how director Randall Wallace and the filmmakers used innovative tools and technology to accurately and excitingly recreate the Triple Crown races that make the viewer feel like they are standing on the backstretch themselves.
A Director's Inspiration: A Conversation With The Real Penny Chenery – Director Randall Wallace sits down with Secretariat owner Penny Chenery to review the movie and some of the key scenes. Penny reflects on what it was like to have been a woman in a male dominated sport and to have been part of horse racing's most exciting moments in history.
Audio Commentary By Director Randall Wallace – View the film with optional audio commentary from Director Randall Wallace.
Deleted Scenes With Optional Audio Commentary By Director Randall Wallace – The same deleted scenes as the DVD, plus four more…

Alternate Opening
Introduction
"Are You A Golfer?"
No Time To Rest

Secretariat Multi-Angle Simulation – Relive Secretariats triumphant 1973 Preakness race by viewing the race from a number of perspectives as well as listening to commentaries from fans, announcers and even the jockey who rode Secretariat to their record finish.
DVD:
Heart Of A Champion – This feature takes a look at one of the most famous thoroughbred horses ever known. Secretariat was a horse with style as well as amazing speed and an unsurpassed racing record. We interview all the key players from the day as well as today's filmmakers to learn more about the horse affectionately called "Red."
Deleted Scenes With Optional Audio Commentary By Director Randall Wallace
Director IntroductionMemories
Seth Joins The Team
Too    Soon T o  Celebrate
Music Video – AJ Michalka "It's Who You Are"
EST :
The same as the DVD, plus…
Choreographing The Races
FILM SYNOPSIS:
Disney presents an astonishing true story bursting with hope, heart and courage. Diane Lane and John Malkovich lead a celebrated cast in this inspirational motion picture from the producers of Miracle, Invincible and The Rookie.
Behind every legend, lies an impossible dream. Witness the spectacular journey of an incredible horse named Secretariat and the moving story of his unlikely owner, a housewife who risked everything to make him a champion. Out of the gate with never-before-seen bonus features, Secretariat is hours of pulse- pounding entertainment for the whole family!
[amazon-product]B004DK5CYM[/amazon-product]