Palm Pictures has announced they will be bringing the highly successful and sexually charged Spanish film, Sex and Lucía to Blu-ray in the United States this October 12, 2010 at a suggested retail price of $29.98. Press release below: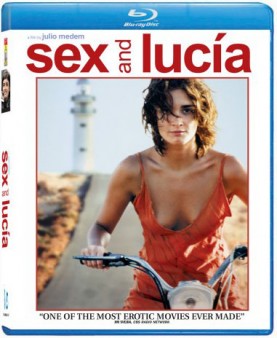 PALM PICTURES ANNOUNCES THE LONG-AWAITED BLU-RAY RELEASE OF THEIR MOST SUCCESSFUL FOREIGN FILMS OF ALL TIME
SEX AND LUCIA
– Debuting on Blu-Ray October 12, 2010 –
"Blissful…seething with eroticism and gorgeous visions…"
– Chicago Tribune
"Brilliant in every respect, 'Sex and Lucia' is a rich, rewarding journey.
The most wondrous love story in years…"
– Film Threat
"The sexiest, most voluptuous film I connected with…"
– Entertainment Weekly
New York, NY (August 31, 2010) – One of the most highly acclaimed foreign films of all time makes its anticipated Blu-ray debut almost eight years after its initial release on DVD. Palm Pictures presents SEX AND LUCIA, a daring, evocative look at elusive relationships and deep bonds between people who thought they were strangers.  This critically acclaimed film by one of Spain's most recognized and honored directors, Julio Medem stars Paz Vega (Talk To Her, Seven Pounds, Spanglish). SEX AND LUCIA comes to Blu-ray on October 12, 2010 for an SRP of $29.98.
"As soon as it was over, I wanted to watch it again immediately –
and not just for the volcanic lovemaking…" – The Washington Post
In Sex and Lucía, Lucía is a young waitress in Madrid, who seeks refuge on a quiet, secluded Mediterranean island after the loss of her longtime boyfriend.  Amidst an atmosphere of fresh air, dazzling sun, and glistening deep blue water, Lucía begins to piece together the dark corners of her past relationship. The film is enthralling at every level with its the labyrinthine plot, the breathtaking cinematography and the erotic passion of the players in this love story.
"One of the most erotic movies ever made"
– Jim Svejda, CBS Radio Network
In the film, Julio Medem successfully crosses the taboo of erotic passion that American films never dare to touch.  His depiction of sex goes beyond the typical baring of only the female body, and audiences encounter bold and erotic images of both sexes' anatomy. Medem's insistence on not censoring the film for its U.S. run presented complications in advertising the theatrical release.  Shockingly, Seattle's two daily newspapers banned advertising for Sex and Lucía, even though the film received four honors at the 2002 Seattle International Film Festival.
Special features on the Blu-ray include:
Behind the Scenes of Sex and Lucia
Cast Interviews
Photo Gallery
Soundtrack Excerpt
Cast Biographies
Theatrical Trailers
About Palm Pictures
Palm Pictures (www.palmpictures.com) is an integrated audio/visual entertainment company that develops, produces, and acquires the best in music, film, videos, animation, and visual art for distribution across multiple platforms.  Founded in 1998 by entertainment visionary Chris Blackwell, Palm is one of the most forward-thinking entertainment companies in the industry today.  The company focuses on home entertainment and new digital technologies for music and video production and distribution — providing consumers with groundbreaking new entertainment experiences.
# # #
SEX AND LUCIA BLU-RAY
Street date: October 12, 2010
SRP: $29.98 (Blu-ray)
Running time: 128 minutes
Not rated
[amazon-product]B003VMFWW0[/amazon-product]