With Sony already in the throes of their much ballyhooed worldwide coverage of the FIFA World Cup in 3D, which we reported right here on Blu-rayDefinition, next week will mark another first in the burgeoning 3D at home market, again with Sony taking the lead.
On Tuesday, June 22, Sony Home Entertainment is set to release the Blu-ray 3D version of their smash hit animated film, Cloudy with a Chance of Meatballs. The title will become the first FullHD 3D Blu-ray to make it to market as a stand-alone release uncoupled from an exclusive bundling deal with expensive 3D hardware.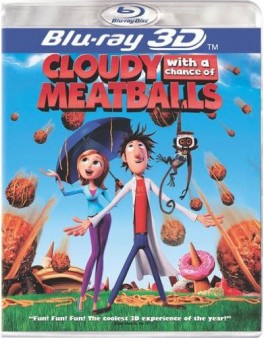 Additionally, Sony will be rolling out their 3D HD televisions and showing off all their 3D gear at the upcoming CEA Line Shows in NYC next week, where members of the press will also be able to get a glimpse of Sony's 3D broadcast of the FIFA World Cup. Blu-rayDefinition will be in attendance to not only bring you coverage of Sony's offerings, but other attendees as well.