Universal Studios Home Entertainment have revealed the specs for the Blu-ray and DVD releases of Battlestar Galactica Season 4.5 and a first look at the Battlestar Galactica: The Complete Series artwork. The two highly anticipated sets are due for release on July 28th, 2009.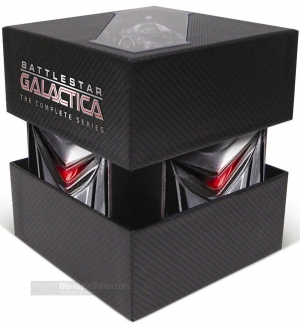 Battlestar Galactica Season 4.5 on Blu-ray will have an SRP of $69.98 (currently priced at $48.99 on Amazon
) and will feature a DTS-HD Master Audio 5.1 soundtrack. The Battlestar Galactica: The Complete Series Blu-ray set will have an SRP of  $349.98 (Currently $244.99 on Amazon
) and will feature DTS-HD Master Audio 5.1 across 20 BD50 discs.
Hailing  Battlestar Galactica: Season Season 4.5 as "the must-own home entertainment release of the year Universal have revealed that the set will feature over 13 hours of  extras, with three extended episodes including the series finale that never aired on television, never-before-seen deleted scenes, behind-the-scenes featurettes, and commentary and podcast interviews with Executive Producers Ronald D. Moore and David Eick.  The Blu-ray edition also includes Universal's  U-Control and features in addition to BD-Live capabilities.
BATTLESTAR GALACTICA: SEASON 4.5 BONUS FEATURES
EXCLUSIVE TO BLU-RAY:
• U-CONTROL:  Universal's exclusive signature feature puts viewers one click away from
going deeper into the making of the film without ever leaving the movie.
THE ORACLE: An interactive guide including ships and characters.
BATTLESTAR ACTUAL: A glossary of all the unique Battlestar Galactica terms.
WHAT THE FRAK HAPPENED TO YOU?  Explore the history and connections of your favorite characters through video clips and relevant facts.
• BD-LIVE™: Access the BD-Live™ Center through your Internet-connected player to get even more content, watch the latest trailers, and more!
BATTLESTAR GALACTICA ULTIMATE BATTLE: Players can battle their friends as Colonials or Cylons using strategy and luck to achieve victory.
• MY SCENES:  Pick your favorite scenes from the film to create your own video montage.
• THE MUSICIANS BEHIND DAYBREAK: Composer Bear McCreary interviews and explains how many unique musicians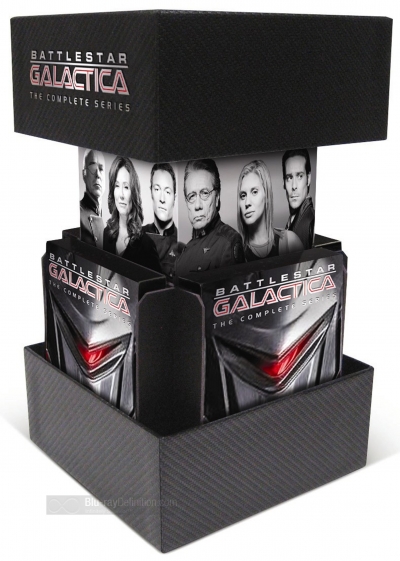 have contributed the show and specifically the series finale, "Daybreak."
BONUS FEATURES (BLU-RAY and DVD):
• UNAIRED EXTENDED EPISODES: A Disquiet Follows My Soul, Islanded in a
Stream of Stars, and the stunning series finale, "Daybreak."
• EXTRAS
EVOLUTION OF A CUE: Composer, Bear McCreary takes us step by step through his process of creating the music of Battlestar Galactica.
WHAT THE FRAK IS GOING ON WITH BATTLESTAR GALACTICA?: A recap of Battlestar Galactica's first three thrilling seasons – in only eight minutes!
…AND THEY HAVE A PLAN: What do they mean every episode when the opening sequence on the Cylons states "And They Have A Plan?"  All will be revealed in the upcoming movie The Plan.
THE JOURNEY ENDS:  THE ARRIVAL: Battlestar Galactica has traveled full circle.  The journey has concluded never to be revisited.  But how did we arrive at the end?
A LOOK BACK:
SO SAY WE ALL: Executive Producer Ron Moore and the cast and crew reveal their personal insights on Battlestar Galactica.
MANIFESTO DESTINY: It all began with this manifesto.  Why was it written and what was the response?
MANIFESTO DESTINY: It all began with this manifesto.  Why was it written and what was the response?
BATTLE-STYLE GALACTICA: Those behind the camera delve into their approach to visual style of Battlestar Galactica.
MARTYR TO A CAUSE: As the only actor to appear in both the original and reimagined series, Richard Hatch offers his unique perspective on Battlestar Galactica.
THE SINS OF THE FORGIVEN: Insights on the curious religious aspects of Battlestar Galactica.
BATTLESTAR REVELATIONS: Firsthand accounts from those on the
Battlestar for the past five years.
• AUDIO COMMENTARIES BY RONALD D. MOORE, DAVID EICK, AND
EDWARD JAMES OLMOS
• RONALD D. MOORE'S PODCAST COMMENTARIES
• DAVID EICK'S VIDEO BLOGS
• DELETED SCENES
Battlestar Galactica: The Complete Series is a  20-disc Blu-ray set and a 25- disc standard DVD set  and contains every episode of the SciFi channel series, together with extensive bonus materials.
Purchase Battlestar Galactica: The Complete Series Blu-ray on Amazon.com
Purchase Battlestar Galactica: Season 4.5 [Blu-ray] on Amazon.com