Here it comes sci-fi fans, the set you've been longing for and drooling over ever since CBS Home Entertainment and Paramount Home Media Distribution released their teaser Blu-ray set. The Star Trek: The Next Generation — Season One Blu-ray set has been officially dated and detailed.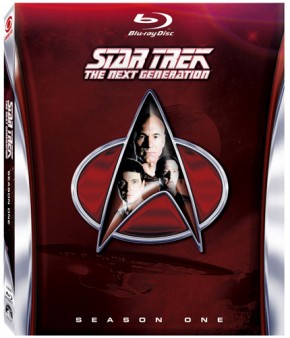 The six-disc set will be arriving on July 24th, 2012 and will feature a 1080p transfer with English DTS-HD Master Audio 7.1, English Stereo Surround, French Mono, Japanese Mono and German Mono (with the exception of "Encounter at Farpoint" which is in German Stereo). Subtitles included are English SDH, French, German, Castilian, Italian, Japanese, Danish, Dutch, Finnish, Norwegian and Swedish/ The discs feature a host of bonus materials including archival footage, a gag reel, and an inside look at bringing The Next Generation to high-definition. The set is unrated in the U.S. and rated PG in Canada and breaks down as follows:
Disc One:
Episodes
Encounter at Farpoint
The Naked Now
Code of Honor
Special Features
Episodic Promos
Energized! Taking The Next Generation to the Next Level (HD)
Star Trek: The Next Generation Archives: The Launch
Introduction to the Series (1987)
Promo #1
Promo #2
Promo #3
Season One Promo
Episodes
The Last Outpost
Where No One Has Gone Before
Lonely Among Us
The Battle
Special Features
Disc Three:
Episodes
Hide and Q
Haven
The Big Goodbye
Datalore
Angel One
Special Features
Disc Four:
Episodes
11001001
Too Short a Season
When the Bough Breaks
Home Soil
Coming of Age
Disc Five:
Episodes
Heart of Glory
The Arsenal of Freedom
Symbiosis
Skin of Evil
We'll Always Have Paris
Special Features
Disc Six:
Episodes
Conspiracy
The Neutral Zone
Special Features
Episodic Promos
Stardate Revisited: The Origin of Star Trek: The Next Generation (HD)

Part 1: Inception
Part 2: Launch
Part 3: The Continuing Mission

Gag Reel
Archival Mission Logs

The Beginning
Selected Crew Analysis
The Making of a Legend
Memorable Missions
Additional information:
Featuring one of the most endearing ensemble casts in television history, STAR TREK: THE NEXT GENERATION took fans on the remarkable continuing voyages of the Starship Enterprise with Captain Jean-Luc Picard (Patrick Stewart), Commander William T. Riker (Jonathan Frakes), Lt. Commander Geordi La Forge (LeVar Burton), Counselor Deanna Troi (Marina Sirtis), Lt. Commander Data (Brent Spiner), Lieutenant Worf (Michael Dorn), Dr. Beverly Crusher (Gates McFadden) and Wesley Crusher (Wil Wheaton).
–