Entertainment One will be bringing the rock and roll vampire spoof Suck to Blu-ray and DVD on September 28th, 2o10 at a suggested retail price of $24.98 ea. The rock 'n' roll spoof, described as "Twilight meets True Blood with a dash of Rock Star" (MTV.com) stars such Rock stalwarts as Iggy Pop and Alice Cooper, along with Henry Rollins and Moby and contains a killer rock soundtrack.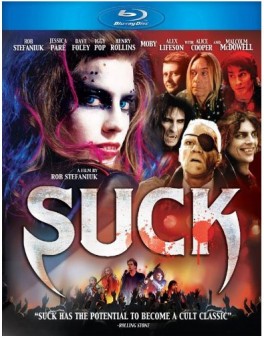 Synopsis:
he Winners are a go-nowhere rock band, living out of the back of a hearse, which is also doubling as their "tour van."  When their disgruntled manager (Dave Foley, "NewsRadio", "The Kids in the Hall") tells them that they are getting "long in the tooth," he doesn't know that his words are truly prophetic.  During a road trip, however, their humdrum image radically changes after bass player Jennifer (Jessica Paré, Hot Tub Time Machine, Wicker Park), disappears one night with a hip, goth vampire (played by Dimitri Coats of the band Burning Brides).   Shortly thereafter, she emerges, lacking more pigment than usual, but possessing a new sexually-charged charisma that drives the audiences wild.
As the band members succumb one by one to blood lust, their new "gimmick" launches them into the limelight.  Following an incident on a national radio show with "Rock'n Roger" (Henry Rollins), they hit mega-stardom beyond their wildest dreams.  But fame comes with a price as Joey (Rob Stefaniuk), the front man, is haunted by a sinister bartender (Alice Cooper), who turns out to be much more.  Meanwhile, legendary vampire hunter, Eddie Van Helsig (Malcolm McDowell, Halloween, "Entourage", A Clockwork Orange), is tracking them down, despite his fear of the dark.  When a veteran music producer (Iggy Pop) calls them on becoming a vampire freak show, they begin to realize that the thirst for fame may not be worth the price of their souls.
Features:
The Blu-ray contains a DTS-HD Master Audio soundtrack with English SDH subtitles and special features include the comprehensive making-of featurette "Down to the Crossroads or: How to Make a Movie SUCK," an audio commentary track, and Burning Bride's music video for "Flesh and Bone."
[amazon-product]B003RHZ6KC[/amazon-product]