On June 16, 2009, four days after what would have been Anne Frank's 80th birthday, Twentieth Century Fox Home Entertainment will release a 50th Anniversary Edition of The Diary of Anne Frank on Blu-ray (BD) and DVD.
The three-time Academy Award winning film documents a young Jewish girl's experience during the holocaust after the Nazi invasion of Amsterdam and has been a cinematic treasure since its release.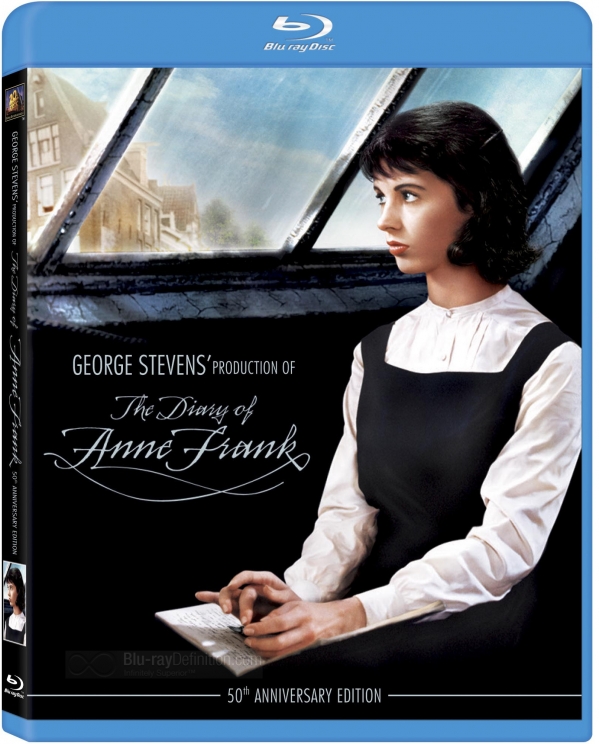 The Diary of Anne Frank 50th Anniversary Edition Blu-ray release will have an SRP of $34.99 U.S., $37.99 Canada, will feature a 2.35:1 AVC/MPEG-4 1080p/24 video encoding, English DTS-HD Master Audio 5.1, French 5.0 and Spanish Mono audio mixes with English, French and Spanish subtitles.
Bonus features will include:
Audio commentary with George Stevens Jr. and Millie Perkins (Anne Frank)
ALL NEW Introduction: George Stevens Jr. and World War II
ALL NEW The Making of The Diary of Anne Frank: A Son's Memories
ALL NEW The Diary of Anne Frank: Memories from Millie Perkins and Diane Baker (Margot Frank)
ALL NEW Shelley Winters and The Diary of Anne Frank
ALL NEW The Score of The Diary of Anne Frank – a look at the legendary composer Alfred Newman
ALL NEW The Diary of Anne Frank: Correspondence – Letters between George Stevens and his son written during the making of the film
ALL NEW Fox Legacy with Tom Rothman
Diary of Anne Frank: Echoes from the Past
Diary of Anne Frank: Excerpt from "George Stevens: A Filmmaker's Journey"
George Stevens Press Conference
Millie Perkins Screen Test
Movietone News:
Millie Perkins, To Be Anne Frank in Film of Diary
Nobel Peace Prize to Belgian Priest
Anne Frank Diary Star Readies For Film's 1st Nights
Academy Award Highlights
Millie Perkins Visits the Los Angeles County Museum of Art
Brilliant Turnout For L.A. Premiere Anne Frank Diary
Theatrical Trailer
International Trailer
Interactive Pressbook Gallery
Behind-the-scenes Gallery
Purchase The Diary of Anne Frank 50th Anniversary Edition Blu-ray on Amazon.com