The BFI have announced the next two films from the acclaimed Japanese filmmaker Yasujiro Ozu to be released in their Dual Format Editions (Blu-ray and DVD in the same package) in the UK. Following last summer's release of Tokyo Story, Early Summer, and Late Spring, the next Yasujiro Ozu titles to be released in Dual Format Editions from BFI are Equinox Flower (1958) and Good Morning (1959) on 17 January 2011.
Press release: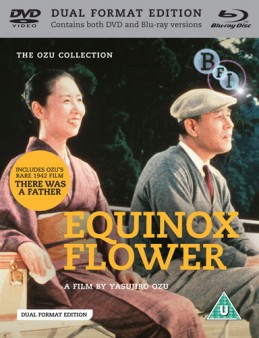 Ozu's first colour film, Equinox Flower, is a deft comedy that takes an ironic glance at the decline of paternal authority. Shin Saburi plays Wataru Hirayama, an old-fashioned father whose outwardly liberal views on marriage are severely tested when his daughter tells him she wants a love-match. Outwitted and outflanked by his wily female relatives, Hirayama stubbornly refuses to admit defeat. The director's playful use of colour, poetry and arch humour combine to make this tale of old versus new at once deeply moving and razor-sharp.
Paternal authority is unquestionably ascendant in Ozu's powerful war-time drama There Was a Father which is included here. Shuhei Horikawa (Chishu Ryu) sacrifices his teaching career after an unfortunate accident but refuses to sacrifice the education of his only son.
A bright Tokyo suburb buzzing with gossip is the backdrop to Ozu's cheerful comedy, Good Morning. Disillusioned with the seemingly meaningless talk of the adults around them, two brothers take a vow of silence when their parents refuse to buy them a television. With a dexterously woven plot, built on mishaps and misunderstandings, Good Morning pokes fun at the silliness of everyday chatter whilst gently acknowledging its fundamental necessity.
Also included is Ozu's superb early comedy I Was Born, But… The forerunner of Good Morning, this silent masterpiece contains many similar themes but a darker edge. As brothers Ryoichi and Keiji struggle to outwit the local bully and scale the pecking order in their new neighbourhood, they find out that injustice does not end with school.