Dogwoof has announced their first Blu-ray release with the multi-award winning environmental documentary Chasing Ice. The film chronicles National Geographic photographer James Balog's journey to the Arctic to document in images the reality of Earth's climate change.
Special features include:
Making of Interviews with Filmmakers
Commentary Track with Jeff Orlowski, James Balog, Svavar Jonatansson
and Adam LeWinter
A week with the film in Sundance
Audience Reactions to the film
Updated time-lapses
Interview with Composer J. Ralph about Oscar Nominated "Before MyTime"
Booklet
See the press release below for further details.
Press Release:
Dogwoof is delighted to announce the release of the multi-award winning breathtaking feature documentary Chasing Ice on DVD and as their first ever Blu-ray release.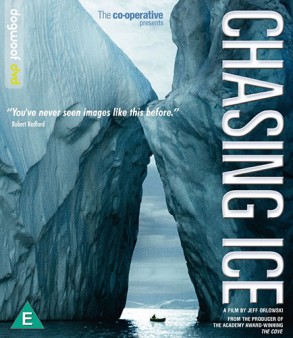 In the spring of 2005, National Geographic photographer James Balog headed to the Arctic on a tricky assignment: to capture images to help tell the story of the Earth's changing climate. That first trip north opened his eyes to the biggest story in human history and sparked a challenge within him that would put his career and his very well-being at risk. Chasing Ice is the story of one man's mission to change the tide of history by gathering undeniable evidence of our changing planet.
James Balog set about trekking across the Arctic region and, using time-lapse cameras, created The Extreme Ice Survey. Using techniques, untested in bitterly cold, subzero temperatures, he battled for years to pull together evidence of the effects of climate change. The astounding videos he recorded shrink months and years into seconds to highlight how ice is literally disappearing from the landscape.
The film gained huge critical acclaim on its cinematic release and helped convert even the most hardened climate change sceptics and now it comes to DVD and on Blu-ray, so its amazing imagery can be seen in its high-definition glory, on 10 June 2013.
Chasing Ice is a truly astonishing film that shows both the human drama of a man determined to show a changing planet, and the actual evidence, it has to be seen to be believed.
[amazon-product region="uk" tracking_id="bluraydefinit-21″]B00BFWFSK4[/amazon-product]