IFC Films and MPI Media Group will be bringing The Red Riding Trilogy of crime thrillers to Blu-ray in a multi-disc set day-and-date with the DVD release on August 31, 2010 at a suggested retail price of $34.98 (Blu-ray) and $29.99 (DVD) respectively. Previously, the title had been announced for an August 17 release date.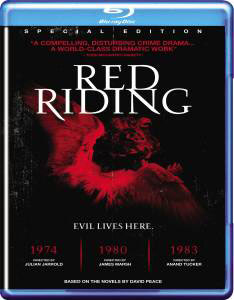 Synopsis:
THREE PROFOUND TALES OF CRIME, CORRUPTION AND OBSESSION PRESENTED TOGETHER AS THEY WERE MEANT TO BE SEEN
Three films come together to form one overwhelming cinematic experience in The Red Riding Trilogy, the widely acclaimed trio of British thrillers about a mysterious – and perhaps related – series of gruesome crimes in Northern England. The trilogy arrives in multi-disc Blu-ray and DVD sets from IFC Films and MPI Media Group on August 17, 2010
Based on events that occurred over a turbulent decade in the West Riding district of Yorkshire, England, The Red Riding Trilogy presents a dark and disturbing world of serial murders, child abductions and police corruption.
The three films in The Red Riding Trilogy are connected by recurring events and characters, chiefly a deeply conflicted police detective, Maurice Jobson (David Morrissey, The Other Boleyn Girl, Sense and Sensibility), and ruthless high-ranking official Harold Angus (Jim Carter, Alice in Wonderland, Shakespeare in Love). Three directors utilize a different method for each film – Julian Jarrold (Become Jane) shoots in 16 mm film for 1974; James Marsh (Man on Wire), in 35 mm for 1980; and Anand Tucker (Leap Year, Shopgirl), in digital video for 1983.  In the end, they've created a modern crime epic in which no one escapes undamaged.