HBO Home Entertainment have officially announced the release of the second season of the hit political comedy Veep on Blu-ray with Digital Copy ($49.99), DVD ($39.98), and Digital Download for March 25, 2014. See below for further details.
"Wickedly Delicious" – The Washington Post
Winner of Two 2013 Emmy® Awards for Stars Julia Louis-Drefyus and Tony Hale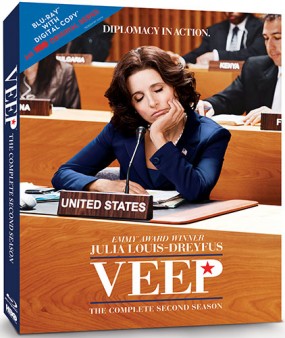 VEEP: The Complete Second Season
Available on Blu-ray™ with Digital Copy, DVD and Digital Download March 25, 2014
New York, N.Y., December 2, 2013 – The votes are in, and VEEP® is "one of the funniest shows on television" (The Wrap). In Season 2 of the acclaimed HBO® comedy series, which follows the day-to-day life of Vice President Selina Meyer (Julia Louis-Dreyfus, winner of the 2012 and 2013 Emmys® for Outstanding Lead Actress in a Comedy Series for her role in VEEP), Meyer puts out political fires, juggles a busy public schedule and demanding private life, and defends the president's interests. From Academy Award® nominee Armando Iannucci (In the Loop), the show's hilarious political humor is "rapid-fire… good fun" (Entertainment Weekly). VEEP: The Complete Second Season will arrive on BD with Digital Copy ($49.99), DVD ($39.98) and Digital Download on March 25, 2014, loaded with even more laughs thanks to hilarious deleted scenes and four audio commentaries with cast and crew.
In Season 2 of VEEP, as midterm elections loom, Vice President Selina Meyer is scoring higher ratings than the president in several popularity polls, which she hopes will boost her influence and help her curry favor with the chief executive. But despite her best intentions, even the most banal actions can set off unexpected and often disastrous consequences. Her staff – played by an ensemble cast the Washington Post calls "terrific" – including 2013 Emmy® winner for Outstanding Supporting Actor in a Comedy Series Tony Hale (Arrested Development), Emmy® nominee for VEEP Anna Chlumsky (In the Loop, My Girl), Matt Walsh (HBO's Hung), Reid Scott (My Boys), Timothy Simons (Days Together) and Sufe Bradshaw (Overnight) – is close at hand with a laugh-out-loud combination of personal problems and government-insider antics.
Street Date:  March 25, 2014
Rating: TV-MA
Runtime:  Approx. 279 minutes (not including bonus material)
Price:    $49.99 – BD & Digital Copy (2 Discs); $39.98 – DVD (2 Discs)
[amazon-product]B00BGI07XU[/amazon-product]