20th Century Fox Home Entertainment will be releasing the Reese Witherspoon romance Water for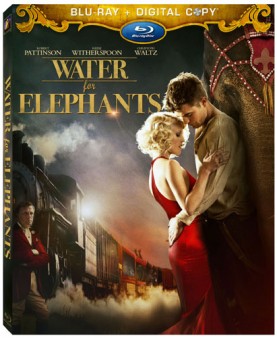 Elephants on Blu-ray+Digital Copy Combo Pack and DVD November 1, 2011.  The Blu-ray will feature a 2.35:1 high definition transfer, English 5.1 DTS-HD Master Audio, French, and Spanish Dolby Digital  5.1 audio with English and Spanish subtitles and will sell at a SRP of $39.99.
Special features on the Water for Elephants Blu-ray are to include:
Special Features:
Robert Pattinson Spotlight
Feature Performer Reese Witherspoon
The Traveling Show: From Page to Screen
Working Without A Net – The Visual Effects of Water for Elephants
The Star Attraction
Raising the Tent
Secrets of the Big Top
Audio Commentary with Director Francis Lawrence and Writer Richard LaGravenese
Theatrical Trailer
Live Extras:

Exclusive: Stars of the Circus
Blu-ray Highlight: The Traveling Show: From Page to Screen
Theatrical Trailer
Live Lookup
Digital Copy
Film Synopsis
LIFE IS THE MOST SPECTACULAR SHOW ON EARTH
Witness The Epic Tale of Forbidden Love Starring
Academy Award® Winner Reese Witherspoon and
Robert Pattinson On Blu-ray and DVD November 1
Take a journey back in time with the romantic tale based on Sara Gruen's New York Times #1 Best-Seller novel of the same name, WATER FOR ELEPHANTS, coming to Blu-ray and DVD on November 1st from Twentieth Century Fox Home Entertainment.  Starring Academy Award®-winner Reese Witherspoon (Walk The Line), Robert Pattinson (Twilight series) and Oscar®-winner Christoph Waltz (Inglourious Basterds), the film presents an epic tale of forbidden love in a magical place filled with adventure, wonder and great danger. Showcasing the decadence of a bohemian circus and the majesty of its animals against the backdrop and beauty of a bygone era, WATER FOR ELEPHANTS makes the ideal holiday gift idea for your favorite film buff, fashionista or book-lover!
Devastated by the sudden death of his parents at the height of The Depression, a young dreamer from the wrong side of the tracks, Jacob Jankowski (Pattinson), abandons his veterinary studies at
Cornell University. With no other family, no house, and no money, Jacob stows away on a train carrying the circus performers of The Benzini Brothers Most Spectacular Show on Earth.  Hired as a veterinarian to care for the troupe's animals, Jacob is temporarily filled with the promise of an exciting life that comes with a traveling circus troupe. However, as he builds a rapport and falls in love with the star of the show, Marlena (Witherspoon), they become prey to the circus's owner, Marlena's violent and abusive husband August (Waltz). As the circus begins to crumble from within and against all odds, Jacob and Marlena come together and fall in love through their compassion for a special elephant. With their love on the line, Jacob and Marlena come to a crossroads that will forever change their destiny.
Directed by critically-acclaimed filmmaker Francis Lawrence (Constantine), WATER FOR ELEPHANTS features fantastic supporting performances from Paul Schneider (Lars and the Real Girl), Jim Norton (Harry Potter and the Chamber of Secrets), Mark Povinelli (The Polar Express), Richard Brake (Batman Begins), and Academy Award®-nominee Hal Holbrook (Into the Wild).
###
[amazon-product]B0041KKYHO[/amazon-product]