On November 15, 2011 MGM Home Entertainment will release West Side Story: 50th Anniversary Edition on Blu-ray for the first time ever just in time for the holiday shopping season. This classic musical transports the story of Romeo and Juliet to the streets of New York. It features a score by Leonard Bernstein and lyrics by Stephen Sondheim, memorable standards like "Maria," "America," "Tonight," and "I Feel Pretty" and an all-star cast of Natalie Wood, Russ Tamblyn, and Rita Moreno.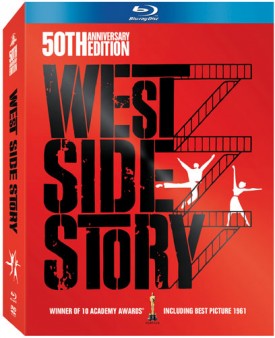 The Blu-ray will feature a 2.20:1 1080p restoration of the film, an all-new English DTS-HD Master Audio 7.1 soundtrack, plus French and German DTS 5.1 and Spanish Dolby 2.0 mixes and English, French, Dutch, Portuguese, German, Finnish, Swedish, Norwegian, Danish, Chinese (Mandarin), and Spanish subtitles.
The Blu-ray will be available in a Limited Edition 4-Disc Boxed Set featuring 2 disc Blu-ray, newly-restored DVD, Tribute CD and collectible memorabilia, as well as a 2-disc Collector's Edition Blu-ray.
Press Release
CELEBRATE THE 50TH ANNIVERSARY OF A CULTURAL MASTERPIECE THAT REDEFINED CINEMA NOW IN BREATHTAKING HIGH-DEFINITION
Experience the Original Academy Award®-Winning Movie As WEST SIDE STORY: 50th ANNIVERSARY EDITION Makes Its Blu-ray Debut on November 15
Limited Edition Collector's Set Available Featuring Two-Disc Blu-ray, Newly Restored DVD and Tribute CD Along With Photo Book and Other Collectibles
LOS ANGELES, CA. – Five decades after its historic debut, a timeless classic returns to dazzle audiences young and old.  Based on the hit Broadway musical of the same name, the iconic film WEST SIDE STORY returns in brilliant Blu-ray form November 15, 2011 from Twentieth Century Home Entertainment.  With a record-breaking ten Academy Awards® including Best Picture, Best Directing and Best Original Score, the film took home more awards than any other movie-musical in the history of cinema.  This monumental production not only featured the timeless lyrics from master American composer Stephen Sondheim, but a brilliant score from Leonard Bernstein, and beautiful direction from Robert Wise.  WEST SIDE STORY: 50th Anniversary Edition boasts hundreds of hours of restoration, new 7.1 digital audio, and a collection of bonus features spotlighting the harmonious songs and elaborate dances of the original film.
This "brilliant" (The New Republic) film sets the ageless story of Romeo and Juliet against a backdrop of gang warfare in 1950's New York.  A love affair is fated for tragedy amidst the vicious rivalry between two street gangs – the Jets and the Sharks. When Jets member Tony (Richard Beymer, The Longest Day) falls for Maria (Natalie Wood, Splendor in the Grass), the sister of the Sharks leader, it's more than these two warring gangs can handle.  As mounting tensions rise, a battle to the death ensues and innocent blood is shed in a heartbreaking finale.
Featuring the famous songs "Maria," "America," "Tonight," and "I Feel Pretty," WEST SIDE STORY: 50th Anniversary Edition showcases thrilling performances by Best Supporting Actress® winner Rita Moreno (The King and I), Best Supporting Actor® winner George Chakiris (Two and Two Make Six) and Russ Tamblyn (How the West Was Won).  The Blu-ray will be available in a Limited Edition 4-Disc Boxed Set featuring 2 disc Blu-ray, newly-restored DVD, Tribute CD and collectible memorabilia, as well as a 2-disc Collector's Edition Blu-ray. Prebook is September 7.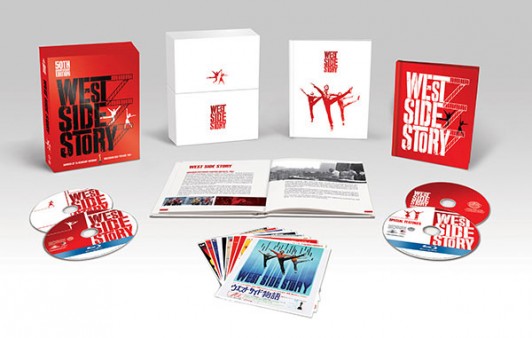 WEST SIDE STORY 50th Anniversary Edition Blu-ray Special Features
ALL-NEW:  Pow! The Dances of West Side Story – cast members, contemporary filmmakers, dancers and choreographers analyze and illuminate the film's famous dance sequences.

Prologue
Dance At the Gym
Tony and Maria's Cha Cha
America
The Rumble
Maria's Roof Dance
Cool

ALL-NEW: A Place for Us: West Side Story's Legacy – a look back at the iconic film and the impact it has had all over the world

Creation and Innovation
A Timeless Vision

Song Specific Commentary by Lyricist Stephen Sondheim

Prologue
The Jet Song
Something's Coming
Dance At the Gym
Maria
America
Tonight
Gee, Officer Krupke
I Feel Pretty
One Hand, One Heart
Quintet
Somewhere
Cool
A Boy Like That / I Have A Love
Music Machine –allows viewers to go straight to their favorite musical numbers
West Side Memories
Storyboard to Film Comparison Montage
Trailers
Original Theatrical Trailer
Original Issue Trailer
Reissue Trailer
Animated Trailer
About Metro-Goldwyn-Mayer Studios Inc.
Metro-Goldwyn-Mayer Studios Inc. is actively engaged in the worldwide production and distribution of motion pictures, television programming, home video, interactive media, music, and licensed merchandise. The company owns the world's largest library of modern films, comprising around 4,100 titles. Operating units include Metro-Goldwyn-Mayer Studios Inc., Metro-Goldwyn-Mayer Pictures Inc., United Artists Films Inc., MGM Television Entertainment Inc., MGM Networks Inc., MGM Distribution Co., MGM International Television Distribution Inc., Metro-Goldwyn-Mayer Home Entertainment LLC, MGM ON STAGE, MGM Music, MGM Consumer Products and MGM Interactive. In addition, MGM has ownership interests in domestic and international TV channels reaching over 130 countries. For more information, visit www.mgm.com .
About Twentieth Century Fox Home Entertainment
Twentieth Century Fox Home Entertainment, LLC (TCFHE) is a recognized global industry leader and a subsidiary of Twentieth Century Fox Film Corporation, a News Corporation company. Representing 75 years of innovative and award-winning filmmaking from Twentieth Century Fox, TCFHE is the worldwide marketing, sales and distribution company for all Fox film and television programming, acquisitions and original productions on DVD, Blu-ray Disc Digital Copy, Video On Demand and Digital Download. The company also releases all products globally for MGM Home Entertainment. Each year TCFHE introduces hundreds of new and newly enhanced products, which it services to retail outlets from mass merchants and warehouse clubs to specialty stores and e-commerce throughout the world.
# # #