Here's another giveaway we are a little late on, so apologies to our faithful readers. We have been provided with three (3) copies of the revenge horror film Bedevilled from Well Go USA Entertainment on Blu-ray that we will award to three (3) lucky winners, (1 copy each). See below for more details on the disc and how to enter.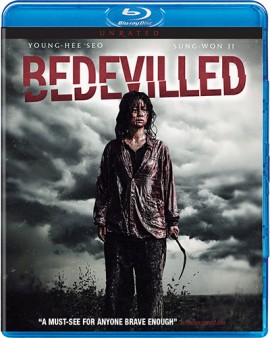 –
"One of the toughest and most powerful films from Korea.
A must-see film for anyone brave enough." – BeyondHollywood.com
"Chul-soo Yang's directorial debut is a stellar first feature." – TwitchFilm
BEDEVILLED
The Award-Winning, International Hit Revenge Horror Film
Debuts on Blu-ray®, DVD and Digital October 9th
Bonus Features Include a Behind-the-Scenes Featurette
PLANO, TEXAS.  (August 27, 2012) – Yeong-hie Seo (The Chaser) and Seong-won Ji (Harmony) star in Director Chul-soo Jang chilling first feature BEDEVILLED, debuting on Blu-ray™, DVD and Digital October 9th from Well Go USA Entertainment.  When her pleas for help are ignored and cause her daughter's death, a woman seeks revenge on the person she blames.  BEDEVILLED won the Audience Award for "Best Film" and Seo Yeong-hee was named "Best Actress" at Austin's 2010 Fantastic Fest. In addition, the film was awarded the Grand Prize as Best Film at the 2011 Gérardmer Film Festival and Yeong-hie Seo won "Best Actress" at the 2011 Fantasporto International Fantasy Film Award. Bonus features include a behind-the-scenes featurette.
Synopsis:
A gorgeous woman takes a forced vacation to a strange, beautiful island. She befriends a pretty girl shocked to find out she is treated like a slave by locals and has attempted to escape the island. Can they both get off the island alive?
Bonus Features Include:
§  Behind the Scenes
§  Trailer
BEDEVILLED has a runtime of approximately 115 minutes and unrated.
–