We have one (1) copy of Star Trek: The Next Generation — Season One on Blu-ray to award to one lucky reader of TheaterByte.  See below for details on this new high definition remaster of the classic series and how to enter to win!
CELEBRATING ITS 25TH ANNIVERSARY, LEGENDARY SERIES MAKES ITS FULL-SEASON BLU-RAY™ DEBUT
STAR TREK:
THE NEXT GENERATION
THE FIRST SEASON BLU-RAY
New High-Definition Transfer With Staggering Before/After Results Boasts Exclusive Special Features Including Never-Before-Seen Archival Footage, Brand New Interviews With Key Players, Gag Reel And More!
Available July 24, 2012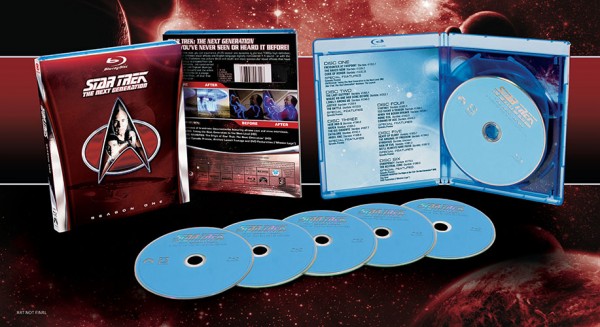 HOLLYWOOD, Calif. (April 30, 2012) – The enduringly popular sci-fi favorite STAR TREK: THE NEXT GENERATION – THE FIRST SEASON makes its Blu-ray debut on July 24 from CBS Home Entertainment and Paramount Home Media Distribution. Celebrating its 25th anniversary in 2012, the beloved series continues to enthrall fans with its exciting and socially relevant tales of space exploration in the 24th century.
STAR TREK: THE NEXT GENERATION – THE FIRST SEASON has been retransferred from original film elements to produce stunning high-definition images, including amazing visual effects that have been painstakingly recreated from the source material, creating before/after results that fans will love. The six-disc Blu-ray set also features 7.1 DTS-HD Master Audio and a wealth of exclusive bonus material, such as archival footage, a gag reel, and an inside look at taking The Next Generation to the next level of high-definition. Featuring numerous behind-the-scenes interviews, the new material also features Star Trek experts Mike and Denise Okuda, consultants throughout this ongoing project, who offer special insights into the countless man-hours dedicated to the upgrade of The Next Generation.
Featuring one of the most endearing ensemble casts in television history, STAR TREK: THE NEXT GENERATION took fans on the remarkable continuing voyages of the Starship Enterprise with Captain Jean-Luc Picard (Patrick Stewart), Commander William T. Riker (Jonathan Frakes), Lt. Commander Geordi La Forge (LeVar Burton), Counselor Deanna Troi (Marina Sirtis), Lt. Commander Data (Brent Spiner), Lietenant Worf (Michael Dorn), Dr. Beverly Crusher (Gates McFadden) and Wesley Crusher (Wil Wheaton).
The STAR TREK: THE NEXT GENERATION – THE FIRST SEASON Blu-ray set will be available in 1080p with English 7.1 DTS-HD Master Audio, English Stereo Surround, French Mono, Japanese Mono and German Mono (with the exception of "Encounter at Farpoint" which is in German Stereo). The discs also include English SDH, French, German, Castilian, Italian, Japanese, Danish, Dutch, Finnish, Norwegian and Swedish subtitles. The Blu-ray is not rated in the U.S. and rated PG in Canada, and it will be available for the suggested retail price of $118.00 U.S. and $136.00 Canada.
Contest Ends July 24th, 2012 at 8:00 PM ET