We have three (3) copies of the comedy/horror film Strippers Vs. Werewolves featuring Lucy Pinder and Robert Englund to award to three lucky readers of Blu-rayDefinition (1 copy each). Read our review or see below for more details on this title and information on how to enter to win!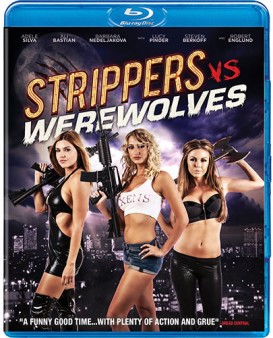 –
"Intense, riotous, and simply excellent." – Richard Cooper, Scream Horror Magazine
"… lighthearted good time with plenty of action …" – Dread Central
Stripping Has Never Been So Hairy!
STRIPPERS VS. WEREWOLVES
The Blood-Soaked Horror-Comedy Starring
Legendary Horror Icon Robert Englund
Debuts on Blu-ray®, DVD and Digital September 25th
PLANO, TEXAS.  (July 30, 2012) – Legendary horror film star Robert Englund (Nightmare on Elm Street franchise) joins Billy Murray (Stalker), Martin Kemp (Jack Falls) and Steven Berkoff (The Girl With The Dragon Tattoo, TV's "The Borgias") in Director Jonathan Glendening's (Night Wolf) British horror-comedy Strippers vs. Werewolves, debuting on Blu-ray™, DVD and Digital September 25th from Well Go USA Entertainment. The film also stars Adele Silva (Doghouse), Ali Bastian (TV's "The Bill") and Barbara Nedeljakova (Hostel, Hostel: Part II) as a trio of high-class strippers who must defend their club against a lawless, revenge-seeking pack of werewolves.
Synopsis:
A war between strippers and werewolves ensues when a member of a bloodthirsty pack of werewolves is murdered in a famous strip club. The girls who work there have until the next full moon before the werewolves' vicious leader sends his wolf pack to hunt down the killers and seek retribution.  Problems arise for both parties when the wolf pack realizes the club owner is experienced in dealing with hostile lycanthropes and that one of their own is dating a dancer from the club.
Bonus Features Include:
§  Producers' Commentary: Jonathan Sothcott and Simon Phillips
§  Behind the Scenes
Strippers vs. Werewolves has a runtime of approximately 95 minutes and is not rated.
##
Ends October 2, 2012 at 9:00 AM ET