TheaterByte readers now have a chance to win one (1) of three (3) copies of Well Go USA's White Vengeance on Blu-ray Disc. See below for details on the film and how to enter!
##
"… an epic story of loyalty, betrayal and the thirst for power." –James Marsh, TwitchFilm
"… powerful and fascinating …" – James Mudge, Beyond Hollywood
From Award-Winning Director Daniel Lee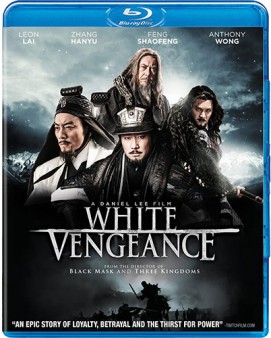 WHITE VENGEANCE
The Critically-Acclaimed Martial Arts Action Epic
Debuts on Blu-ray®, DVD and Digital September 4th
PLANO, TEXAS  (July 3, 2012) – Based on a true period in Chinese history, Leon Lai plays "Liu Bang," with Feng Shaofeng as "Xiang Yu," the legendary warrior brothers  in  Director Daniel Lee's (14 Blades, Three Kingdoms) medieval war epic White Vengeance, debuting on Blu-ray™, DVD and Digital September 4th from Well Go USA Entertainment. Yifei Liu (The Forbidden Kingdom), Zhang Hanyu (Bodyguards and Assassins), Anthony Wong (Legend of the Fist), Jordan Chan (The Dragon Pearl) and Andy On (The Viral Factor) round out the star-studded cast in the story of two brothers contending for success and power during the fall of the Qin Dynasty.
Synopsis:
White Vengeance tells the story of two brothers contending for supremacy during the fall of the Qin Dynasty. As rebels rose, the nation fell into chaos and commoners united to re-conquer the Middle Kingdom of Qin.  Liu Bang (Leon Lai) and Xiang Yu (Feng Shaofeng), became sworn brothers in battle and leaders of the rebellious army tasked with overthrowing Lord Qin and seizing control of his vast empire. Yu and Bang both serve King Huai of Chu who uses their desire for a crown and a title to stir distrust between them. The ultimate betrayal and the call for success sparks an epic battle between brothers and a war for a kingdom.
Bonus Feature Include:
§  Interviews with Cast & Crew
§  Trailer
§  International Trailer
White Vengeance has a runtime of approximately 138 minutes and is unrated.
For more information, please visit www.wellgousa.com.
##
Contest ends Tuesday, September 4, 2012 at 8:00 AM ET