We have three (3) copies of Wind Blast on Blu-ray from Well Go USA to giveaway. Enter now and you can be one of three lucky winners (1 copy each)! See below for details and how to enter.
WIND BLAST
National Wushu Fighting Champion Wu Jing Stars in the Martial Arts Western on Steroids Debuting on Blu-ray™ and DVD July 3rd
Bonus Materials Include Behind-the-Scenes Featurettes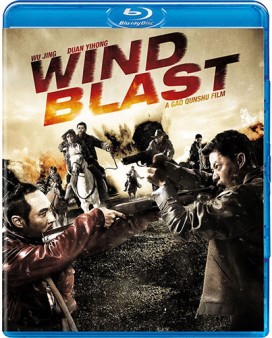 PLANO, TEXAS.  (June 5, 2012) –  Director Gao Qunshu follows up his breakout hit The Message with the action-packed martial arts western Wind Blast, debuting on Blu-ray™ and DVD July 3rd from Well Go USA Entertainment.  Starring national wushu fighting champion Wu Jing (Kill Zone, Legendary Assassin), newcomer Zhang Li, Yihong Duan(The Message, Hot Summer Days), and Francis Ng (Exiled, Infernal Affairs II), this fast paced, shoot-em up western follows a group of elite policemen on the trail of a hitman and his pregnant girlfriend as they try to elude two hired killers sent by his former employer to silence them.  Bonus features include a making of featurette, behind the scenes footage and trailers.
Synopsis:
Cold blooded killer Zhang Ning sneaks back into China to blend in. He is quickly pursued by two fierce and brutal bounty hunters. A grisly battle ensues between the killer, bounty hunters and cops. After a flurry of gunfights, martial arts combats, car chases, equestrian acrobatics, and pyrotechnic extravaganza, many a life will be lost and much honor and glory won in this grimly exciting Chinese Martial Arts Western that should not be missed.
Bonus Features Include:
Making of Featurette
Behind-the-scenes
Trailers
Wind Blast has a runtime of approximately 118 minutes and is not rated.
–
Contest Ends July 30, 2012 at 8:00 PM ET