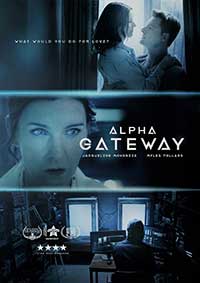 Australian filmmaker John V. Soto who has given us film like The Reckoning and Needle returns with this indie sci-fi thriller Alpha Gateway (known simply as The Gate in his native Australia). Starring the popular Jacqueline McKenzie (Deep Blue Sea, The 4400) alongside Myles Pollard (Drift, Looking for Grace), the film is an intelligent twist on the theory of parallel universes and the consequences of messing with them.
Jane Chandler (McKenzie) is a recently widowed physicist raising her two kids and researching a working Star Trek-style teleporter machine at her research lab with her assistant Regg (Ben Mortley). When Jane and Regg try to test their transporter by transporting an apple from one teleporter pad to a second in the lab, the apple vanishes. The two fear they have simply disintegrated the apple's molecular structure until Jane works out that what actually did was send the apple to a parallel world. They are soon communicating with a second set of themselves working on the same project in an alternate universe via notes and a video camera.
Jane, still missing her husband, then takes the extraordinary step of getting into the teleporter to go to the parallel world to visit what she assumes is her still living husband Matt (Pollard) in the parallel world. While there, she does find her husband, but discovers that her doppelganger is the one who recently died in that world, not Matt. The two both decide to come back together to Jane's world and try to live as a couple, Jane introducing the originally childless Matt to "their" children. But something is instantly off about this parallel world Matt – he isn't the nice, caring person that her Matt was. Is it just because the world he came from was a harsh, violent version of her Earth? Whatever the answer, when Jane realizes her mistake and that this parallel world Matt has no intention of going back to his world, she begins to travel back to the alternate world herself to try to find out more about what happened to the other Jan and Matt's history, but things don't go too well. Her first trip results in her coming back to the wrong world, Matt turning increasingly violent, and other bad consequences.
As a director and co-writer, Soto proves himself adept at handling some rather complex themes in Alpha Gateway that one could only imagine would come across even better if a larger budget would allow for it. The tightness of the budget in this film does hinder at times the expansiveness of the world that this story wants to break out into, but regardless, we are given some fantastic performances from the leads. McKenzie proves at home in the genre, one she returns to after a decade away with her stint on the American TV series The 4400 and it's like she never left. Pollard also provides a wonderful counterpart to her well-rounded performance as first the loving husband and father and then unhinged doppelganger.
Overall, Alpha Gateway is a film that genre fans will gravitate to for its refreshing, intelligent almost retro take on sci-fi rather than needing to fall back on special effects to lure you in. The film has made the rounds at various sci-fi film festivals and was chosen as an official selection for the  London Sci-Fi Film Festival in 2018.
Alpha Gateway Opens February 13, 2018