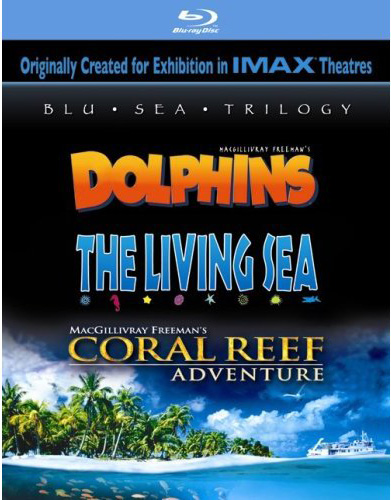 1.78:1

Video Codec: AVC/MPEG-4
Audio Codec: English DTS-HD Master Audio 5.1; French & Spanish Dolby Digital 5.1

Region: ABC (All Regions)
Discs: 3
Narrators: Meryl Streep, Liam Neeson

Studio: Image Entertainment
Release Date: May 5, 2009
List Price: $59.98
Overall

The Films

Video Quality

Audio Quality

Supplemental Materials

Click thumbnails for high-resolution 1920X1080p screen captures
The Films

With Blu Sea Trilogy Image Entertainment has taken three of their previously released IMAX titles and bundled them together thematically in this three-disc  box set. If you haven't had the pleasure of seeing any of these films yet, then you are in for a treat, because these three films from Image Entertainment also happen to be three of the studio's better-looking recent IMAX transfers to Blu-ray.
With all three films dealing with the subject of the sea, they all include breathtaking images of aquatic wildlife, from the colorful coral in Coral Reef Adventure and soothingly serene jellyfish in The Living Sea to the playful balletic underwater frolicking of dolphins in — what else? — Dolphins.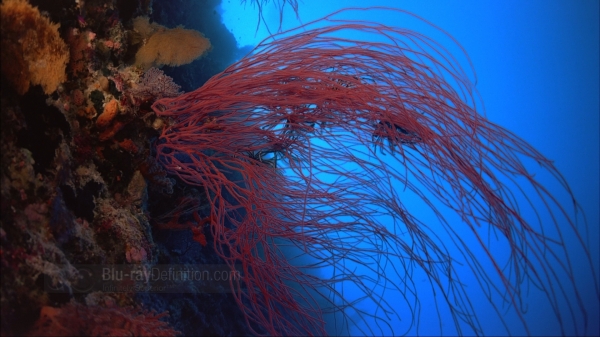 Narrated by Liam Neeson with songs by Crosby, Stills and Nash, Coral Reef Adventure focuses on the pressure that coral reefs are under around the world due to rising water temperatures and pollution in the seas, and their importance, not only to the underwater ecosystem, but also to our planet's atmosphere. As marine biologists travel from coral reefs across the South Pacific, glorious footage is capture of the grandest reef of them all — the Great Barrier Reef.
Dolphins discusses dolphins and how they communicate with each other. Viewers get to see amazing footage of dolphins working together to hunt for their food in this brilliant underwater cinematography from MacGillivray Freeman. Lastly, there is The Living Sea, with its narration by Meryl Streep and songs from Sting, such as "Fragile" and "One World," that focuses on the interconnectivity of the planet's seas and its importance to our existence and well being. Like the previous films, it is also bountiful with brilliant underwater images from the seas of Palau, Hawaii, Alaska, Nova Scotia and more.
This set is strongly recommended for anyone who loves the planet and its oceans and wants to see some brilliantly captured images of them on their HD displays.
Video Quality

All three titles in the Blu Sea Trilogy come with 1.78:1 AVC/MPEG-4 encodings of their large-format 70-mm IMAX sources. The sharply rendered transfers are all ablaze with vivid undersea colors, deep indigo blues, and wonderful shadow details. There are some occasional speckles of dust and scratches to be seen in the sources, but these are hardly distracting.  There are no signs of color banding or macroblocking in underwater sequences, though some slight hotness can be detected in the overall contrast levels, which seems to be a signature of these IMAX transfers from Image.
Audio Quality

All three titles are provided with English DTS-HD Master Audio 5.1 and French Dolby Digital 5.1 mixes, with Dolphins and Coral Reef Adventure also containing an additional Spanish Dolby Digital 5.1 option.
As usual with these IMAX titles from Image Entertainment, the lossless DTS-HD MA mixes are thoroughly entertaining and well suited for an IMAX presentation. The aggressive mixes are abundant with discrete foley effects in the surround channels as well as lush amounts of ambience on the musical soundtrack and narrative track. Low frequency extension is deep, giving the subwoofer plenty of work to do when ocean currents kick up and boat motors begin to roar. Of course, anchoring any good IMAX exhibition film is its narration, and for each film the narration is clean and balanced appropriately into the mix.
Supplemental Materials

Here is where the Image IMAX release always fall short. Each title in the Blu Sea Trilogy is provided with the usual set of supplements from Image Entertainment including a slate of HD trailers for more IMAX releases, a "Making of" featurette, a "Trivia Quiz" based on the film, and the "Live Connection", otherwise known as BD-Live, which basically offers up more trailers and information on the film and some less-than-lively online forums. Most will not be missing much if they skip these extras entirely.
The Definitive Word
Overall:

If you haven't picked up any of these releases already, now's your opportunity. This is an interesting idea on the part of Image to bundle these loosely related titles into one set. Each film offers a dazzling journey into marine life filled with beautiful images of our planet's oceans and these BD transfers look and sound wonderful; recommended.
[amazon-product]B001RTKKRG[/amazon-product]
Shop with Us for More Blu-ray Titles at Amazon.com