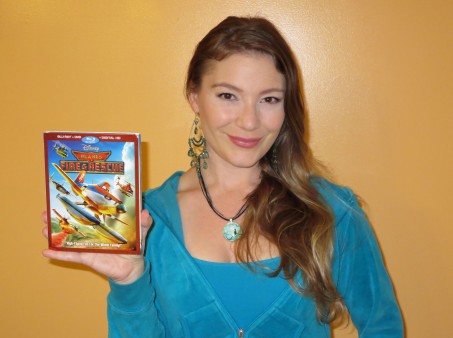 Disney's second installment of Planes may well be considered a tribute to firefighters everywhere. This is a story for all those men and women who put their lives on the line for us, people they may never meet. In the words of the resident mechanic, "Dangerous work, but that's the job of a firefighter… They fly in when others are flying out."
And that may be the best way to sum up this story. Written with hearts of gold most of the planes have likeable qualities but undeveloped personas. It's a beautifully animated feature presentation but lacks memorable characters to hold on to. Dusty Crophopper (Dane Cook, Planes), the star of the original, is about the only name you'll recall by the time the credits roll. The other names are buried in colorful stereotypes, some of which include the wise Indian Chief helicopter who speaks in riddles, the genius mechanic who rebuilds parts to be "better than new," and the big mamma plane with a huge crush on little ol' Dusty.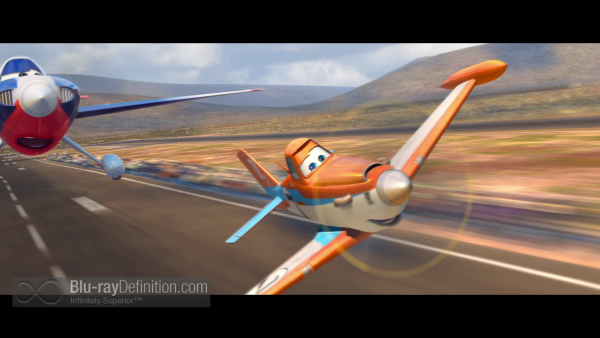 With only a vague sense of their roles left gathering at the corners of a memory, the story is more impressive than the characters that tell it. What at first comes across as the story of a plane that gets too old to fly, his parts worn out and irreplaceable, morphs into a heartwarming story about second chances.
Hotshot celebrity plane Dusty, famous for his speed and air racing, pushes himself to the limits, just like a professional athlete. And all that wear and tear finally takes its toll, forcing Dusty into another career. Fighting fires, Dusty discovers just how dangerous the job is and what it means to be a team player when there are lives at stake. He earns his hero stripes.
There are no true villains, the closest comes in the form of a show off superintendent who builds a resort in the middle of a national forest. He doesn't care about the wildlife; he cares about the tourists, and publicity. Self-centered and greedy, this quasi-villain isn't the evil antagonist you might expect, but he'll suffice.
You know how every animated film has a cute sidekick? Well, Fire and Rescue offers up a team of them. These cute critters are known as the smokejumpers, all terrain vehicles that enjoy jumping out of planes right into the heart of danger. When they find themselves in trouble, it's Dusty who saves the day.
While my one year old probably couldn't grasp the moral of the story, he was mesmerized by the flight sequences and vivid imagery. I was thoroughly engaged for similar reasons. Watching planes zip through the air and above treetops, dash through mountains and skim water from rivers and lakes was fascinating. I have to admit, with little in it for adults, this film still manages to be entertaining enough to watch right alongside the kiddos it's directed at.
If you listen closely, you might hear some familiar voices. This film features the voice talents of Dane Cook, Julie Bowen, Ed Harris, Dale Dye, Wes Studi, Teri Hatcher, Brad Garrett, Cedric the Entertainer and more.
VIDEO QUALITY
[Rating:4.5/5]
Disney's Planes: Fire and Rescue comes in an AVC encoded 1080p in 2.39:1. Bursting with beautiful colors and full bodied shots, this film dazzles in almost every frame. Finely tuned, the edges are crisp with skillfully applied textures that easily meet expectations. The contrast and saturation are tactfully executed, while the deep blacks counter the visually adventurous palette. There are some minor distortions, but so few and far between it's almost not worth mentioning.
AUDIO QUALITY
[Rating:4.5/5]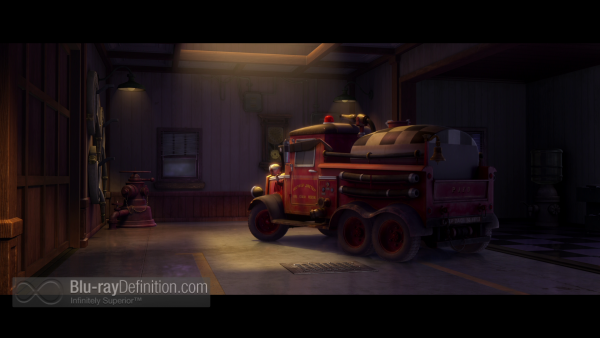 Featuring a DTS-HD Master Audio 7.1 surround sound this track is sure to draw you in. From the masterful aerial stunts, to the sound of a plummeting plane the audio tows you in. With the rear speaker driving you further in, tapping at your eardrums, you'll quickly feel at the center of it all. It's an immersive experience. The LFE channel is no slacker either, and carries plenty of the workload. It's a well done track, with clear dialogue, appropriately timed sound effects and music that doesn't overpower.
SPECIAL FEATURES
[Rating:2.5/5]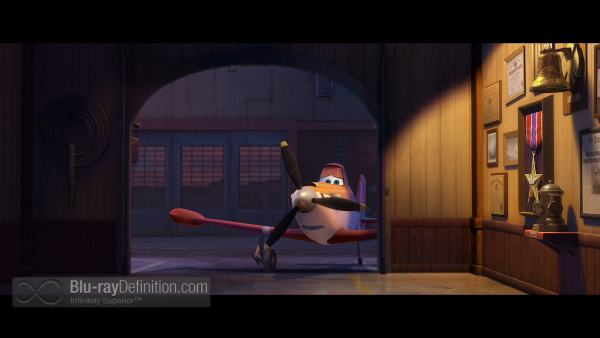 "Vitaminamulch: Air Spectacular" – Cute six minute short in which Dusty saves the day, performing stunts for an angry mob.
Welcome to Piston Peak! – Animated commercial for potential tourists
"CHoPs" TV Promo- A laugh out loud commercial spoofing CHiPs.
Air Attack: Firefighters From The Sky- A brief but fantastic glimpse at the real planes, equipment, firefighters and locations that inspired the movie.
Deleted Scenes – Three deleted scenes with the filmmaker's intro.
"Still I Fly" Music Video by Spencer Lee
Animated Shorts – Two brief shorts, "Dipper" and "Smoke Jumpers,"  that are neither compelling nor terrible.
Aurora Snow Says
OVERALL:
[Rating:3.5/5]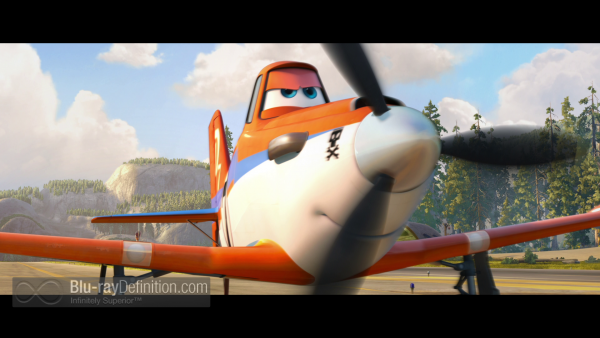 This heartwarming story about second chances certainly deserves a chance of its own. Planes: Fire & Rescue is a beautifully done movie that adults won't detest watching with the kiddos. However unlike other Pixar and Disney releases, this is one adults might not have much interest in on their own. With its lack of unforgettable characters, the film relies a bit heavily on gorgeous animation and pleasantly surprising themes.
More Screen Captures
[amazon-product]B00MMUXOLS[/amazon-product]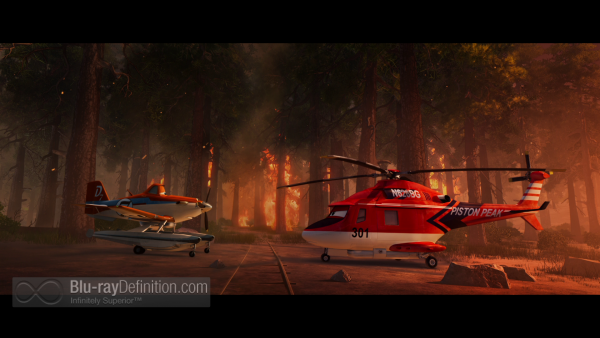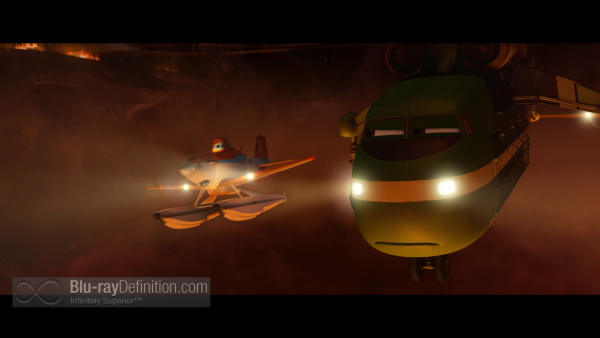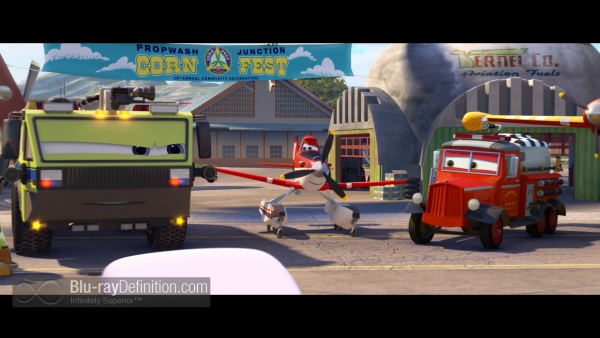 [amazon-product]B00MMUXOLS[/amazon-product]