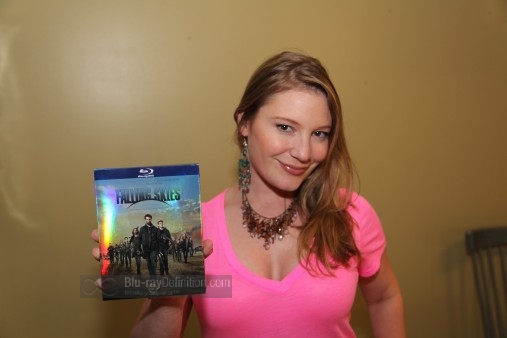 I was initially indifferent towards this show. I looked at the concept and thought, "great – aliens versus human, again." However, I was curious to see the new TV project Steven Spielberg attached his name to, not to mention I knew I'd be reviewing season two, and therefore felt obligated to get through season one first. I've rarely been more thankful for feeling the debt of obligation. I'd have missed a great show. This has made me rethink how I typically watch TV shows; if it doesn't grab me in the first few episodes I'm out. Maybe I've been too quick to pull the plug. After all, I give the books I read 70 to 100 pages to warm up and get better, so maybe I should take a page from Falling Skies and give other shows more than a three episode shot.
Unlike the first season of Falling Skies which took a lot of warming up to (glad I didn't throw in the towel after the third episode), the second season starts off with a bang. Aliens are still trying to take over and would have been successful if it weren't for the survivors fighting to protect what little home they have left here on Earth. The citizens turned soldiers alongside active duty military personnel wage and win enough of their battles with the aliens to be considered a nuisance, if not a potential threat. It's a modern day wild west with a sci-fi theme. The goal of every day is to survive and hope to find enough food, ammunition, medicine, gas and shelter. There are no guarantees that people will be fed or live to see another day, but instead of having people turn against one another due to such vexing matters, our favorite insurgency (also known as the 2nd Massachusetts) has used the stress to band together and work harder towards a common goal. I suspect Captain Dan Weaver (Will Patton), leader of the 2nd Mass, might be the glue that holds these people together. He is a level headed, yet flawed commander who does what's best for his group, which has earned him their undying loyalty. This group would follow him to the ends of the war-torn Earth.
No good show is without conflict no matter how many characters are working together. John Pope (Colin Cunningham) becomes a bigger character this season, his black heart's beginning to grow akin to the Grinch who stole Christmas. I always root for him to do the right thing in his own outlaw fashion – he might be the closest thing to both a goodhearted antagonist and the comic relief.
At the end of season one, former history professor Tom Mason (Noah Wyle) had been abducted by aliens, he disappeared from the 2nd Mass for several months only to return at the beginning of season two. Tom's return causes a lot of controversy among his group. While happy to have their second in command back, Tom now has to earn the trust and loyalty of his people. Something his son Ben (Connor Jessup) is still dealing with due to the spikes implanted in his back (from season one); it's hard to trust a former alien captive.  Apparently there are good alien skitters and bad ones (surprise!) Oddly enough the good skitters are making life for Ben a lot more complicated. A plan for revolt is hatched and Ben will have to step up and pave the way for negotiations between the humans and the skitters. In this harsh setting children are forced to grow up fast, not exactly a care-free environment.
With so much fighting and explosive action it's comforting to see that love still manages to bloom even in the darkest of times. The relationship between Tom and the pediatrician turned battlefield medic, Anne Glass (Moon Bloodgood) takes the next step, creating some questions for season three. Gun toting, bad ass civilian soldier Maggie (Sarah Carter) evolves as a character and finally lets her guard down granting Hal (Drew Roy) access to her heart — but not without putting up a fight first. This isn't a romantic sci-fi, so while the love interests are enough to keep the viewer satiated they don't consume the spotlight.
Despite their desperate situation, the show is not without hope. Constantly moving from camp to camp provides an interesting change of scenery and the feeling of moving towards something bigger. There has been word that the 2nd Mass are not alone in this fight, rumors about a place in Charleston swirl: hot water, real food, numerous survivors and a place to call home once and for all. It sounds like paradise to our weary fighters, but some things are too good to be true. While Charleston was all that they heard it would be, it wasn't the paradise they'd hoped for.
Video Quality
[Rating:5/5]
Every human and alien bit is brought out in gorgeous high-def, from the creases around the actor's eyes to the faint blink of an expression on a hard to read to alien face. It's refreshing to see the exceptional clarity of the dirt and grime on the actors, really lends a hand in making their situation "real." The HD shines a spotlight on the magnificent special effects done with real puppeteer aliens (admirable practical work considering we live in the CGI centric era).
Audio Quality
[Rating:4/5]
Dialogue never gets lost in this, the surround sound is incredibly clear with the Dolby TrueHD. The rear channels get quite a workout during combat scenes, and at one point my kitty cat was very alarmed by the sounds zooming around the room. The audio on these discs is alive and well.
Special Features
[Rating:4/5]
DISC ONE:
One Page At a Time: Writing the Second American Revolution
The Fan's Perspective: Touring the set of Falling Skies
Terry O'Quinn is Manchester
Creating the Crawlies
Designing the Spaceship
Team Skitter: (A must see special feature, you'll appreciate the work that it takes to "become" a skitter so much more.)
Season 2 Animated Trailer, Created by Dark Horse Comics
Audio Commentary "Worlds Apart" with Actor Noah Wyle, Co-Executive Producer/Director Greg Beeman and Writer Mark Verheiden
Disc Two:
The Skitter Evolution:  (Geek-gasm moment! Don't miss seeing how the puppets are built, plus see how the practicals and CGI come together.)
2nd Watch- Episode 20: A More Perfect Union
Season 3 Preview
Audio Commentary "Homecoming" with Actor Noah Wyle, Executive Producer/Director Greg Beeman and Executive Producer Remi Aubuchon.
Audio Commentary "Molon Labe" with Actor Noah Wyle, Executive Producer Remi Aubuchon, and Writes Bradley Thompson, and David Weddle.
Audio Commentary "A More Perfect Union" with Actor Noah Wyle, Executive Producer/Director Greg Beeman, Executive Producer/Writer Remi Aubuchon, and Writers Bradley Thompson and David Weddle.
EXTRAS:
UltraViolet digital copy code is provided for a free digital download
Falling Skies "Graphic Novel Pin Up Art" Collectors Card
What Aurora Says:

[Rating:4.5/5]
An adventurous sci-fi journey full of action with plenty of likeable characters and good plot lines.