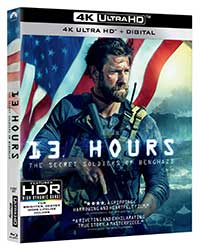 Michael Bay directs 13 Hours, a docudrama war film based on the true events about the very well-known attack on a U.S. Embassy in Bengazhi, which killed four Americans (including U.S. Ambassador Christopher Stevens). Thankfully, Bay avoids the politics surrounding this incident and settles in to the real story on the ground about the soldiers themselves, and here is where Bay is always at home. His fetishistic idealizing of all things militaristic and adulation of American jingoism serves him well in this war drama.
After the overthrow of Libyan authoritarian leader Muammar Gaddafi in 2011, Libya quickly devolved into a tumultuous stew of warring factions. Into this hotbed arrive a group of high paid ex-soldiers working as security contractors, led by Tyrone S. Woods (James Badge Dale), including Jack Silva (John Krasinski) and Kris "Tanto" Paronto (Pablo Schreiber). They are based in a covert CIA base a mile away from the US embassy.  On the 11th anniversary of 9/11, a group of militants lay siege on the US embassy after U.S. Ambassador Christopher Stevens (Matt Letscher) is stationed there The group of former military, realizing what's going on, disobey the orders of their chief of operations and venture out to go and defend the US compound and the Ambassador.
What Michael Bay excels in is kinetic action films and 13 Hours is not wanting for that, often at the expense of helping the viewers develop a closeness with the soldiers and to really care about them. It's a shame, because this is a true story and people really died, but Bay passes through the story so quickly, the edits are so aggressive and the camerawork so agitated that we get more a feeling of impatience.
The first part of the film sets up a bit of backstory and we do learn that the security team are married and have family and children back at home, but the level of testosterone that Bay pumps into the story paints them as careless, self-centered, overly-concerned with machismo and a paycheck. Bay is more comfortable when he's filming the ruggedness of battle, the slow-motion gun battles, the anguish of bullet wounds and the chaos of war.
The Video
13 Hours was shot on a multitude of cameras, the Arriflex 235 with Panavision G-Series lenses; the Arriflex 435 with Panavision G-Series lenses; the GoPro HERO3+; the Red Epic Dragon with Panavision Primo, E-, G-Series, ATZ and Vantage One lenses and Sony Alpha 7s in H.264, Panavision (anamorphic), Redcode RAW (6K), and XAVC-S. A 2K digital intermediate was used and the film arrives on 4K Ultra HD in an HEVC 2160p (4K) encodement with Dolby Vision HDR framed at 2.39:1. The picture has just the right amount of texture and grittiness for a war film, highlights 'pop' marvelously, so when we see flames or the flash from the muzzle of gun, it really explodes from the screen, and the wide color gamut gives an extended palette of oranges and reds in the dancing flames of an explosion and shades of blues and greys in the nuance of shadows.
The Audio
13 Hours hits 4K Ultra HD with a rollicking Dolby Atmos mix. This is another example of a war film making a perfect argument for object-oriented audio. Not only do we get a great dynamic range, with subtle atmospherics and lots of solid effects, but the low end is deep and when the battle sequences pick up the overheads really pick up and the spatial effects are superb.
The Supplements
This is one of the few 4K Ultra HD releases that does not include a Blu-ray with the feature film as well, but there is a separate Blu-ray Disc with special features that are interesting to watch.
Digital
For the Record: Finding the Truth Amid the Noise (1.78:1; 1080p; 00:08:02)
Uncovering Benghazi's Secret Soldiers (1.78:1; 1080p; 00:27:34)
Preparing for Battle: Behind the Scenes of 13 Hours (1.78:1; 1080p; 00:26:24)
Operation: 13 Hours Premiere (1.78:1; 1080p; 00:03:00)
In Memoriam (2.40:1; 1080p; 00:02:58)
The Final Assessment
13 Hours: The Secret Soldier of Benghazi is a good movie for anyone who likes war films. It's not perfect, and Michael Bay could have done better to delve into the backstory of the soldiers, but overall, he does well to avoid the vitriolic politics surrounding this story and the 4K Ultra HD disc is a rollicking home theater presentation.
13 Hours: The Secret Soldiers of Benghazi is out on 4K Ultra HD June 11, 2019 from Paramount
---
R (for strong combat violence throughout, bloody images, and language)
Rating Certificate
Paramount Pictures | 3 Arts Entertainment | Bay Films | Dune Films | Latina Pictures | Paramount Home Entertainment
Studios & Distributors
Chuck Hogan (screenplay) | Mitchell Zuckoff (book)
Writer
$25.99
MSRP
HEVC (H.265) 2160p (4K)
Video
Dolby Vision (Compatible w/ HDR10)
HDR Format
English Dolby Atmos (Compatible w/ Dolby TrueHD 7.1)
Primary Audio
English DD 5.1 | English Discrete DD 2.0 | English Audio Description | Spanish DD 5.1 | French DD 5.1 | Portuguese DD 5.1
Secondary Audio
English | English SDH | Spanish | French | Portuguese
Subtitles
HDR Effect (If Applicable)
Summary
Based on the true story, a security team made up of former military find themselves having to defend the U.S. embassy in Benghazi when militants lay siege to it on the 11th anniversary of 9/11. Michael Bay misses some of the depth of the situation, but thankfully avoids the vitriolic politics and tells the story of the soldiers on the ground in this action-packed, intense war film. The 4K Ultra HD Disc is a home theater showpiece.
What people say... Login to rate
Be the first to leave a review.
Show more