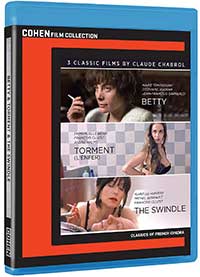 Cohen Film Collection brings together three films by the filmmaker often regarded as the founder of the Nouvelle vague movement in this collection. Claude Chabrol's films often deal with characters of ambiguous scruples, blurring the line between good and bad, right and wrong, and these three films blend that sense with an even trickier subject, love. Each film in this collection approaches relationships from a different angle, and in each case we see how love can be both good and detrimental to one's well being.
Betty (1992) follows the titular character, played by Marie Trintignant, who spends most of the movie in a haze of alcohol. After being caught by her bourgeoisie in-laws during one of her multiple sexual dalliances, Betty is forced to write out and sign a contract declaring she abandons all rights to her two children, thereby turning over all parental rights to her cuckolded husband. In exchange, she will be well cared for financially, but she will have nothing more to do with them or her husband. The final humiliation coming when they hand over the check. The drunken Betty is adopted of sorts by the older alcoholic Laure (Stéphane Audran), who takes her in and lets Betty stay in her hotel room flat. Laure is fascinated with Betty's pitiful state and her story of her licentious behavior so much so that Laure doesn't see that Betty's unprincipled sexual appetite may be destroying a relationship she has with her own boyfriend.
Chabrol blurs the lines of victim and knowing participant using sometimes-confusing flashbacks and flash-forwards to tell Betty's story, and while Betty as a character comes across equally pitiful and coy, by the ending Chabrol has made the viewer aware that he has played a big game of deception on them from the beginning.
Torment (L'enfer) is Chabrol finishing a project that took decades to complete. Originally L'enfer was to be directed by the late Henri-Georges Clouzot in 1964, but the lead actress died. When a new actress was cast and Clouzot resumed production, he was sidelined with a heart attack. Filming never resumed. Finally, in 1994, Chabrol made the film and it is heavily influenced by Clouzot's original intentions, as well as other Noir directors such as Hitchcock, particularly in the final act as things begin to really spiral out of control.
The story centers on a newlyweds Paul (François Cluzet) and Nelly (Emmanuelle Béart). When Paul buys the beautiful resort he worked at for years to fix it up, Nelly supports him and the two marry and settle down in the peaceful vacation town. They have a child, and all is well, but soon, Paul begins to suspect his Nelly of extramarital affairs with a handsome resort customer, and soon, with almost every man in the resort. With his jealousy spiraling out of control, he begins following her, imagining her having sexual encounters that didn't occur, until finally he turns violent.
The final act of L'enfer is the most inventive of the entire film even if it is the most derivative of the film. Chabrol used tilted angles, numerous mirrors to set up the frames, and stark lights and shadows for a neo-noir thriller where the film started as an average love story gone awry. Cluzet's performance as Paul is excellent is conveying the madness that seeps into the brain due to uncontrollable jealousy.
Lastly, the set includes the 1997 comedy heist film The Swindle, with heavy Hitchcockian influences. Issabelle Hupert and Michel Serrault play duo of con artists Betty and Victor who until recently have stuck to small-time scams like scoping out casino and after the flirtatious Betty gets one up to his hotel room by drugging him grabbing his cash when the inspecting dupe is knocked out cold. But after Betty reveals to Victor she's been working a long con on Maurice (François Cluzet), a treasurer for large multinational corporation who is planning on misappropriating five millions Swiss Francs in cash he is supposed to transfer via attaché for a group of dubious gangsters, Victor becomes suspicious that Betty may be getting ready to two-time him.
The Swindle, released in France as Rien ne va plus is a bit of a muddled film that never finds its footing as either a thrilling heist or a funny love story between two grifters who can't quite trust each other completely. The love triangle between Betty, Paul, and Maurice is underdeveloped and uninteresting at best, and by the time the film's big heist comes around, it feels underdeveloped, a bit anti-climactic to say the least.
The big name actors in The Swindle are what truly help to keep the film afloat, even though they are working with what is one of Chabrol's lesser quality films, his 50th overall.
The Video
All three films come to Blu-ray in new 2K restorations from Cohen Film Collection and they each look stunning in their own right. Given the stretch in years from 1992 for Betty to 1997 for The Swindle and that they are each very different films, it is surprising how consistent they all look in quality. Each comes in a 1.66:1 AVC 1080p encodement on Blu-ray with crisp textures, a thin layer of grain that looks wonderfully organic, and greatly extended details. Look at Torment's closing act as Paul makes his way down the long, narrow hallway for an example of the extended depth of field each of these films' restorations has achieved. The Swindle shows the most instances of source damage, but that comes mostly in some cut scenes and during in camera effects and stock footage of airplanes, which is to be expected. Overall, these transfers are absolutely gorgeous.
The Audio
Each film in this collection comes with a competent and full-sounding French LPCM 2.0 mono mix of the original soundtracks. They offer clean dialogue and reasonable dynamics with little distracting hiss or pops.
The Supplements
Betty gets only the re-release theatrical trailer (1.66:1; 1080p/24; 00:01:34). Torment and The Swindle are as below:
Torment commentary by Wade Major and Andy Klein
Torment Re-release Theatrical Trailer (1.66:1; 1080p/24; 00:01:24)
The Swindle Commentary by Wade Major and Andy Klein
The Swindle — Interview with François Cluzet by NY Film Festival director Kent Jones (1.78:1; 1080p/24; 00:42:32)
The Swindle — Re-release Theatrical Trailer (1.66:1; 1080p/24; 00:02:00
The audio commentaries on both Torment and The Swindle by Wade Major and Andy Klein are not to be missed if you want fascinating details on the influences and shooting techniques of Chabrol in both of these films.
The Final Assessment
Three looks at the different kinds of relationships and love, three levels of quality from Chabrol, each one appetizing in its own right, but neither one completely flawless. This could sum up the whole of Chabrol's later work perfectly. Still, this classic trio of works from the auteur will make a wonderful edition to any cineaste's collection given the gorgeous restorations from Cohen Media Group and the quality of filmmaking from Claude Chabrol.
[amazon_auto_links id="97579"]
Cohen Media Group | Cohen Film Collection
Studios & Distributors
Claude Chabrol | Georges Simenon | Henri-Georges Clouzot | José-André Lacour |
Writer
103 Mins. (Betty) | 102 Mins. (Torment) | 105 Mins. (The Swindle)
Run Time
$49.99
MSRP
French LPCM 2.0 Mono
Audio
Summary
These three films give varying perspectives on relationships, love, right, and wrong, with varying degrees of success from auteur Claude Chabrol. All come with beautiful restorations on Blu-ray courtesy of Cohen Film Collection.
What people say... Login to rate
Be the first to leave a review.
Show more