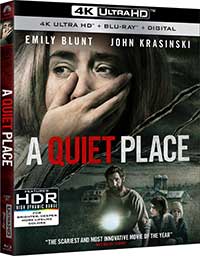 The horror sensation of 2018 so far, A Quiet Place from writer/director/actor John Krasinski leads the charge for the rebirth of the genre in the latter half of the decade which has seen such amazing genre redefining films such as Get Out, or films reaching back successfully to the past of the genre, like the Gothic thriller The Limehouse Golem, a throwback to the old Hammer films, but with a mystery twist.
Krasinki's film takes the old creature feature to a whole new level, setting the story in am indistinct place and time – a post-apocalyptic world where strange, barely seen, always slightly out of sight creature have apparently hunted humanity into near extinction. A couple, Evelyn (Emily Blunt) and Lee (Krasinski), and their two children Regan (Millicent Simmonds) and Marcus (Noah Jupe) must live in near silence to hide away from the terrifying creatures that hunt them by sound. They have already lost one young son over year earlier who didn't understand the importance of staying silent after he made the mistake of turning on a toy space shuttle.
We follow them through their daily lives as they speak to each other in sign language – their daughter Regan is hearing impaired, so they must have learned how to communicate before the plague of terror. They walk without shoes. Lee goes out daily and puts down a trail of sand everywhere they need to go to dull the sounds of their footsteps and the fallen leaves. But with Evelyn's pregnancy and due date looming, things are about to get very hazardous.
One would never think that a film that spends ¾ of the time is nearly absolute silence could be so compelling, but A Quiet Place is absolutely riveting, and it makes the horror all the more terrifying when the noise cuts through the silence of the family's daily lives. Krasinki's direction keeps the film's pacing steady and the intensity high so it never lapses into a dull moment.
The Video
A Quiet Place was shot on the Arriflex 235, Arriflex 35 IIC, and Panavision Panaflex Millennium XL2 cameras with Panavision C-, G-, T-Series, Super Speed MKII, and T-Series Lenses (Arri) and Panavision Primo, C-, G-, T-Series, Macro Panatar, Super Speed MKII, Sphero 65, ATZ, AWZ2 and Angenieux Optimo lenses (Panavision) on 35mm Kodak Vision3 250D 5207 and Vision3 500T 5219 film stock. A 2K DI was used in post-processing and the film was mastered with Dolby Vision HDR. The 4K Utlra HD arrives in an HEVC 2160p (4K) encodement with Dolby Vision, upscaled from the 2K digital master. The imagery looks flawlessly filmlike with a crisp amount of high level detail, inky blacks and lots of 'pop' on the highlights. Shadows are nicely nuanced, which is superb for a film that heavily relies on indoor scenes and the ambience of the nighttime to create its horror. The Blu-ray is also a solid disc, with a little less 'pop' and crispness, but still a detailed presentation with good color and contrast.
The Audio
A Quiet Place comes to 4K Ultra HD and Blu-ray with a quiet but no less entertaining immersive Dolby Atmos mix that is perfect for this film. It is atmospheric when it needs to be and the height channels are effectively used to convey the fleeting, yet terrifying sounds of the creatures. The surround and surround back channels also come into play to carry the occasional loud noise or whooshing of the breeze.
The Supplements
We get a small collection of brief making of featurettes that, despite their brevity, are interesting and informative. The titles are self-explanatory. Blu-ray with feature film and special features as well as iTunes and UltraViolet digital are also included.
Creating the Quiet – Behind the Scenes of A Quiet Place (1.78:1; 1080p/24; 00:14:45)
The Sound of Darkness – Editing Sound (1.78:1; 1080p/24; 00:11:44)
A Reason for Silence – The Visual Effects (1.78:1; 1080p/24; 00:07:33)
The Final Assessment
An atmospheric and absolutely terrifying horror film that lingers in silence but never gets dull, A Quiet Place is a genre-defining film that is a standout for the year so far; just don't crunch too loudly on that popcorn.
A Quiet Place is out on 4K Ultra HD Combo Pack July 10, 2018 from Paramount
[amazon_link asins='B07CBLS785,B07CF6X8S7′ template='ProductCarousel' store='theaterbyte-20′ marketplace='US' link_id='698d5f30-83b2-11e8-9030-ad46d7b7496e']
PG-13 (for terror and some bloody images)
Rating Certificate
Platinum Dunes | Sunday Night | Paramount Home Media Distribution
Studios & Distributors
Bryan Woods (story & screenplay by) | Scott Beck (story & screenplay by) | John Krasinski (screenplay by)
Writer
$34.99
MSRP
HEVC (H.265) 2160p (4K) | AVC 1080p (Blu-ray)
Video
Dolby Vision (Compatible w/ HDR10)
HDR Format
English Dolby Atmos (Compatible w/ Dolby TrueHD 7.1)
Primary Audio
French DD 5.1 | Portuguese DD 5.1 | Spanish DD 5.1 | English Audio Description
Secondary Audio
English | English SDH | French | Portuguese | Spanish
Subtitles
HDR Effect (If Applicable)
Summary
In this dystopian horror/thriller starring Emily Blunt and John Krasinski, a family is forced to live their life in silence as they hide out from mysterious creatures that hunt by sound. The film says just enough in its brief 90-minutes with credits running time to fill you in on what may have happened on Earth and why these things are on a rampage. Just try not to make too much noise if you go to a screening of this film. This 4K Ultra HD Combo pack release with Dolby Atmos sound and Dolby Vision looks and sounds excellent -- the perfect reference quality disc to watch in the dark on your home theater setup.
What people say... Login to rate
Be the first to leave a review.
Show more