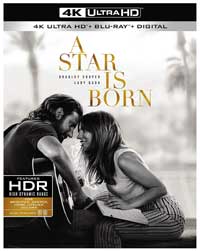 2018's A Star is Born, actor and lead Bradley Cooper's directorial debut, is a remake of a remake of a remake, the most iconic version of this oft redone story being the 1954 version starring Judy Garland and James Mason directed by George Cukor.
Here we have a version updated for contemporary sensibilities, and one to wipe out the forgettable 1976 turn by Barbara Streisand and Kris Kristofferson. Cooper, who in addition to directing co-wrote the screenplay with Eric Roth, plays aging Americana star Jackson Maine whose career is starting to suffer from his personal demons including his tinnitus, alcoholism, and prescription drug abuse. He meets struggling singer/songwriter Ally (played by Lady Gaga in a brilliant casting decision) one night in a drag bar as he is desperately on the search for his next drink after a gig. After seeing her performance of "La vie en rose," Jack is bedazzled, the two hit it off and spend the night together getting to know each other, becoming an instant couple. Soon Ally is joining Jack on tour, backing him up on stage and contributing song to his repertoire.
Ally is then discovered by a smarmy manager who wants to build her into a star in her own right, but a massive makeover is undertaken, tasking her from the unassuming brunette behind the piano to a scantily clad red-haired pop diva. Whatever the formula, it works and Ally becomes a sensation even as Jackson's – the two of them married at this point — career and health start to head into a tailspin.
I know the popular opinion is that this version of A Star is Born is a great film and sure enough there is plenty to like here. Cooper has strong visual eye and manages to capture the energy of the live performances, plus the vertiginous alcohol and drug induced moments. He also pulls a surprisingly sincere and well-rounded performance out of "newcomer" Lady Gaga, who is albeit, portraying a character that closely mirrors her own career path.
That's the end of the good as I see it, and what we are left with is a story that deals in plenty of clichés and tropes we have seen so many times before in many films. The entire drug-addled rock star trope or serious artist commercialized by the corporate entities for money is banal at this point. Especially when we have to watch it played out against a soundtrack of generic Americana and bubblegum pop music, nothing too adventurous, nothing to offensive, just down the middle. I couldn't identify a real earworm on this soundtrack if my life depended on it.
The Video
A Star is Born was shot on the Arri Alexa Mini with Cooke Anamorphic/i SF Camtec Vintage Series, Kowa Cine Prominar, and Angenieux Optimo Anamorphic 30-72 & 56-152 lenses at 2.8K and 3.4K resolution. The film comes to 4K Ultra HD in a HEVC 2160p (4K) encodement with Dolby Vision HDR. There is an artistically gritty and filmic appearance that is captured in all its finer details in this 4K transfer. The Dolby Vision's wider color gamut applies some much-needed nuance and 'pop' to what can be at times a bit of a drab-looking palette. The highlights come through nicely, however, especially the lens flares and stage lights.
The Audio
The English Dolby Atmos mix for A Star is Born is less aggressive and discrete than it is atmospheric and very effective at capturing the crowd and special effects of the live performances. There's also deep low end extension providing very musical bass. Dialogue also comes through cleanly.
The Supplements
The half-hour 'making of', which is really a sitdown discussion between Cooper and Lady Gaga is an interesting inclusion. The jam sessions are a cool bonus for music fans.
Movies Anywhere Digital code
Blu-ray with feature film and special features
The Road to Stardom: Making A Star is Born (2.35:1; 1080p; 00:30:02)
Jam Sessions and Rarities:

Baby What You Want Me To Do (Jam Session)
Midnight Special (Jam Session)
Is That Alright by Lady Gaga

Music Videos:

Shallow by Lady Gaga and Bradley Cooper
Always Remember Us This Way by Lady Gaga
Look What I Found by Lady Gaga
I'll Never Love Again by Lady Gaga

Musical Moments
The Final Assessment
Perhaps the fifth time will be the charm with A Star is Born, or maybe they should finally put this story to rest rather than constantly resurrecting it. That said, it isn't all bad – the performances are excellent, the visuals are superb, and this 4K Ultra HD release is a reference of the audio/visual quality.
A Star is Born is out on 4K Ultra HD Combo Pack, Blu-ray Combo Pack, and DVD February 19, 2019 from Warner Bros.
[amazon_link asins='B07GVXD8J3,B07GVXD8J2,B07JYQN7J6′ template='ProductCarousel' store='theaterbyte-20′ marketplace='US' link_id='c271baff-548d-4c91-80dd-e2dfa153715c']
---
R (for language throughout, some sexuality/nudity and substance abuse)
Rating Certificate
Warner Bros. Pictures | Live Nation Productions | MGM | Peters Entertainment | Gerber Pictures | Joint Effort | Malpaso Productions | Thunder Road Pictures | Warner Bros. Home Entertainment
Studios & Distributors
Eric Roth | Bradley Cooper | Will Fetters
Writer
$44.95
MSRP
HEVC (H.265) 2160p (4K) | AVC 1080p (Blu-ray)
Video
Dolby Vision (Compatible w/ HDR10)
HDR Format
English Dolby Atmos (Compatible w/ Dolby TrueHD 7.1)
Primary Audio
English DTS-HD MA 5.1 | English Descriptive Audio | French DD 5.1 | Spanish (Latino) DD 5.1 | Portuguese DD 5.1
Secondary Audio
English SDH | French | Spanish (Latino) | Portuguese
Subtitles
HDR Effect (If Applicable)
Summary
An aging country music star (Bradley Cooper) meets, falls in love with, marries, and helps the career of a young singer-songwriter (Lady Gaga), even as his own career is in a downward spiral of poor health, alcoholism, and drug abuse. Cooper's directorial debut is visually striking and contains brilliant performances from both himself and 'newcomer' Lady Gaga, but this remake of a remake of a remake deals in too many rock star tropes and pop music clichés to be entirely engaging. The 4K Ultra HD release with Dolby Vision and Dolby Atmos is reference quality A/V.
What people say... Login to rate
Be the first to leave a review.
Show more