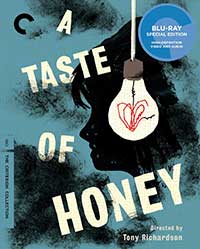 Tony Richardson's film adaptation of Shelagh Delaney's "kitchen-sink" stage play A Taste of Honey was ahead of its time in for a multiple reasons. The dark hued 1961 drama focused on the young woman Jo (played brilliantly by Rita Tushingham who would go on to win Best Actress for her role at the 1962 Cannes Film Festival) just coming of age who is bitter and adrift, feeling lost without emotional attachment from her inebriate and libidinous mother Helen (comedic actress Dora Bryan in one of her most complex roles). When Helen abandons her even further by running off to marry her latest boyfriend, the hard drinking Peter (Robert Stephens), Jo ends up finding comfort in the arms of dashing black sailor Jimmy (Paul Danquah), who is quickly sailing out of town again with Jo now pregnant and on her own. Comfort and a sense of stability arrives in the form of gay fashion student Geoffrey (Murray Melvin) who moves in with Jo in her new apartment and starts caring for her. Their "family life" doesn't last for too long, once Jo's contemptible mother finds out she is pregnant. With her marriage to Peter already in a shambles, she moves in with Jo and begins disrupting her arrangement with Geoffrey.
Delaney's play (she also co-wrote the screenplay with Richardson) hits on interracial relationships, premarital sex, and homosexuality, all obvious taboos in 1961 Britain and elsewhere. In fact, before the "kitchen sink" movement, subjects like homosexuality weren't even allowed to be brought up in British theater and if they were, they were so filtered out by the censors, that you probably wouldn't even have realized it was. This film is notable for touching on such subjects like interracial relationships well ahead of, say, Guess Who's Coming to Dinner? And also, even within its own so-called "kitchen sink" genre, for being centered on an "angry young woman" in Jo, rather than the "angry young man" of other films from that era like "A Look Back in Anger" or "The Loneliness of the Long Distance Runner."
Also notable in A Taste of Honey, beyond just its working class and lower-middle class themes and Northern England characters, is the cinematography of Lancashire courtesy of British New Wave favorite Walter Lassally who provides bleak yet beautiful looks at the canals, side streets and town life of Northern England. One of the most moving moments coming when Jo watches Jimmy leaving her, for the last time, as he walks to the edge of the turn bridge, his silhouette against the industrial backdrop. This imagery, now so common, actually helped to take Delaney's play out of its confines of rundown apartments and hotel rooms and put it in the even broader context of the deteriorating working class, industrial world outside.