Aspect Ratio: 1.78:1

Video Codec: MVC (Blu-ray 3D), AVC/MPEG-4 (Blu-ray)

Resolution: 1080p/24

Audio Codec: Blu-ray 3D: English DTS-HD Master Audio 5.1, English 2.0 Descriptive Video Services, Chinese Dolby Digital 5.1, French Dolby Digital 5.1, Japanese Dolby Digital 5.1, Portuguese Dolby Digital 5.1, Spanish (Latin American) Dolby 5.1; Blu-ray: English DTS-HD Master Audio 5.1, English 2.0 Descriptive Video Services,French Dolby Digital 5.1, Spanish (Latin American) Dolby Digital 5.1

Subtitles: Blu-ray 3D: English, English SDH, Bahasa, Chinese, French, Korean, Malay, Portuguese, Spanish, Thai,  Vietnamese; Blu-ray: English SDH, French, Spanish

Rating: PG

Region: Blu-ray 3D: ABC (Region-Free); Blu-ray: Region A (Region-Locked)

Discs: 4 (1 x Blu-ray 3D + 1 x Blu-ray + 1 x DVD + 1 x Digital Copy)

Studio: Walt Disney Studios Home Entertainment

Blu-ray Release Date: December 7, 2010

List Price: $49.99
[amazon-product align="right"]B0043EV774[/amazon-product]
Purchase Alice in Wonderland Blu-ray 3D 4-Disc Combo Pack at CD Universe
Shop for more Blu-ray titles at Amazon.com
Overall
[Rating:3.5/5]
The Film
[Rating:3/5]
Video Quality:
HD:[Rating:4/5]
3D:[Rating:3.5/5]
Audio Quality
[Rating:4/5]
Supplemental Materials
[Rating:3.5/5]
Click thumbnails for high-resolution 1920X1080p screen captures
(Screen captures are lightly compressed with lossy JPEG  thus are meant as a general representation of the content and do not fully reveal the capabilities of the Blu-ray format)
The Film
[Rating:3/5]

Dull is as dull does, and were it not for the incredible imagination of Tim Burton, this live action re-working of Disney's animated classic Alice in Wonderland from the Lewis Carroll story would be intolerably dull and uninspired at its heart. It is Burton's visual mélange and Johnny Depp's uneasy portrayal of the Mad Hatter that keep Alice from sinking inescapably into the doldrums straight through the film.
In Alice in Wonderland, Alice (Mia Wasikowska) returns to the land she first entered as a child. Falling down the rabbit hole, she is now 19 and she enters the upside-down world where she must deal with tweedle-dee and tweedle-dum, a disappearing Cheshire cat, and the Red Queen (Helena Bonham Carter), who wants her head!
Sadly, the characters never quite come alive in the magical way one would hope, and Alice's story devolves into something along the lines of a SyFy channel reworking, with some sense of angst bubbling under the surface of "Underland," but no real momentum obtained. It is the stunning CGI and motion capture work of Burton and Johnny Depp's portrayal of a Mad Hatter who seems as though he may go postal and wipe out the entire civilization of Wonderland at any moment that make Alice tolerable. Add in a halfway decent 3D conversion, if you watch that version, and Alice in Wonderland is okay enough family entertainment, but certainly falls on the side of banality.  Here's looking out for Disney's animated classic to hit Blu-ray and inject a true sense of wonderment back into this classic tale.
Video Quality
HD: [Rating:4/5]
3D: [Rating:3.5/5]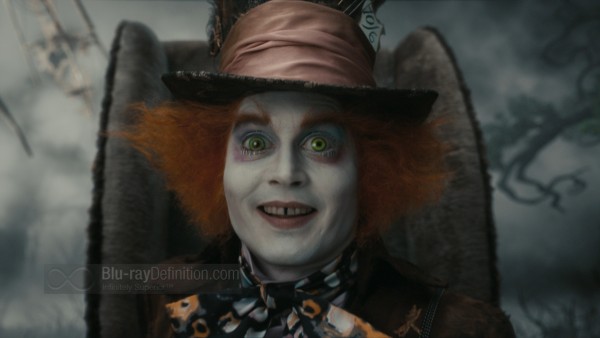 The Blu-ray 3D in the package is laid off on a disc all to itself and, one would assume, that for anyone putting out the $49.99 MSRP for this package, that disc is the star of the show. Whether you are talking 2D or 3D, however, this version of Alice in Wonderland has a strange, ethereal color palette, often de-saturated, that just doesn't "pop" much in HD. If your 3D display cannot compensate for the lowered brightness levels caused by the active shutter glasses (like mine can) this may be an even bigger issue while watching in 3D.
Another issue with 3D playback at home as it stands today is "ghosting" or crosstalk, when the left eye sees what is meant for the right eye, causing a "ghost" image around edges of some objects. This is very display dependent, but even the best Panasonic VIERA plasmas, held up by some as the best for 3D content today suffer from some crosstalk issues. It has been my experience that a lot of these issues are also content dependent, with crosstalk often varying widely depending on the title. With that being said, since its introduction, my Samsung UN55C8000 3D display has had a series of firmware updates that added features to the display to help tweak the 3D settings, reduce crosstalk and increase brightness and color reproduction during 3D playback, making it just about equivalent to 2D playback on the latter two issues. Crosstalk is always minimal and sporadic, but rarely ever enough to hamper overall entertainment value and enjoyment.
Alice in Wonderland 3D, it must be said, is one of the stronger 3D titles I have seen concerning the crosstalk issue, having minimal problems with crosstalk throughout. With the film itself being a 2D-to-3D conversion, however, it never offers any true moments of "pop," with the image more like looking through a museum display window. There is a nice added level of dimensionality, and Alice displays much better depth than the rush job that was Clash of the Titans 3D, another title with minimal crosstalk, but a worthless amount of 3D depth.
Overall, however, Alice in Wonderland just looks like a high-end conversion, sort of like a better version of what my Samsung display does on its own converting 2D-to-3D content on the fly.
The 2D Blu-ray version of Alice in Wonderland loses the added depth (and occasional issues with crosstalk), but has just as clean and detailed an HD image, as one would expect.  For those looking for some real HD "oomph," I don't know that either version here is really strong enough to be an absolute go-to reference, but they are still visual treats put to Blu-ray with very solid efforts.
Audio Quality
[Rating:4/5]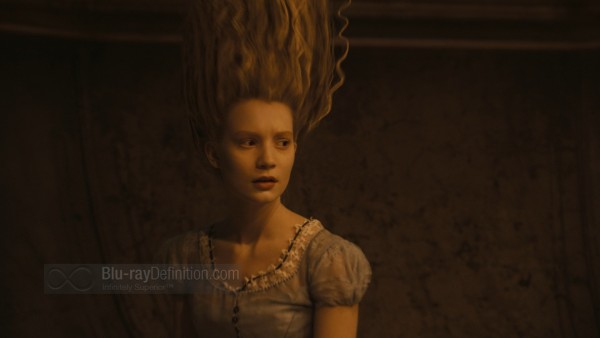 Alice is granted a pretty aggressive DTS-HD Master Audio 5.1 mix that makes heavy use of the surround channels throughout the film panning all manner of discrete sound effects through the room and adding in oodles of ambient effects to hold the whole mix together. Dynamic range is wide and low frequencies extend down rather low. Dialogue is clean and the overall effect of the mix is a relaxed, dynamic, fun, and easy to listen to home theatre showpiece.
Supplemental Materials
[Rating:3.5/5]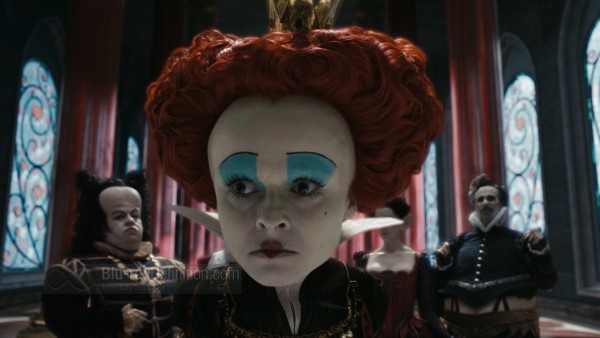 It's hard to argue against a 4-disc package stuffed with a Blu-ray 3D, 2D Blu-ray, DVD, and Digital Copy of the film, plus a good dose of 1080p featurettes loaded onto the Blu-ray along with BD-Live. Purchasers just can't feel cheated after picking up this bulky pack, that even has a deluxe, lenticular cover with a holographic, 3D-like image.
The supplements provided with this release are:
Blu-ray:
Wonderland Characters (1.78:1; 1080p/24):

Finding Alice (0:05.25)
The Mad Hatter (0:06.02)
The Futterwacken (0:03.23)
The Red Queen (0:05.58)
Time-Lapse: Sculpting the Red Queen (0:02.40)
The White Queen (0:04.27)

Making Wonderland (1.78:1; 1080p/24):

Scoring Wonderland (0:03.10)
Effecting Wonderland (0:06.53)
Stunts of Wonderland (0:02.34)
Making the Proper Size (0:02.13)
Cakes of Wonderland (0:02.34)
Tea Party Props (0:02.04)

BD-Live
Blu-ray 3D
DVD
Digital Copy
The Definitive Word
Overall:
[Rating:3.5/5]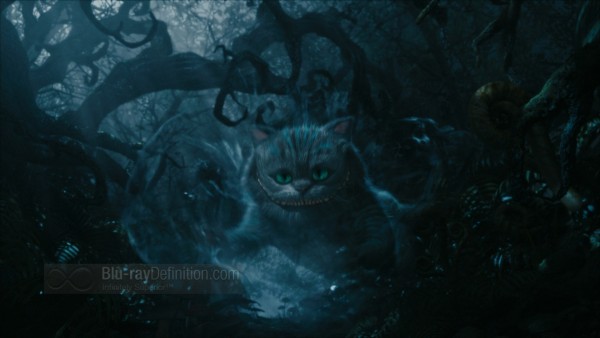 Alice in Wonderland never rises above mere eye-candy as a film, lacking the magic of Carroll's original tale and the wonderment of Disney's animated classic. Even the 3D conversion of the film offered up in this 4-disc combo pack is only subtly more engaging visually that its 2D counterpart. On the whole, Alice makes for easy family entertainment, but certainly nothing above average.  You still owe it to yourself to pick this up if you have a 3D display, however, to check out Tim Burton's marvelous visuals in the third dimension.
Additional Screen Captures: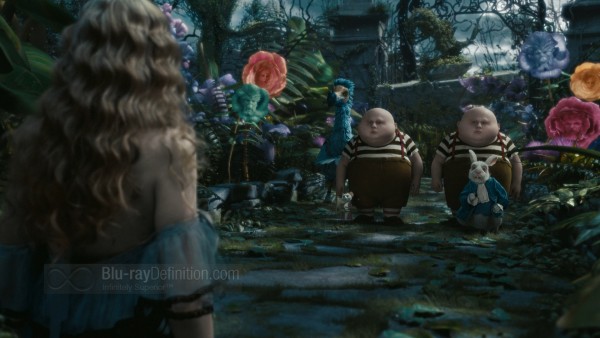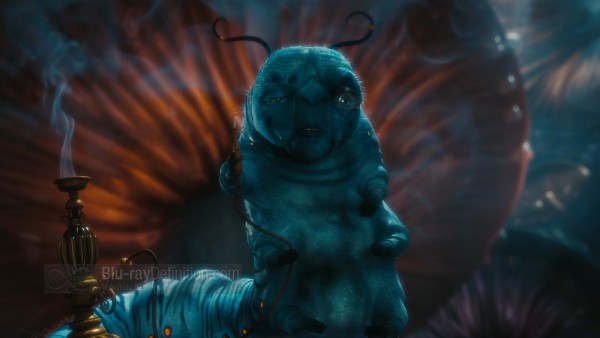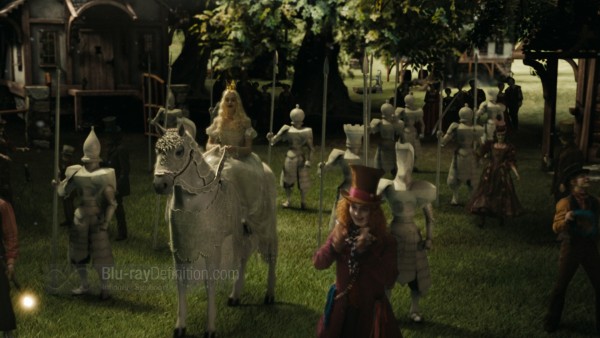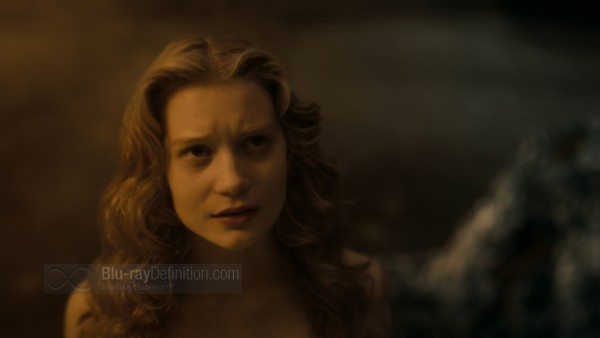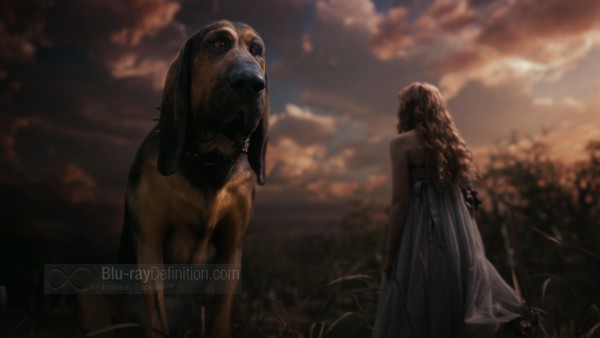 [amazon-product align="right"]B0043EV774[/amazon-product]
Purchase Alice in Wonderland Blu-ray 3D 4-Disc Combo Pack at CD Universe
Shop for more Blu-ray titles at Amazon.com