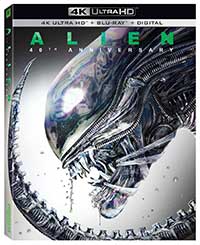 Ridley Scott's 1979 original entry in the Alien franchise is a slower and more claustrophobic film than subsequent entries, especially James Cameron's 1986 follow-up Aliens. In this film, a merchant spaceship with a small crew picks up what they perceive to be a distress signal from an alien planet. The corporate laws governing them require them to respond or risk forfeiting their pay. When they investigate the strange world, they end up bringing back a strange and dangerous parasitic creature that threatens the life of the entire crew.
Sigourney Weaver establishes her now iconic character Ripley in this outing, and while the visual effects are not even on par with what would come only seven years later with James Cameron's Aliens, there's much more intense feeling in Alien. This thriller keeps us on the edge of our seats from start to finish and it's the atmosphere, silence, and darkness around every corner like the best horror films that keeps us engaged as well as the interaction between the small crew struggling to stay alive and dealing with petty differences.
All of the tropes of this franchise got their start here, so Alien is interesting to watch on multiple levels, even if it isn't the biggest and glossiest of the series.
The Video
Alien has looked fantastic on Blu-ray for the past decade, and now it looks even better in this new 4K remaster on 4K Ultra HD taken from a 4K Digital Intermediate. The 1979 production was obviously originally shot on film, 35mm Eastman 100T 5247 film stock to be exact. It arrives here framed at 2.40:1 in a HEVC 2160p (4K) encodement with HDR10+ HDR. Since my LG OLED display only supports Dolby Vision and HDR10, I watched the disc in the latter. Even though I lost some of the added nuance that the HDR10+ would bring, in HDR10, it still looked awesome, with beautiful shadow detail and superb "pop" in the highlights. The film grain looked completely organic and there was no evidence of excessive smoothing or edge enhancement.
The Audio
This new 4K Ultra HD 40th Anniversary edition of Alien hasn't been upgraded in the audio department, so we get the same audio mixes that appeared on the Blu-ray in the Alien Anthology, originally from 2010. A 5.1 remix in DTS-HD Master Audio and a 4.1 mix in DTS-HD Master Audio limited to the Theatrical Version. Both sound good with excellent dynamics and atmospherics, but the upgraded 5.1 mix definitely does step things up a notch and has superb low-end extension. Too bad Scott declined to upgrade the sound further to one of the new object-oriented audio formats.
The Supplements
The supplements inculded in this new edition are all rehashed, but they are still good ones, including two audio comemntaries, an isolated score track and over six minutes of deleted scenes.
Movies Anywhere Digital included – Stream or download via your provider of choice (iTunes, Amazon Prime Video, Fandango Now, Vudu, Google Play, Movies Anywhere)
2003 audio commentary by Ridley Scott and the cast and crew
1999 audio commentary by Ridley Scott (1979 theatrical version only)
Final Theatrical Isolated Score in Dolby Digital 5.1 (Theatrical Version only)
Composer's Original Isolated Score in Dolby Digital 5.1 (1979 Theatrical Version only)
Deleted Scenes (2.35:1; 1080p; 00:06:39)
Ridley Scott 2003 Director's Cut Introduction (Blu-ray Only) (1.78:1; 1080p; 00:00:57)
The Final Assessment
Alien remains a classic forty-years after its release. From the judicial use of visual effects to the nightmarish alien creatures and gory alien birthing scene that is a sci-fi/horror mainstay, Ridley Scott created an enduring film; it has never looked better than it does in this superbly remastered 4K Ultra HD 40th Anniversary edition.
Alien: 40th Anniversay is out on 4K Ultra HD Combo Pack April 23, 2019 from Fox Home Entertainment
---
R (for sci-fi violence/gore and language)
Rating Certificate
Brandywine Productions | Twentieth Century-Fox Productions | Fox Home Entertainment
Studios & Distributors
Dan O'Bannon (story & screenplay) | Ronald Shusett (story)
Writer
116 min. (Theatrical Cut) | 115 Min. (Director's Cut)
Run Time
$22.68
MSRP
HDR10+ (Backwards compatible w/ HDR10)
HDR Format
English DTS-HD MA 5.1 | DTS-HD MA 4.1 (Theatrical Version Only)
Primary Audio
English Surround DTS-HD MA 2.0 | Spanish (Latino) DD 5.1 | French DTS 5.1 | Spanish (Castilian) DTS 5.1 | German DTS 5.1 | Italian DTS 5.1 | Czech DD 5.1 | Thai DD 5.1
Secondary Audio
English SDH | Spanish (Latino & Castilian) | French | Danish | Dutch |Finnish | German | Italian | Norwegian | Swedish | Czech | Korean | Mandarin | Polish | Thai
Subtitles
HDR Effect (If Applicable)
Summary
A merchant spaceship crew investigates a distress signal on an alien world and brings back a seemingly unstoppable, deadly alien creature to their ship in this first entry in the Alien franchise from 1979 directed by Ridley Scott starring Sigourney Weaver in her now iconic role as Ripley. This new 4K Ultra HD remaster offers a stunning visual upgrade for this sci-fi/horror classic.
What people say... Login to rate
Be the first to leave a review.
Show more