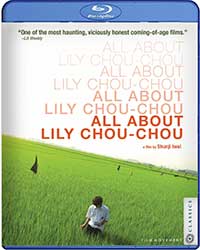 Director Iwai Shunji's 2001 film All About Lily Chou-Chou is an elegiac coming of age story set in 1990s Japan that is a nearly flawless representation of isolated adolescents, the intersection of pop idols, and teen angst.
Yuichi (Ichihara Hayato) is an 8th grade student obsessed with the ethereal music of pop idol Lily Chou-Chou and runs an internet chatroom dedicated to her and her music as an escape from the brutal world he must survive in. That world, which at first is just a domestic life of disinterested parents and rowdy friends quickly escalates into brutal bullying of schoolmates, a psychopathic classmate running a prostitution ring, and pickpocketing. Yuichi recedes deeper into his Lily Chou-Chou obsession to deal with his mounting pressures and guilt, but it may not be enough.
All About Lily Chou-Chou is an art house gem. In this early-millennium film Iwai forgoes traditional filmmaking for a visually experimental that draws on multiple genres and styles. In particular his use of the chatroom texts and brief music video interludes to forward the narrative are visionary, especially given how much social media has now become so central to our lives and the lives of teens in the broader sense. Iwai also mixes a "found footage" style of filmmaking into a more traditional style of digital filmmaking.
The aesthetics are one thing, but it is the bleakness, sense of gloom, and despair at being caught in a machine that doesn't care for the teenagers it is churning out into adulthood that makes All About Lily Chou-Chou so riveting.
The Video
All About Lily Chou-Chou arrives on Blu-ray in an AVC 1080p encodement from Film Movement. The digital source looks somewhat uneven, but that is an artistic, aesthetic choice, as there are scenes meant to be portrayed as shot on low-res Handicam and the rest of the film has a soft patina.
The Audio
All About Lily Chou-Chou comes to Blu-ray with the original Japanese-language soundtrack in both DTS-HD Master Audio 5.1 and Dolby Digital 5.1. Neither version is a showpiece, but the mix fits the material well. It is a dialogue-driven soundtrack so it is a bit front-heavy with narrow range, but it does open up with some atmospherics in the surround channels carrying the sound of wind and ambience from the musical soundtrack.
The Supplements
All About Lily Chou-Chou doesn't have much in the way of special features, but they're good ones. We get a "making of" that's nearly ninety-minutes long and a quality booklet with a fantastic essay by Stephen Cremin and a prologue from the director.
Making Of (1.33:1; SD; 01:26:12) (Japanese w/ English Subs)
Booklet featuring a new essay by Stephen Cremin with prologue by Iwai Shunji
The Final Assessment
Gorgeous, poignant, and fearless filmmaking that flawlessly captures coming-of-age in the 1990s, the growth of social media and influence of music on teen culture. Iwai shows an unrestrained ease behind the camera with his storytelling and visual aesthetic. Film Movement's Blu-ray looks pleasing.
All About Lily Chou-Chou is out on Blu-ray and DVD May 7, 2019 from Film Movement
[amazon_link asins='B07PZH82VT,B07PQTWNZ6′ template='ProductCarousel' store='theaterbyte-20′ marketplace='US' link_id='3a1bfa3b-1607-47da-ac37-bf3b8917496d']
---
Rockwell Eyes | Film Movement
Studios & Distributors
$39.95
MSRP
Japanese DTS-HD MA 5.1
Audio
Japanese DD 5.1
Secondary Audio
Summary
8th grader Yuichi (Ichihara Hayato) tries to deal with the cruelty in his life by escaping into the music of ethereal pop idol Lily Chou-Chou and the internet chatroom he runs about her. Iwai Shunji's film is a poignant look at teenagers coming of age in the internet age, it is beautifully filmed and pleasingly transferred to Blu-ray.
What people say... Login to rate
Be the first to leave a review.
Show more