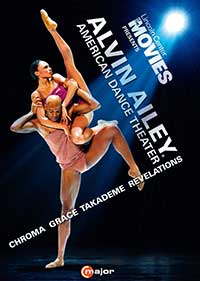 Alvin Ailey had a life-long dream of creating an African-American dance company that would perform contemporary ballets. In 1958, his dream came true but starting an all-black modern ballet company in segregated America proved to be quite challenging. With perseverance and the collection of raw talent, Ailey's company had achieved international success by the time of his death in 1989. Star dancer Judith Robinson was his designated successor and ran the American Dance Theater until turning over its reins to its present director, choreographer Robert Battle, in 2011. Lincoln Center's "Great American Dance" film series provides the four ballets in this Blu-ray Disc that was recorded live in performance at its David H. Koch Theater on June 18, 2015.
Chroma (2006) is a Wayne McGregor creation that combines fluidity and sensuality with very contemporary scores by Joby Talbot and arrangements of music by Jack White of the White Stripes. In this performance, eleven identically clad solo and ensemble dances in matching monochromatic tunics move across a bare stage of shifting monochromatic lighting.
Grace (1999) was choreographed by Ronald K. Brown whose dances are a mélange of African, Afro-Caribbean, and contemporary urban styles. Its shifting moods and music are intended to symbolize a journey of personal enlightenment en route to the promised land, with scores contributed by Duke Ellington, Roy Davis, Jr., Paul Johnson and Fela Anikulapo Kuti. The dance opens with a white-clad figure that is the guiding spirit for twelve dancers resembling urban warriors.
Takademe (1999) is a virtuosic solo piece by current company director Battle, based on Indian Kathak rhythms, and that uses Sheila Chandra's syncopated vocalizations to great effect. In a matter of three minutes an entire universe is created, inhabited, and delivered through physical movements that challenge our notions of what is possible in dance.
Revelations (1960) is the most frequently performed dance in the Alvin Ailey repertory. It is based on the dance company founder's harsh yet redeeming memories of growing up in Texas and has three sections: "Pilgrims of Sorrow," "Take Me to the Water," and "Move, Members, Move." The music is directly out of the African-American songbook of spirituals, song sermons, gospels, and holy blues. More than a half-century later, the sheer high energy of the finale complete with its stunning encore, "Rocka my Soul in the Bosom of Abraham," simply knocks it out of the park.
These four performances that must be considered as definitive give viewers ample justification for the enduring success of a unique dance company that is entering its sixth decade of existence. The emotions on display are those of elegant, lithe, and muscular dancers who clearly share Alvin Ailey's dream and should assure dance aficionados of the company's bright future.
The Video
Given a bare stage, all eyes are justifiably on the dancers and Matthew Diamond's cameras retain a marvelous focus on the dancers and capture the often incredible steps and physicality that is a trademark of this venerable company. Colors and details are eye-popping.
The Audio
Most of the audio is in the front channels although there is some ambience from the theater's loudspeakers of a pre-recorded soundtrack. In this instance, the stereo version is nearly as good as its surround counterpart. Music and voices are clear and there is very little stage noise.
[fvplayer src="https://www.theaterbyte.com/wordpress/storage/2016/10/Alvin-Ailey-American-Dance-Theater-Cinema-Trailer-YouTube.mp4" width="1280" height="720" splash="https://www.theaterbyte.com/wordpress/storage/2016/10/alvin-ailey-american-dance-theater-chroma_-_grace_-_takademe_-_revelations-c-major-738408-post-insert.jpg"]
The Supplements
The program booklet has performance and production credits and a background essay on the company and the dances in this performance. Visual extras include the following:
Beyond the Curtain (6:42) (English DTS-HD MA 5.0) A very personal behind-the-scenes view of the people of this company furnished by current director Robert Battle and other members of the Alvin Ailey group.
Trailers for other C Major ballet Blu-ray discs.
The Final Assessment
If you have never seen the Alvin Ailey American Dance Theater perform, this Blu-ray Disc is one of the best possible introductions. This program provides a great survey of the breadth and depth of an extraordinary company that has embodied the African-American tradition and created a unique performing style that will thrill today's audiences as it did those of so many years ago. Highly recommended.
Alvin Ailey American Dance Theater: Chroma – Grace – Takademe – Revelations (TheaterByte Blu-ray Review)
C Major
Studios & Distributors
$34.99
MSRP
DTS-HD MA 5.0 (48kHz/24-bit)
Audio
LPCM 2.0 (48kHz/24-bit)
Secondary Audio
Summary
A stunning recital of four dances by one of America's premier companies that receives first rate production values.
What people say... Login to rate
Be the first to leave a review.
Show more