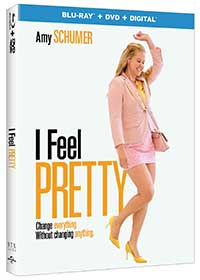 Amy Schumer's latest film is this rom-com I Feel Pretty wherein she plays a woman named Renee who struggles with insecurities. Renee feels like she's not slim enough or pretty enough compared to other women, a feeling only exacerbated by the fact that she works for one of the biggest cosmetic companies in the world, LeClaire Cosmetics, whose headquarters are filled with slender, impossibly beautiful fashion models. Only, Renee, who helps administrate the company's website, isn't allowed to work there – she is hidden away in a tiny, one room office space with co-worker Mason (Adrian Martinez). But after a stormy night where Renee makes a wish to be beautiful, Renee suffers an accident where she hits her head. Upon awaking, she is convinced that the magic of her wish works, and she is now the most beautiful woman in the world with a fantastic body that all men are attracted to. Her newfound confidence helps her snag a job as a receptionist at her company's corporate headquarters, become the righthand woman to the founder's granddaughter, Avery LeClaire (Michelle Williams) who suffers her own insecurities owing to her mousy, childish sounding voice. Renee even manages to get a boyfriend, Ethan (Rory Scovel), whom she meets while standing on line at the dry cleaners, but she also manages to isolate her two best friends Vivian (Aidy Bryant) and Jane (Busy Philipps) who don't like the kind of self-centered person she has become.
While there's a good message in I Feel Pretty about the enormous pressure women in particular come under to conform to certain standards of beauty, and how self-confidence can help one overcome so many obstacles, this film is filled with so many clichés and platitudes the messaging gets lost. Much of what is trying to be said gets lost. Firstly, let's just try to get past the ridiculous 'hit on the head' personality changing plot device that's been used to death in so many films, like The Majestic, Primal Fear, and The Bourne Identity to just name a few. Secondly, much of this film remains so one-dimensional where it's heading is easy to predict from the beginning. The characters, including Renee, don't really grow so much as sidle toward the close.
Schumer does her usual schtick, but as always, her comedy does not go over well when under the censored restraints of the 'PG-13' rom-com genre and lately not even so well when completely unrestrained as her Netflix special showed.  Maybe Schumer Is just not believable as a woman lacking confidence or suffering major insecurities, given her large than life public persona. Perhaps Schumer, who could hardly be called 'ugly' or 'unattractive' seems like the incorrect person to be playing a character who must get hit on the head to perceive herself as attractive. Or maybe I Feel Pretty is just a poorly scripted comedy that just isn't that funny.
The Video
The film arrives on Blu-ray in a solid AVC 1080p encodement from Universal free from noise, color banding, or any obvious edge enhancement. Detail is crisp, and the colors look vibrant. The shadows and blacks look inky without crush and white levels are bright without clipping.
The Audio
I Feel Pretty gets a DTS-HD Master Audio 7.1 audio mix that is purely overkill for this sort of film, because those extra channels hardly carry anything for than some very mild atmospherics and the low end is also fairly anemic, which also typical for this genre. That said, we get clear dialogue and good stereo imaging.
The Supplements
The special features included are hardly a windfall. The deleted scenes aren't any funnier than what was included in the theatrical release, neither is the gag reel.
iTunes & UltraViolet Digital Copy
DVD w/ feature film
Deleted Scenes (2.40:1; 1080p/24; 00:08:50):

Fortune Cookie
Work Friends
Ice Cream Man
Post Lilly Dinner
Ticket Home
Magical Bike

Gag Reel (2.40:1; 1080p/24; 00:05:24)
Being Pretty (2.40:1; 1080p/24; 00:00:54)
The Final Assessment
Amy Schumer strikes out yet again with this cliché rom-com about finding one's inner confidence in a world obsessed with a particular kind of female beauty. The idea is a good one, the common tropes, performances from the leads, and one-dimensional characters make this film a miss.
I Feel Pretty is available on Blu-ray Combo Pack July 17, 2018 from Universal Pictures Home Entertainment
PG-13 (for sexual content, some partial nudity, and language)
Rating Certificate
Huayi Brothers Pictures | Voltage Pictures | Wonderland Sound and Vision | STX Films | Universal Pictures Home Entertainment
Studios & Distributors
Abby Kohn | Marc Silverstein
Director
Abby Kohn | Marc Silverstein
Writer
English DTS-HD MA 7.1
Audio
English SDH | Spanish
Subtitles
English DVS | Spanish DTS 5.1
Secondary Audio
Summary
An insecure woman (Amy Schumer) who works as a web admin for a top cosmetics firm finds the self-confidence to believe she is the most beautiful woman in the world after suffering a blow to her head, which also gives her the confidence to go for a job working at her company's headquarters and rise through the ranks. This half-baked, cliché rom-com has good intentions about calling out the beauty industry and impossible standards of beauty placed on women, but relies too heavily on one-dimensional characters and overused tropes. The Blu-ray Combo Pack looks and sounds good given this genre isn't known for fantastic imagery or sound.
What people say... Login to rate
Be the first to leave a review.
Show more