Aspect Ratio: 1.85:1
Video Codec: VC-1
Resolution: 1080p/24
Audio Codec: English DTS-HD Master Audio 5.1,  French DTS 2.0, German DTS 2.0, Italian DTS 2.0, Spanish DTS 5.1
Subtitles: English SDH, Danish, Dutch, Finnish, French, French (Canada), German, Greek, Japanese, Korean, Norwegian, Portuguese, Spanish, Spanish (Latin America), Swedish, Traditional Mandarin

Region: ABC (Region-Free)
Discs: 1
Studio: Universal Studios
Blu-ray Disc Release Date: September 15, 2009
List Price: $26.98
Overall

The Film

Video Quality

Audio Quality

Supplemental Materials

Click thumbnails for high-resolution 1920X1080p screen captures
More Screen Captures (14 Total)
(Screen captures are lightly compressed with lossy JPEG and thus are meant as a general representation of the content and do not fully reveal the capabilities of the Blu-ray format)
The Film

In the years since the 1981 release of John Landis' horror film, An American Werewolf in London, it has gone on to accumulate a cult following and is now considered one of the classics of the horror genre. A film oddly reminiscent of the B-movies of the 1940s and 50s, Landis' film has often confounded viewers and critics alike, causing a bit of a debate over whether the film is intended to be funny, or a straight horror film. Landis, however, has gone on record as saying that the film is not intended as any sort of spoof, but is in fact meant to be scary.
The story is about two American college students, David Kessler (David Naughton) and Jack Goodman (Grffin Dunne) traveling through the moors of Northern England when a beast of some sort attacks them. Jack is killed, but David survives only to awake three weeks later in hospital in London. Not remembering what happened to him, he's told by his doctor (John Woodvine) and his attractive nurse, Alex (Jenny Agutter), that an escaped mental patient attacked him. Soon, however, David begins having vivid dreams and starts seeing his friend Jack appear to him as a living corpse. Jack tells David that the two of them were attacked by a werewolf, that David will turn into one as well at the net full moon and begin to kill people. Telling David that he's been condemned to drift in purgatory as long as the last werewolf line lives, Jack begins to urge David to take his own life to stop the cycle.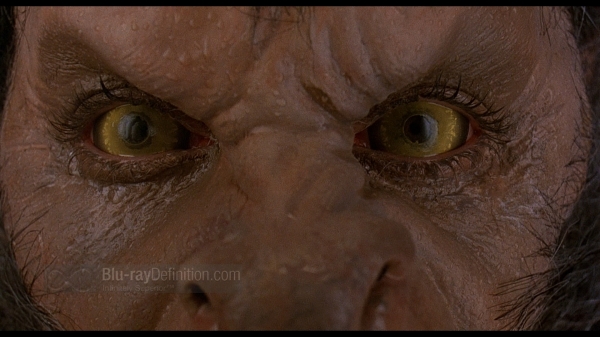 Eventually David is released from hospital and moves in with Alex, but he is still tormented by his dreams and visions of his friend Jack, until finally the full moon arrives and he goes on a rampage through London.
An American Werewolf in London is a slow burning horror film, nothing like the horror of today. It's almost amusing to think now that the film had problems getting past the ratings board in its original cut. More campy than gory, it was nevertheless innovative for its time and did in fact win an Oscar for makeup. It would go on to influence the long-form music video for Michael Jackson's "Thriller," and become a perennial Halloween classic.
Video Quality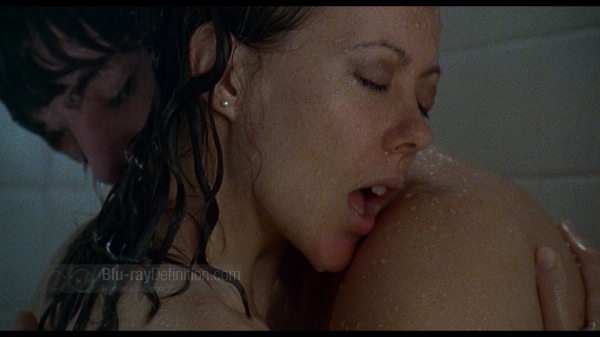 After being available on the now defunct HD DVD format from Universal, An American Werewolf in London finally arrives on Blu-ray in a 1080p/24 VC-1 high definition encoding.  Unfortunately, the transfer for the film is middling. There are portions of American Werewolf in London that look like the negative has been dragged through a sewer and not even the relatively high ~30Mbps bitrate can rescue it. There are other moments, however, where the film looks clean, sharp and vibrant.
Grunginess aside, the transfer has a definite film-like quality to it. Black levels are deep and inky, but they tend to crush on occasion, causing a loss of detail in some dark areas. There is also some visible fluttering in the image from time to time. In all I would have to say that An American Werewolf in London is one of the weaker looking catalogue releases to come to Blu-ray, but that it is still going to look better than DVD. Detail is certainly stronger than the standard definition counterpart.
Audio Quality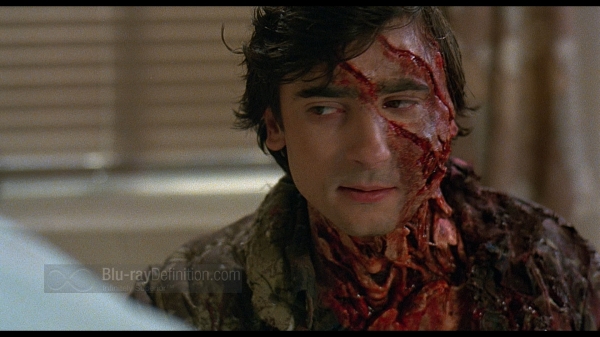 An American Werewolf in London shows up on Blu-ray Disc with an English DTS-HD Master Audio 5.1 lossless mix that is fully immersive and effective in drawing the listener into the film. The complete soundstage is filled with atmospheric sounds and discrete sound effects, from thunder and traffic noise to the howling of werewolves. During moments when the film's classic rock soundtrack is prevalent with the songs of Van Morrison or Creedence Clearwater Revival, low frequencies are extended with enough authority to grant good musical heft and the soundstage opens up pleasantly. Dialogue is intelligible, but occasionally shows some signs of clipping.  Overall, however, Universal has done a solid job bringing this classic soundtrack back to life on Blu-ray Disc.
Supplemental Materials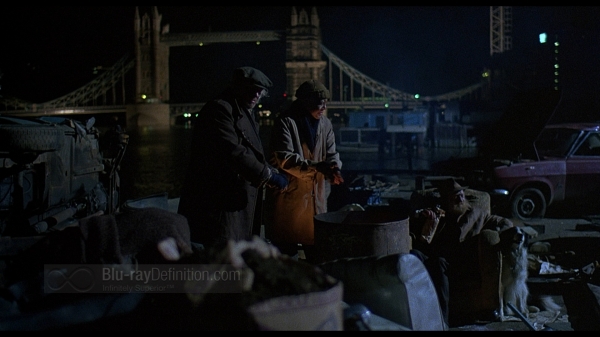 An American Werewolf in London on Blu-ray has been packed with a ton of bonus features that, although mostly in standard definition, are entertaining and informative and sure to keep fans occupied for at least a few hours.
The supplements available on this release are:
Feature Commentary with Cast members David Naughton and Griffin Dunne
Beware the Moon:

The Beginning (1.85:1; 480i/60; 0:14.11) — A brief look at the influence of American Werewolf in London.
The Cast (1.85:1; 480i/60; 0:07.16) — John Landis discusses casting An American Werewolf in London.
Shooting in Wales (1.85:1; 480i/60; 0:05.38)
Murder on the Moors (1.85:1; 480i/60; 0:07.35) — The filmmakers and actors talk about the difficulties of filming on location.
What Bad Dreams Are Made Of (1.85:1; 480i/60; 0:05.28) — The filmmakers and actors discuss creating the dream sequences from the film.
Bringing Jack Back (1.85:1; 480i/60; 0:04.26) — The makeup for actor Griffin Dunne is discussed in this featurette.
The Transformation of David (1.85:1; 480i/60; 0:12.10) — Special effects makeup artist Rick Baker discusses creating the special effects for the transformation of David into the werewolf.
The Music of American Werewolf (1.85:1; 480i/60; 0:02.31) — The different songs used in the film are discussed in this featurette.
Underground Filming (1.85:1; 480i/60; 0:05.29) — Filming in the London Underground.
Pornos & Puppets (1.85:1; 480i/60; 0:09.18)
A Four-Legged Hound From Hell (1.85:1; 480i/60; 0:04.30) — Rick Baker discusses designing the look of the werewolf.
Causing Disturbance in Piccadilly (1.85:1; 480i/60; 0:07.19) — The difficulties of filming in Piccadilly Circus.
The Beast Unleashed (1.85:1; 480i/60; 0:12.34) — The filmmakers discuss the problems getting the film to pass the ratings board.
I Walked With a Werewolf (1.85:1; 1080i/60; 0:07.31) — Makeup artist Rick Baker discusses his career as a special effects makeup artist and his work on American werewolf in London.
Making An American Werewolf in London, An Original Featurette (1.33:1; 480i/60; 0:05.15) — An archival behind-the-scenes featurette on the making of American Werewolf in London featuring John Landis.
An Interview with John Landis (1.33:1; 480i/60; 0:18.20) —
Makeup Artist Rick Baker on An American Werewolf in London (1.33:1; 480i/60; 0:11.14) — Baker discusses how he came to work with Landis on American Werewolf in London and his thoughts on designing the creature.
Casting of the Hand (1.33:1; 480i/60; 0:10.59) — This behind-the-scenes footage shows actor David Naughton having a cast of his hand taken for the werewolf transformation.
Outtakes (1.33:1; 480i/60; 0:03.08)
Storyboards (1.33:1; 480i/60; 0:02.28) — Scene-to-storyboard comparisons.
Photograph Montage (1.33:1; 480i/60; 0:.03.45)
D-Box Motion Code
BD-Live — At this time, the BD-Live feature has no content relevant to this release, but viewers can still access trailers and previews for other Universal titles.
$5.00 Halloween Candy Cash Coupon — Universal has packed a $5.00 coupon good towards the purchase of any candy products at participating stores. But customers better hurry if they want to get their sugar fix, the coupon expires on November 30, 2009.
The Definitive Word
Overall: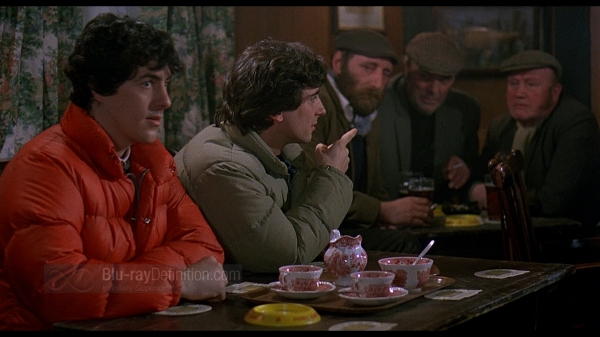 John Landis' classic horror film may not look especially great on Blu-ray Disc, but it certainly sounds good for a film of its era and with the added value of bonus features, it's going to be a difficult one to pass up for this upcoming holiday season.