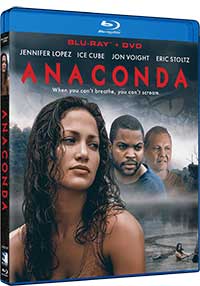 Anaconda is the 1997 adventure/horror film starring Jon Voight and Jennifer Lopez from director Luis Liosa whose career includes such B-movie cult gems as Fire on the Amazon and Sniper. This film fits right into his catalog as well as in with a tradition of other campy monster films dating back to the 1950s.
In this story, an American documentary film crew in Brazil led by anthropologist Steve Cale (Eric Stoltz) and director Terri Flores (Jennifer Lopez) travel down the Amazon River in search of a mysterious native tribe. They encounter and save Paul Sarone (Jon Voight), from a sinking boat and he offers to help them on their journey, but it turns out to be a bad decision. Paul Sarone is a violent man on a one-track mission to capture a giant, man-eating anaconda that thrives in the waters of the murky river. During their arduous journey, Paul holds the crew hostage as the snake begins to stalk them.
Anaconda is a beautifully photographed film that easily evokes the heat and humidity of the Amazon River and the Brazilian rainforest. We get plenty of dazzling sunsets on the horizon shimmering through trees and an array of wildlife scenery, beautiful, dare I say, almost erotic camera angles that linger on sweat-soaked limbs and crawl slowly over tense faces – and I must say the camera certainly loved Jennifer Lopez in this, one of her earliest roles.
That said, Anaconda is also rife with horror clichés and some awful visual effects, even for 1997. Let's not forget that Jurassic Park hit theaters in 1993. Whoever though that the snake looked good in this movie deserved to be blacklisted from the industry. The characters are one-dimensional beyond comprehension. Voight's gun-toting hunter on a mission (and can we talk about that bad accent?) is straight out of Moby Dick, and Jaws, and countless other stories. Lopez is the "brainy" seductress all the men, except the one black guy, for whatever reason, can't seem to stop ogling.
This all amounts to a film that is messy, beautiful, at times fun, and just the sort of time wasting cult classic one can throw on in a pinch to forget about the outside world for 90 minutes or so.
The Video
Anaconda shows up on Blu-ray from Mill Creek Entertainment in a 2.40:1 AVC 1080p encodement. This is a basic transfer that has obviously not been restored. The master looks acceptable without any horrendous source damage, but the image does look a little soft at times and not as bright as it could be. In darker scenes the grain is noisy.
The Audio
Mill Creek Entertainment releases Anaconda on Blu-ray with a lossy English Dolby Digital 2.0 audio track. For budget seekers this will suffice, but for anyone looking for an audio mix to set the sound system on fire, forget about it. The soundstage is narrow as are the dynamics.
The Supplements
There are no special features included, which isn't surprising given this is a budget label release. A standard DVD with the feature is included.
The Final Assessment
Mill Creek Entertainment is reissuing this 1997 cult horror classic in a barebones combo pack. This release won't light home theaters on fire, and the film certainly was never any sort of Oscar contender, but it was and is good fun.
Anaconda is out on Blu-ray Combo Pack May 14, 2019 from Mill Creek Entertainment
[amazon_link asins='6317752966′ template='ProductCarousel' store='theaterbyte-20′ marketplace='US' link_id='27ef3b6e-a994-4cf8-87aa-3c7131e0420e']
---
PG-13 (for intense adventure violence, and for brief language and sensuality)
Rating Certificate
Cinema Line Film Corporation | Columbia Pictures | Iguana Producciones | Middle Fork Productions | Skylight Cinema Foto Art | St. Tropez Films | Mill Creek Entertainment
Studios & Distributors
Hans Bauer | Jim Cash | Jack Epps Jr.
Writer
Summary
A documentary crew set out down the Amazon River in Brazil to find a mysterious indigenous tribe and ends up held hostage by a violent man they rescued (Jon Voight) who is hunting for a giant anaconda, which begins to hunt the crew. This film, which is one of the earliest roles for Jennifer Lopez, is beautifully filmed, but rife with cliches and one-dimensional characters. Budget label Mill Creek Entertainment is reissuing the film here in a Blu-ray/DVD Combo, with no special features and only a Dolby Digital 2.0 audio track.
What people say... Login to rate
Be the first to leave a review.
Show more