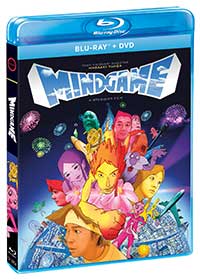 If you have never seen the 2004 anime film Mind Game from directors Yuasa Masaak (Devilman: Crybaby) and Morimoto Kôji (The Animatrix "Beyond"), then you are in for a wild, mind expanding ride. Every now and then, an anime property comes along that completely stretches the possibilities of the format and puts everyone else on notice – this is one of them.
The story follows the loser Nishi (Imada Kôji) who has had a crush on his childhood friend Myon (Maeda Sayaka) for years but been too timid to make a move. When the two go back to Myon's sister's restaurant one evening, they have a run in with a brutish, soccer-obsessed yakuza who attempts to rape Myon. Being too cowardly to come to her defense, Nishi ends up shot in the butt and his soul is sent up to purgatory.
From there on, Mind Game starts to get really wild. Nishi meets God, who appears before him as a rapidly form-shifting entity. God directs him to walk toward the light, but Nishi disobeys and dashes in the opposite direction. He ends up back on Earth in his body, moments before he is shot and reverses his fortunes, killing the yakuza. Then he, Myon, and her sister Yan (Takuma Seiko) go on the run from the gangsters who are after them, but now Nishi has a new lease on life and a new philosophy to live life to the fullest. His philosophy will nearly get them killed but lead to a psychedelic journey of discovery and sexual exploration.
It's impossible to explain exactly what Mind Game is without giving it all away, but the film uses various techniques, philosophical and religious allusions and downright bugout visuals to make a rapturous adventure that is one of the greatest anime films you will ever have the pleasure of watching. From the colorful fills and combination of photorealistic faces to minute details in the wonderful backgrounds, it is visually stunning as well as engaging from the standpoint of its story. The closest I have come across visually that I was ever as impressed with in an anime film, more recently, was Redline, but even that couldn't touch the depth of this film on a symbolic level.
The Video
Mind Game hits Blu-ray framed at 2.39:1 in an AVC 1080p encodement. The bugout, psychedelic visuals are presented beautifully in this transfer with superb detail, color, and nuance.
The Audio
The film comes only with the original Japanese-language audio in a DTS-HD Master Audio 5.1 mix and accompanying English, Spanish, and French subtitles, so fans of dubs are out of luck. That said, the audio and performances are fantastic. Just as the visuals are a trip, so is the sound for this film – sounds come from everywhere, the dynamics are excellent, and effects are used wonderfully, from the way the music is often affected with a distant, hard compression sound to the big low end.
The Supplements
This is a small but solid selection of special features included with Mind Game. The production artwork and selected scenes with director commentary are particularly of interest to anime fans.
Production Artwork Galleries
Film Animatic
Scenes with Director's Commentary
Trailer
The Final Assessment
A stunning, mind-bending journey that you'll want to take over and over, this cult classic anime film looks and sounds splendid in this new Blu-ray release from GKIDS.
Mind Game is out on Blu-ray Combo Pack August 28, 2018 from GKIDS
Studio 4°C
Animation Studio
Asmik Ace Entertainment | Shout! Factory | GKIDS
Distributor
Yuasa Masaaki | Morimoto Kôji
Director
Japanese DTS-HD MA 5.1
Audio
English | Spanish | French
Subtitles
Summary
After he is too timid to save his childhood sweetheart from a soccer-playing yakuza psychopath, loser Nishi is shot in the butt and sent to the afterlife where he meets a shape-shifting God. He defies the order to walk to light, instead running in the opposite direction, returning to his body and sets off with his sweetheart and her sister on a psychedelic journey of discovery, determined to live life to its fullest in this visually stunning, mind-bending anime adventure. This new GKIDS release on Blu-ray looks and sounds fantastic.
What people say... Login to rate
Be the first to leave a review.
Show more