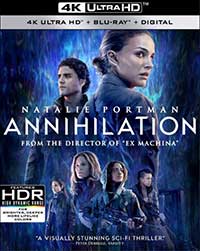 In 2014 writer/director Alex Garland gave us his stunning directorial debut Ex Machina and now he returns with another thought-provoking sci-fi drama, Annihilation.
In this cerebral fantasy that can best be described as Solaris meets 2001: A Space Odyssey meets Arrival, biologist Lena (Natalie Portman) is drawn to a scientific expedition with a group of several other women after her husband returns from one such expedition with a strange health condition and gaps in his memory.
The expedition, as Lena later finds out when she is told by Dr. Ventress (Jennifer Jason Leigh) who will be leading the women, is into an area beyond an unknown phenomenon called "the shimmer" – a colorful display that has refracted light similar to the Aurora Borealis. The problem is, none of the other expeditions they have sent in have returned – other than Lena's husband. All of them have apparently died, turned on each other, and gotten violent.
Once inside the shimmer, the women realize that the laws of nature no longer seem to apply, and they are also beginning to fall victim to what appears to be hallucinogenic effects that drove the other expeditions mad. Lena and her companions must try to discover the truth behind the phenomenon before they lose themselves completely.
Similar to Garland's previous film, Annihilation is a slow-burner that builds in its intensity as it reaches its stunning final act. The film takes place across different "chapters" and also through some flashbacks as told by one of the characters. Garland weaves these threads easily for what is a powerful, complex story. Portman is fantastic the role of Lena and she is supported by a magnificent cast including Tessa Thompson (Westworld) and Gina Rodriguez (Deep Water Horizon).
There are many layers to this film and like the classic, cerebral sci-fi fare it is comparable to it may very well require multiple viewings to extract everything that is so magnificent about it. Outside of the US Annihilation is a Netflix Original, which means that it is one of best films Netflix has in its arsenal, avoiding that "bad movie" tag they have been hit with.
The Video
The film was shot on the Red Weapon Dragon with Panavision G Series and Ultra Panatar lenses at 6K resolution and the Sony CineAlta F65 with Panavision Primo G- and T-Series lenses at 4K resolution in the anamorphic 2.39:1 aspect ratio. A 4K digital intermediate (DI) was used in post-processing. The film arrives on 4K Ultra HD Blu-ray from Paramount in an HEVC 2160p (4K) encodement with Dolby Vision HDR. Given the muted, desaturated color pallet of the film, this is not a disc that immediately grabs you with its visuals, but the effects and the addition of Dolby Vision are definitely eye-catching. The nuance of the shimmer effect is much more brilliant than how it appears on the Blu-ray thanks to the wide color gamut. There are also a number of scenes with the team inside the shimmer that show off the superb dynamics of the Dolby Vision, where we see a lot of 'pop' in the highlights like flashlights and at the same time get inky shadows in the same scenes. While there is a purposeful, artistic softness in the image, the 4K Ultra HD has a definite advantage with finer details versus the Blu-ray.
The Audio
Annihilation arrives on 4K Ultra HD and the included standard Blu-ray with a Dolby Atmos immersive sound mix. This one is deceptively simple. It ranges from rather quiet and front-heavy, to very bombastic, to atmospheric. Early on in the film as Jennifer Jason Leigh is explaining about the shimmer to Natalie Portman, thunderous sounds engulf us, and the height channels come into play. Later in the film as the team are in the shimmer there are plenty of moments with solid effects panned through the surround and back channels as well as the height channels, and the score and other effects come from overhead. But the most powerful aural moment is a scene in the final act where the truth behind the phenomenon is finally revealed and Natalie Portman must confront this on her own. The score and sound effects become almost overwhelming, and, thanks to the height channels, things sound like they are exploding out of your head. It's the 'voice of God' effect times 10.
The Supplements
A multi-part behind-the-scenes featurette is the only special feature, but nothing else is needed given the depth of these features.
Digital HD UltraViolet and iTunes Digital Copy
Blu-ray with main feature and special features listed below
Part 1 – Southern Reach (1.78:1; 1080p/24; 00:26:15)
Refractions – See how director Alex Garland created the tone, textures and color palettes for the various film environments on set.
For Those That Follow – Listen to the cast's perspective on their roles and learn why they found the story so intriguing.
Part 2 — Area X (1.78:1; 1080p/24; 00:27:07)
Shimmer – See how filmmakers transformed real set locations to create the world of Annihilation.
Vanished into Havoc -Check out all the action as cast and crew walk you through the mind-blowing stunts and special effects.
Part 3 – To the Lighthouse (1.78:1; 1080p/24; 00:19:43)

Unfathomable Mind -Learn why the visual effects are integral to achieving director Alex Garland's overall vision for Annihilation.
The Last Phase -Listen to the cast and crew share their fondest memories from filming.
The Final Assessment
A thought-provoking and complex sci-fi fantasy that will be thought of as a classic like 2001 and the original Solaris, Annihilation gets a magnificent 4K Ultra HD Blu-ray release from Paramount, now exclusively available at Best Buy.
Annihilation is out May 22, 2018 on 4K Ultra HD Combo Pack from Paramount
Best Buy Exclusive:
R (for violence, bloody images, language and some sexuality)
Rating Certificate
DNA Films | Paramount Pictures | Scott Rudin Productions | Skydance Media
Studios & Distributors
Alex Garland (written for the screen by) | Jeff VanderMeer (based on the novel by)
Writer
HEVC (H.265) 2160p (4K) | AVC 1080p (Blu-ray)
Video
Dolby Vision (Compatible w/ HDR10)
HDR Format
English Dolby Atmos (Compatible w/ Dolby TrueHD 7.1)
Primary Audio
English Audio Description | French DD 5.1 | Spanish DD 5.1
Secondary Audio
English | English SDH | French | Spanish
Subtitles
HDR Effect (If Applicable)
Summary
A scientist (Natalie Portman) joins an expedition into a strange zone known as "the shimmer" where the laws of nature have been turned upside down and previous expeditions have never returned in this second feature film from director Alex Garland (Ex Machina). Annihilation is one of those cerebral sci-fi thrillers that will require multiple viewings to uncover its multiple layers, but will ultimately go down as one of the best in the genre's history.
What people say... Login to rate
Be the first to leave a review.
Show more