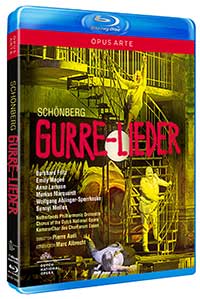 During the twilight of the Romantic era, a young Arnold Schöenberg, heavily influenced by Wagner and Mahler, spent more than a decade bringing the legend of the maiden Tove and her lover King Waldemar to musical life as the large-scale cantata Gurre-Lieder. The source for the songs of Gurre, a Danish castle where it is set, is a collection of poems by Jens Peter Jacobsen that were translated from Danish to German. In 2014, the Dutch National Opera performed the first staged version of this century-old work under the direction of Pierre Audi.
Gurre-Lieder has three sections. The work receives a brief introduction from the Narrator (Sunnyi Melles). The first two sections feature soloists and orchestra while the final section adds two more soloists, the Narrator, and male and mixed choruses. King Waldemar (Burkhard Fritz) is married but loves Tove (Emily Magee), a beautiful village girl. They share what will be their final blissful moment as Tove begins to have presentiments about her death. She leaves the King who remains overcome with his ecstatic love for her. Suddenly a Wood-Dove (Anna Larsson) appears in a bloodstained room and sings of Tove's death. Queen Helwig had her murdered. Waldemar is consumed with grief.
Section 2 finds opens in a graveyard filled with mourners as an unstable Waldemar rails against God for taking his lover from him. Section 3 finds Waldemar losing his mind completely as he invokes his dead vassals to embark on a savage hunt, perhaps to avenge Tove's death, which they do until the sunrise sends them back to their graves. The King encounters a drunk Peasant (Markus Marquardt) and Klaus the Fool (Wolfgang Albinger-Sperrhacke) who, after a few drinks, jolts Waldemar back to reality. Waldemar prays that he and Tove will be reunited in death and in this version that actually happens.
Audi's direction and Christof Hetzer's sets and costumes provide dramatic revelations that have completely eluded the concert versions that I have seen. The wardrobe is period-appropriate for this work's 1913 première while the stage is an abandoned industrial space with shifting walls and stairs. Another departure from the concert version is the early entry of a white-uniformed figure  holding an illuminated balloon who turns out to be the Fool and doubles as Waldemar's valet. Conductor Marc Albrecht, the DNO's music director, elicits the Tristanesque nature of the opening section and shifts gears to fit the post-romantic spirit of what follows. The vocals must carry this show and we are indeed fortunate to have principals like heldentenor Fritz and dramatic soprano Magee who more than hold their own against the massive orchestral forces assembled in the pit. Statuesque contralto Anna Larsson gives us a luminous Wood-dove, a black-clad angel of death, in a small but essential role to the drama of Section 1. Bass-baritone Marquardt's somewhat over-the-top drunken peasant complements tenor Albinger-Sperrhacke's Fool. Melles's androgynous Narrator might have channeled Joel Grey's iconic emcee from Cabaret's Kit Kat Klub. The huge choruses of the DNO and the KammerChor des ChorForum Essen cover themselves in glory during the final section.
The Video
Misjel Vermeiren is a veteran director of opera videos and covers this large stage quite effectively, sparse sets and all, while providing plenty of closeups of the agonized and eventually witless Waldemar. In spite of the prevailing darkness, at least until the final chorus enters with its blinding sunlight, the colors still manage to stand out and the details remain sharp.
The Audio
The DTS-HD Master Audio 5.1 (48kHz/24-bit) is stunning with mostly good balance between voices and orchestral players, offering a good account of the opera house ambience.
The Supplements
The program booklet contains a background essay by Gavin Plumley, a synopsis by dramaturge Klaus Bertisch, cast and production credits, and color performance photographs. There is a relatively bland featurette about this production (LPCM Stereo 48kHz/24-bit) (22:00) that contains rehearsal footage and interviews with some of the principals, director Audi, and conductor Albrecht. A cast gallery rounds out the supplements.
The Final Assessment
This is a world première video in any format and makes a very strong case for staging this huge vocal work, particularly when it is this effective. Not all the stage business works equally well as there are static scenes of tenor Fritz making emotive faces and some others has the already-deceased Tove suddenly popping up. But for the most part, this staging of a monumental 20th century masterpiece is a great watch and one to which I will most definitely return. Highly recommended.
[amazon_auto_links id="97944"]
Opus Arte
Studios & Distributors
DTS-HD MA 5.1 (48kHz/24-bit)
Audio
English | French | German | Dutch | Japanese | Korean
Subtitles
English | French | German | Dutch | Japanese | Korean
Secondary Audio
Summary
An exciting video premiere of a major 20th century piece that receives its first staging and is blessed with an outstanding cast and musical direction..
What people say... Login to rate
Be the first to leave a review.
Show more