–
The Series
[Rating:4/5]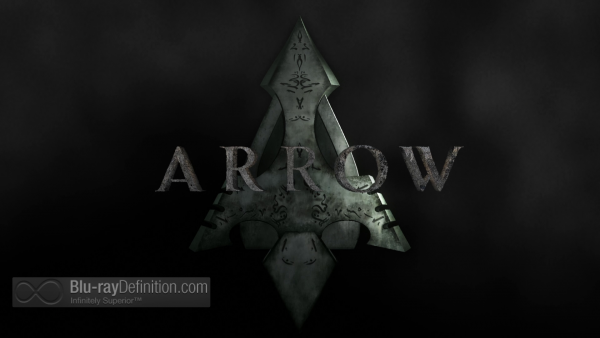 Season 3 of Arrow was a big one, as anyone who already watched it can attest to. The Arrow is now a bonafide hero in Starling City, but Oliver Queen cannot exactly rest, because it is a season that brings major upheaval in his life. Malcom Merlyn resurfaces as the tutor to Oliver's sister Thea. Oliver loses ownership of his company and a new CEO takes over, Ray Palmer (Brandon Routh). Not only is Ray now controlling Oliver's company, but Felicity leaves Oliver and works for Ray, starting up a romance with him as well. It doesn't sit well with Oliver who finds himself very jealous. Ray is also building a secret super suit, kind of like Iron Man, and he becomes the Atom. Laurel Lance, meanwhile picks up the mantle of her dead sister and becomes Canary, after taking some self defense training. When Oliver finds out about it, he is again not happy. But none of that compares to the season's major conflict – the appearance of Ra's al Ghul the leader of the League of Assasins. Oliver must work with Malcom Merlyn to defeat Ra's in order to save Thea's life, but Ra's is not easily defeated, and when Oliver's task is a failure, Ra's begins to wreak havoc on Starling City. The season ends with a spectacular cliffhanger that leaves the future of Oliver Queen and the Arrow hanging in the balance. It was also a season that had some crossover episodes with The CW's latest DC Comics series The Flash.
Arrow keeps getting darker, and this was the darkest season yet. It was also the season least grounded in reality. The producers keep telling us they want Arrow to be a world closer to realism than the fantasy, but it has started to veer off, with Ra's, The Flash, and metahumans. Now, it will be very difficult to keep it grounded in the real world after the ending they gave us for this season, but that is not necessarily a bad thing.

Video Quality
[Rating:4.5/5]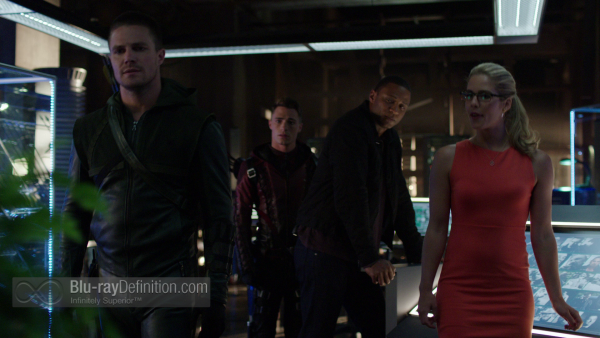 Arrow is shot in HD on the Arri ALEXA camera with Angenieux Zoom lenses. It comes to Blu-ray from Warner Bros. Home Entertainment in a gorgeous 1080p AVC encodement that looks quite filmic at times with strong, crisp textures that show up all the minute details in the Arrow's costume and picks out all the stubble on Stephen Amell's face. The shadowy world that the series likes to exist in is presented with flawless nuance, avoiding black crush, banding, or excess video noise on the low light scenes. The color palette, which pops with the greens and reds that series highlights, looks wonderful and flesh tones are also very natural.

Audio Quality
[Rating:3.5/5]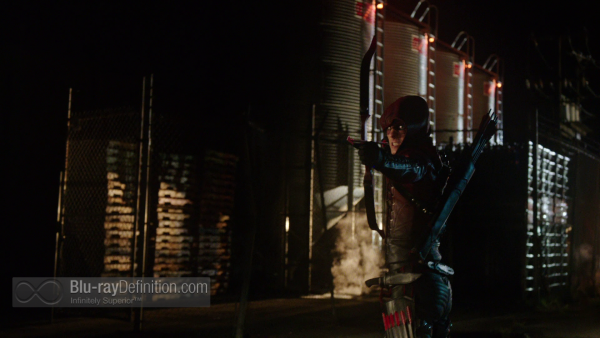 Like fellow superhero series The Flash that I previously review, Arrow also comes with a lossless DTS-HD Master Audio 5.1 (48kHz/16-bit) soundtrack that sounds big and reverberant, but lacks a very distinct soundfield with solid, discrete atmospheric effects in the surround channels and even, at times, across the front stereo field. What I did not notice in the Arrow track, however, was clipping in the dialogue during louder passages, which I did hear a little of on The Flash. Still, while the soundtrack works, it is only average for this sort of material, even for a TV series.

Supplemental Materials
[Rating:3.5/5]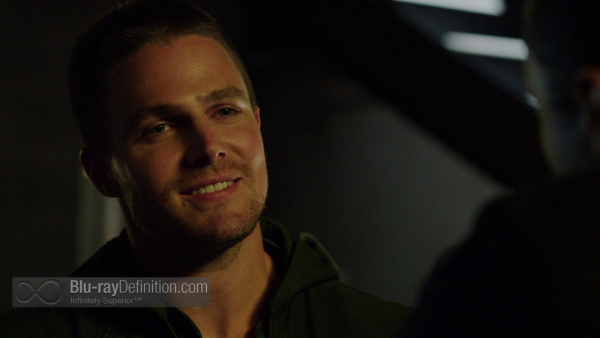 Disc 1:
Commentary – The Calm with producers Marc Guggenheim and Wendy Mericle.
Deleted Scenes:

The Calm
Sara
Corto Maltese
The Secret Origin of Felicity Smoak
Disc 2:
Commentary – The Climb
Deleted Scenes:

The Climb
Midnight City
Uprising
Disc 3:
Disc 4:
The Man Beneath the Suit: The Atom's First Fight (1.78:1; 1080p/24; 00:07:18) – Ray seeks the help and guidance of Oliver's skill set of defense and combat. Oliver helps Ray to learn that it's not the suit that is heroic, it's the man beneath the suit who holds the potential for greatness.
Nanda Parbat: Constructing the Villain's Lair (1.78:1; 1080p/24; 00:22:49) – Arrow is populated with characters that are so well crafted you are left to believe they actually could exist and accomplish their incredible feats. But that believability would fall short if the world they lived in wasn't just as realistic. Season 3 introduced audiences to one of the most ambitious sets to date; Nanda Parbat.
Second Skins: Creating the Uniforms of Arrow (1.78:1; 1080p/24; 00:17:13) – Costume designer Maya Manishows us how her design team works to create fresh and inspired uniforms for the character of Arrow.
Gag Reel (1.78:1; 1080p/24; 00:03;58)
Arrow at Comic-Con 2014 (1.78:1; 1080p/24; 00:28:55) – The cast and creative team of Arrow discuss their upcoming third season at Comic-Con 2014
Deleted Scenes:

The Fallen
My Name is Oliver Queen

The Definitive Word
Overall:
[Rating:4/5]
Arrow is still good in its third season, but can they keep it up with season four? Only time will tell. In the meantime, watch this season in this excellently transferred Blu-ray from Warner Bros.

Additional Screen Captures