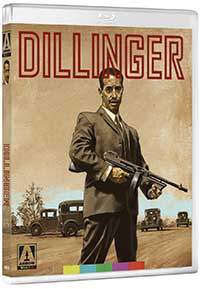 Dillinger marked uber-screenwriter John Milius (Apocalypse Now) directorial debut. For a few years before the man was one of the highest paid writers and script doctors in Hollywood but he yearned to direct a feature. This transpired when Milius was being a smart ass to producer and backer of the Lawrence Gordon (Predator) that he couldn't be afforded due to such a high rate for the script. Gordon responded that if he didn't want to direct then to hell with him. This froze Milius in his tracks and the men went to work on the tale of the infamous John Dillinger, one of the greatest criminals in American history.
Warren Oates stars as John Dillinger, a modern day criminal of the people. He doesn't want to hurt regular folks but has no problem shooting it out with the police or causing tons of collateral damage, which include innocent bystanders getting mowed down at any given moment. He's pursued by G-man (government man) Agent Melvin Purvis (Ben Johnson) across the country. Purvis does have the authority to shoot and kill on sight thanks to J. Edgar Hoover.
The film has equal parts road film, romance, thanks in part to the woman Dillinger falls for played by Michelle Phillips, and it has tons of bloody red violence. I wouldn't be surprised if the most expensive items on the special
effects crew list were for squibs. When folks get riddled with gunshots you will see the bullet hits and the blood splatter that goes with. Keep in mind that this was 1973 – there's an almost Wild Bunch feeling the film, and like that film, Dillinger portrays our bandit as an anti-hero along with his gang. I'm sure that may have rubbed some folks the wrong way back then and even now. Arrow Video has restored Dillinger and loaded it up with some brand new special features. It's a shame that John Milius couldn't participate, as he is still recovering from various illnesses.
As far as the film being a good film or not – it's definitely up there in terms of having entertainment value. Whether it's completely accurate is almost beside the point – and no, it's not 100% accurate for the most part. This is a John Milius film after all. It may be filled with some dirty rotten scoundrels but at least it's an entertaining romp. Arrow Video continues to do great work in licensing titles out and giving them the TLC that they deserve and Dillinger is no exception.
The Video
Dillinger is presented in 1.85:1 1080p widescreen. This is a brand new 2K restored print and it looks gorgeous. Since the film was shot on a relatively short budget the filmmakers relied on a lot of natural light. This comes through in the Blu-ray, because it looks outstanding. I did not detect any instances of dirt or debris in the print and contrast and sharpness levels were kept in check. Softness may creep in here and there but it's merely an after thought. Colors are muted but that has to do with the times – the film takes place in the 1930's. Certain folks' outfits and certain exteriors may be colorful but the film has a nice washed out sepia tone to it, which I adore.
The Audio
Dillinger is presented in 1.0 LPCM mono. The soundtrack compliments the video transfer fairly well. Dialogue, music and effects share the sound field and never feel cluttered. The film does have tons of action and those scenes never grate. The smooth wisecracking dialogue also never sounds clipped or crackled. Music cues are well defined and those scenes involving music sound full and engaging. Arrow Video continues to do stellar work when it comes to remastering monaural sound.
The Supplements
The supplemental materials are excellent and they feature 3 brand new interview with some Milius collaborators like producer Lawrence Gordon, cinematographer Jules Brenner, and composer Barry De Vorzon. There's also an excellent audio commentary by Stephen Price and the Blu-ray also has an isolated music score.
SPECIAL EDITION CONTENTS
Brand new 2K restoration of the film from original film materials
High Definition (1080p) Blu-ray and Standard Definition DVD presentations of the film
Original mono soundtrack (uncompressed PCM on the Blu-ray)
Optional English subtitles for the deaf and hard of hearing
Audio commentary by Stephen Prince, author of Savage Cinema and Screening Violence
Newly-filmed interview with producer Lawrence Gordon (HD)

Newly-filmed interview with director of photography Jules Brenner (HD) 

Newly-filmed interview with composer Barry De Vorzon (HD)

Stills gallery
Theatrical trailer (HD) 

Reversible sleeve featuring original and newly commissioned artwork by Sean Phillips
Collector s booklet containing new writing by Kim Newman on fictional portrayals of John Dillinger, plus an on-set report containing interviews with writer-director John Milius and others, illustrated with original production stills
The Final Assessment
Dillinger was a mighty dine debut from John Milius in a directing capacity. He may have been a rookie but was assured in his abilities and crafted one of the best films on John Dillinger ever made. The new Blu-ray from Arrow Films features a superb recasting along with some excellent special features. Highly recommended!
Dillinger (TheaterByte Blu-ray Review)
R (for action violence)
Rating Certificate
Arrow Video
Studios & Distributors
$39.95
MSRP
26 April 2016
Release Date
English LPCM 1.0 Mono (48kHz/24-bit)
Audio
Summary
Most folks still have Public Enemies on the brain but if you want to go back further and see a film that has a bit more depth as opposed to flash then John Milius' Dillinger is the perfect choice.
What people say... Login to rate
Be the first to leave a review.
Show more