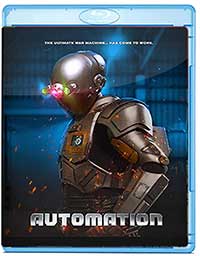 Automation is a quirky little indie sci-fi film that explores contemporary themes of artificial intelligence, robots replacing humans in the workplace, and the implications of human and AI interactions on a personal level.
Auto is a humanoid robot with an advanced AI system that has been repurposed from being used in combat to being used in an office setting. So far, Auto has been working out pretty well and even seems to be developing a close friendship with his co-worker, the independent contractor Jenny (Elissa Dowling), maybe even something beyond friendship. What most of the workers at the company and even Auto didn't know is that Auto being there was a test program to see how these robots would fit into an office setting. When the struggling company informs the workers that most of them will be laid off and be replaced by a number of even more advanced "Auto" type robots, and even Auto will have his memories and operating system wiped and upgraded, things don't go as planned. Some of the workers revolt and Auto begins to transform back into a killing machine.
Director/co-writer Garo Setian has said the goal with Automation "was to tell an interesting and timely story with characters the audience cares about" and described it as a "satire of corporate cost-cutting and planned obsolescence". I wouldn't say the film completely works as a sociopolitical satire, but characters we care about, yes, even if Auto often comes across as a C-3PO's creepier cousin. That is, oddly enough, his charm.
The film does weirdly make us believe that Auto and his female co-workers can develop an intimate relationship, and that also makes the second half of the film where Auto goes into combat mode more intense. That is where Automation is most effective because, despite its low budget, Setian does manage to build the tension and use visual effects in a way that grounds this sci-fi movie and keeps it from becoming too B-movie cheesy.
The Video
Automation arrives on Blu-ray in an AVC 1080p encodement from Epic Films. This low budget indie film isn't going to 'pop' like its big-budget counterparts, but this release is solid, with good detail and color and nuanced shadows. There are a few shots where the picture looks a little soft and a bit noisy due to the production, but otherwise, there's nothing much to complain about with this BD.
The Audio
This release comes with a lossy Dolby Digital 5.1 audio mix, which is a rarity on Blu-ray these days. The mix is adequate, but it's not one that is going to become a showpiece, not because of the codec, but because it's not a very exciting mix. It's mostly front-heavy with some mild use of the surround channels and dynamic range isn't extremely wide. That being said, the mix works, there's a good balance of sounds and mostly clear dialogue.
The Supplements
This release is packed with more bonus materials than the average release. Most of it is interesting, especially the two commentaries that yield a lot of information on the filming.
Commentary with producer/writer/director Garo Setian and writer Rolfe Kanefsky
Commentary with producer/writer/director Garo Setian, producer Anahit Setian, and producer Dan Bowen
Deleted Scenes w/optional commentary (1080p; 00:03:48)
Alternate Takes w/optional commentary (1080p; 00:02:35)
Bloopers (1080p; 00:05:34)
Behind the Scenes Featurette (1080p; 00:20:06)
Writing the Screenplay (1080p; 00:12:29)
Building "Auto" with "Evil" Ted (1080p; 00:09:13)
"Auto's Voice" An Interview with VO Artist Jim Tasker (1080p; 00:11:16)
Interview w/Garo Setian – Producer/writer/director (1080p; 00:09:16)
Interview w/Anahit Setian – Producer/ "Marci" (1080p; 00:15:42)
Interview w/ "Evil" Ted Smith – Producer/Creator of "Auto" (1080p; 00:16:22)
Interview w/Esther Goodstein – Producer (1080p; 00:06:09)
Interview w/Sarah French – "Linda" (1080p; 00:07:30)
Interview w/Rolfe Kanefsky – Writer (1080p; 00:04:37)
Interview w/Matthew L. Schaffer – Writer (1080p; 00:08:59)
Interview w/ Joel Christian Goffin – Composer (1080p; 00:06:28)
Automation Trailer (1080p)
The Final Assessment
Automation is a fun little sci-fi dark comedy/thriller with a memorable robot that's sort of the anti-Chapie or C-3PO's weird cousin. This Blu-ray release is a strong one with good picture quality and excellent collection of bonus features.
Automation is out on Blu-ray from Epic Films
---
The Creative Content: 2.5/5
The Video: 4.0/5
The Audio: 3.0/5
The Supplements: 3.5/5
Studios & Distributors: Capital Arts Entertainment | Hungry Monster Entertainment | Thriller Films | Epic Pictures
Director: Garo Setian
Writers: Rolfe Kanefsky | Matthew L. Schaffer | Garo Setian
Run Time: 92 Mins.
Aspect Ratio: 2.35:1
Video Format: AVC 1080p
Primary Audio: English DD 5.1
Secondary Audio: English DD 2.0
Subtitles: English SDH | Spanish