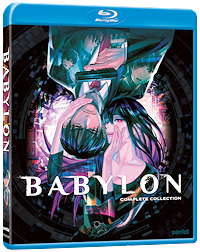 Babylon is the 12-episode anime series based on the Japanese novel series written by Nozaki Mado and illustrated by Zain. This is a suspense thriller that follows Seizaki Zen, a public prosecutor in the newly created Shiniki district west of Tokyo. The area has become the grounds for a planned new nation. When Zen begins investigating possible illegalities at a major pharmaceutical company concerning one of their new drugs, it leads him to a possible conspiracy over the new autonomous zone in Shiniki, and an enigmatic politician, Itsuki Kaika, running for mayor of the new zone, who happens to be pushing for a new law to legalize suicide. Zen also crosses paths with the strange young woman, Magase Ai, a master of disguise who seems to possess an ability to use her voice to convince people to kill themselves.
The topic of suicide is obviously a dark, heavy one that bears a lot of cultural weight both in Japan, where they historically have one of the highest suicide rates in the world, and in the United States where there is a continuing battle over 'right to die' laws. The main antagonist, Ai, seems to be the metaphor for questioning in this series, constantly harassing Zen with questions about what is right or wrong.
While this series seems like a common thriller or mystery at first glance, it is more layered than that, and it can become overwhelming, even causing the need for a warning to be carried at the end of each episode. That being said, it does tend to become a bit monotonous and mixed up. After several episodes we are given the same situations over and over – Magase Ai possibly causes people to kill themselves and for some reason Itsuki Kaika wants a law passed legalizing suicide that people are terrified of. The story doesn't grow much beyond that, but we are left to ponder the implications and reasoning of it all. And we can do it while viewing a solidly animated, drawn, and acted series.

The Video
I saw only the slightest hint of banding in what is an otherwise clean and detailed, with strong but not overly vibrant color transfer. The series is presented in a 1.78:1 AVC 2080p encodement on Blu-ray from Sentai Filmworks.
The Audio
Babylon comes with the original Japanese-language stereo mix in DTS-HD Master Audio 2.0 and an English dub in DTS-HD Master Audio 2.0. These tracks both sound very similar and provide strong stereo panning, good dynamics, and a natural sense of atmosphere given the lack of surround channels. The English voice cast do a decent job with the material, some of them matching the timber of the Japanese cast quite closely and performing with equal and appropriate intensity.
The Supplements
The supplements for Babylon are only the clean opening & closing animations and additional Sentai Filmworks trailers.
The Final Assessment
This one won't be for the faint of heart or easily triggered. That said, this is a good all-around series with some story weaknesses but a strong transfer.
---
If you found this article useful please consider clicking the button below and donating to help keep TheaterByte funded, which will allow us to continue posting great content.
---
Babylon: Complete Collection is out on Blu-ray May 11, 2021 from Sentai Filmworks
---
TV Rating: TV-MA (VSD)
Animation Studio: Revoroot
Distributor: Amazon Video (streaming) | Sentai Filmworks (Home Video)
Director: Suzuki Kiyotaka
Written By: Nozaki Mado (novel series) | Sakamoto Minaka
Run Time: 300 Mins.
Street Date: 11 May 2021
Aspect Ratio: 1.78:1 AVC 1080p
Video Format: AVC 1080p
Primary Audio: Japanese DTS-HD MA 2.0 Stereo
Secondary Audio: English DTS-HD MA 2.0 Stereo
Subtitles: English