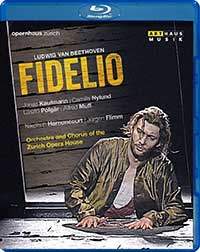 As Beethoven's only contribution to the operatic stage, Fidelio provides a tribute to marital fidelity (ironically, the composer was a confirmed bachelor) and to the strength of the human spirit under profound oppression.
The opera is set in the prison where Florestan (Jonas Kaufmann) is being held. Fidelio (Camilla Nylund), actually Florestan's wife Leonore, is disguised as a man in hopes of getting in the good graces of Rocco (Laszlo Polgar) the jailer so she may finally see her husband. Rocco has been ordered by the evil prison governor Don Pizarro (Alfred Muff) to starve Florestan to death. When word comes that the minister Don Fernando (Guenther Grossboeck) is going to make a "surprise" visit to the prison, Pizarro decides to take matters into his own hands and kill Florestan once the trumpet sounds, announcing Don Fernando's arrival.
Fidelio has convinced Rocco to let her accompany him to Florestan's cell. They find him unconscious and revive him with some bread and water only to have Pizarro enter with a knife, intent on stabbing the prisoner. In a stunning show of courage, Fidelio places herself between the governor and her husband and pulls a pistol on Pizarro.  Don Fernando saves the day when he recognizes Florestan as his long-lost friend whom he presumed had died. Husband and wife are reunited, as the other prisoners are freed. Pizarro is led away to be punished for his evil deeds.
This Blu-ray, the second from the Zurich Opera, is taken from 2004 performances that feature the Swiss tenor Kaufmann who was on the verge of becoming an operatic superstar. Camilla Nylund's bright lyric soprano is over parted for a role that requires a much weightier voice. The supporting cast is fair to middling with nice turns by baritone Grossboeck and bass Polgar offset by the leathery voiced Pizarro of Alfred Muff. Early music specialist Nikolaus Harnoncourt had turned to the romantic period repertory somewhat late in his distinguished career and brings a lighter than usual touch to this hefty score. Stage director Jurgen Flimm sheds no new light on the dramaturgy that is not helped by a bare stage and drab period costumes from Rolf and Mariane Glittenberg.
The Video
This is an "upscaled" 480p video and its soft edges betray its non-high definition provenance. That said, colors such as they are, are decent given the nearly continuous darkness of the stage.
The Audio
The sound of the DTS-HD MA 5.1 version presents a well-balanced account of voices and orchestra with a slight favoring of the former. There is little going on in the surround channels.
The Supplements
Arthaus Musik gives us a nice program booklet with cast and production credits, track listing, a plot synopsis, and Eva Reisinger's background essay on the opera. Outside of trailers for other AM offerings this is all that we get.
The Final Assessment
One of the great moments in all of opera is Act II's confrontation between the heroine and her evil nemesis and this is just one of several vocal letdowns in this performance. Jonas Kaufmann turns in his usual outstanding sing and becomes the principal reason for acquiring this disc. However, the video to own is the Met Opera's starry-casted DVD version with Karita Mattila, Ben Heppner, Rene Pape and James Levine.
Beethoven: Fidelio [Zurich Opera/Harnoncourt] (TheaterByte Blu-ray Review)
Not Rated
Rating Certificate
Arthaus Musik
Studios & Distributors
Ludwig van Beethoven
Writer
$39.99
MSRP
29 April 2016
Release Date
English, German, French, Spanish, Italian
Subtitles
Summary
Beethoven's only opera Fidelio receives an uneven performance from its principals with the exception of star tenor Jonas Kauffmann, the main reason for considering its purchase
What people say... Login to rate
Be the first to leave a review.
Show more