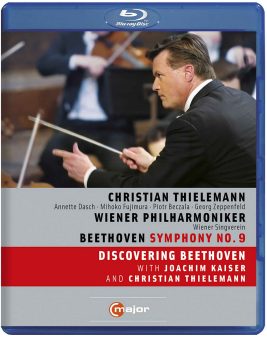 There is no shortage of Beethoven Symphony No.9 performances on Blu-ray disc, and this iconic oversized work opened the doors for subsequent composers like Berlioz and Mahler to write huge symphonic pieces that featured vocal soloists and choruses. The present disc is actually a re-release of a 2010 concert that was included in a box set of Beethoven's final three symphonies, all with maestro Christian Thielemann leading the Wiener Philharmoniker. Additional forces participating in this work include a vocal quartet of soprano Annette Dasch, alto Mikoko Fujimara, tenor Pyotr Beczala, and bass Georg Zeppenfeld, supported by the Wiener Singverein choral forces led by Johannes Prinz.
Almost everyone knows this symphony from its rousing final movement that brings in the soloists and chorus to render Friederich Schiller's familiar ode "To Joy," but there are three preceding movements that are brilliant in their own right. Symphony No 9 opens with spirited but somewhat weighty Allegro ma non troppo that is followed by a Scherzo with fleet dance rhythms (reminiscent of a similarly styled movement in the "Pastorale" Symphony No.6). A heart-felt and ineffably beautiful Adagio molto e cantabile sets up the breakout finale, a movement like no other Beethoven had ever composed, opening with a theme on the low strings that is later reintroduced by the bass soloist and followed by music of the other vocal lines of the ode "To Joy."
Trivia fanciers might be interested to know that it was this very symphony that determined the maximum playing time of a CD, 80 minutes, and that is exactly the run-time of this performance. Paying due respect to the original tempi, maestro Thielemann gets his musical team to deliver a powerful yet measured account of a towering masterpiece that surely would have pleased its composer had he been able to hear it (he was already deaf when he composed the work). The soloists move from strength to strength and the selection of both the performance venue and the chorus hearken back to the symphony's premiere in Vienna in 1824.
The Video
Agnes Meth is a very experienced video director and her cameras deliver spot-on coverage of the orchestral players and the singers, together and individually. C Major classical Blu-ray discs always seem to bring out the best in production values and this one is a demonstration-quality watch in its colors, contrasts, and details.
The Audio
The Goldener Saal der Gesellschaft der Musikfreunde is an acoustic marvel in the old-school tradition and the audio engineers give us everything that the audience heard in April 2010. Instrumental details, vocal shading, and the dynamics of the DTS-HD Master Audio 5.0 soundtrack are simply superb.
The Supplements
As is the case with the entire Thielemann/Wiener Philharmoniker Beethoven cycle, there is a major bonus in the documentary video "Discovering Beethoven" that features both musicologist Joachim Kaiser and conductor Thielemann as the duo takes on a discussion of this symphony. A slim program booklet has cast and production credits, track listings, and a background essay on this work and performance by Harald Reiter.
The Final Assessment
The final installment in possibly the greatest symphonic cycle ever written is the ultimate test of a conductor's understanding of this complex work and his or her ability to communicate that understanding to the orchestral players. As I have watched conductor Thielemann over the years, I have seen the emergence of one of the truly great musicians of our times. While there are more versions of the Choral Symphony than I can count, this is music making as good as it gets. If you already have the box set of last three Beethoven symphonies, you are good to go but if not, get this one at a bargain price that will provide a great return on investment.
Beethoven: Symphony No.9 [Thielemann/Wiener Philharmoniker] (TheaterByte Blu-ray Review)
Not Rated
Rating Certificate
C Major Entertainment
Studios & Distributors
Ludwig van Beethoven
Writer
$14.99
MSRP
30 Sept. 2016
Release Date
English DTS-HD MA 5.0
Audio
English | French | Spanish | Italian | Korean | Chinese | Japanese
Subtitles
LPCM 2.0 Stereo
Secondary Audio
Summary
A splendid performance of Beethoven's final symphony with musical and production values that are as good as it gets.
What people say... Login to rate
Be the first to leave a review.
Show more