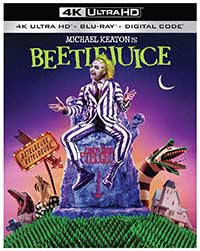 Beetlejuice was one of the most unusual and unlikely box office successes to come out of the 1980s and one of the fullest artistic visions of Tim Burton pre-Batman. Geena Davis and Alec Baldwin star married couple Barbara and Adam who end up dying in a car accident thanks to a wandering doggie and end up living as ghosts in their own home due to a backlog to get into heaven. But now they have to share their home, so to speak, with the world's most annoying yuppie couple (Catherine O'Hara and Jeffrey Jones). Despite their best efforts to scare the new occupants of their home away, Barbara and Adam make for terrible ghosts, so they enlist the help of a veteran malevolent spirit named Beetlejuice (Michael Keaton), a clownish looking, unkempt, and crude spirit who seems like the perfect ghost for the job – that is until he starts crushing on the new couple's goth daughter Lydia (Winona Ryder) and his priorities shift.
This film is magnificently cast and set in the kind of off-kilter world that we have come to expect from Tim Burton by now – dark, brooding, and creepy. Yet this particular film leans heavily into slapstick comedy which counters the dark overtones, while still utilizing much of the creepy, horror-style stop-motion animation in the visual effects that Burton is so found of.
Ultimately, it is Keaton's outlandish performance that really sells this film, however, and what probably sticks out the most in people's minds when they think of this film. It is a foreshadowing of Burton's next major feature from the following year, where Jack Nicholson's outlandish Joker is the standout and Keaton's reserved and violent Batman/Bruce Wayne, ironically, takes a backseat. Baldwin and Davis in another ironic twist help ground the film in reality through their everyday guy and gal performances.
Beetlejuice was successful enough that producer David Geffen, director Tim Burton, and composer Danny Elfman all got involved in an animated spinoff of the film.
The Video
Beetlejuice was originally shot on 35 mm Eastman 125T 5247 and 400T 5295 film stock with Panavision Panaflex cameras and comes to 4K Ultra HD Blu-ray from a brand new 4K digital master with HDR10 HDR in an HEVC 2160p (4K) encodement framed at 1.85:1. Like the previous film I already reviewed, The Goonies, in these four films Warner is releasing on 4K on September 1, this one looks really good for a film that dates back to the 1980s. It has obviously been cleaned up a bit, but DNR isn't heavy-handed whatsoever, one can still see film grain and textures. There's also strong color reproduction owing to the WCG and lots of 'pop' in the highlights from the expanded dynamic range.
The Audio
Beetlejuice gets an exciting Atmos remix that fills the channels with Danny Elfman's score and spreads the frenzy of the action around wonderfully. The low end has good thump. There's a good sense of height when the Atmos channels do kick in.
The Supplements
Like the other three September first 4K Ultra HD releases, Beetlejuice comes with a repackage of its original Blu-ray release, which also contains all the original bonus materials, all in standard definition. There are no new special features outside of the digital code.
Movies Anywhere digital code
Beetlejuice Cartoon Episodes:

A-Ha! (SD; 00:12:14) – Doomie turns up missing and Beetlejuice transforms himself into the Neitherworld's greatest detective, Sherlock Homely.
Skeletons in the Closet (SD; 00:12:14) – Beetlejuice has a closet in the Neitherworld which is filled with skeleton ghosts – one for every lie he's ever told.
Spooky Boo-Tique (SD; 00:12:14) – Lydia decides to try being a fashion designer, and Beetlejuice, seeing dollar signs, sets her up at the local mall with a full inventory.
Theatrical Trailer (SD)
The Final Assessment
Warner has done a great job with the 4K transfer for Beetlejuice and has even done a strong Atmos remix for this action-packed comedy/fantasy. The bonus features add nothing new as the Blu-ray is a repackage with the same extras. Only a Movies Anywhere digital code is added.
Beetlejuice is out on 4K Ultra HD Combo Pack September 1, 2020 from Warner Bros. Home Entertainment
Purchase on Amazon.com:
---
The Creative Content: 3.5/5
The Video (overall): 4.5/5
HDR Effect: 5/5
The Audio: 4.5/5
The Supplements: 2.0/5
Rating Certificate: PG
Studios & Distributors: The Geffen Company | Warner Bros. Home Entertainment
Director: Tim Burton
Written By: Michael McDowell | Warren Skaaren | Larry Wilson (story)
Run Time: 92 Mins.
Street Date: 1 September 2020
Aspect Ratio: 1.85:1
Video Format: HEVC (H.265) 2160p (4K) | AVC 1080p (Blu-ray)
HDR Format: HDR10
Primary Audio: English Dolby Atmos (Compatible w/ Dolby TrueHD 7.1)
Secondary Audio: French DD 5.1 | Spanish DD 5.1
Subtitles: English SDH | Latin Spanish | Canadian French | Brazilian Portuguese