– –
The Film
[Rating:3/5]
In 1986, the creators behind the previous year's Re-Animator returned with the now nearly equal cult classic sci-fi/horror gem, From Beyond. Director Stuart Gordon once again returns to the works of writer H.P. Lovecraft for his inspiration here and lets his own creative juices run wild in a typically over-the-top, nearly surreal adventure filled with blood, gore, and psycho-sexual perversions.
The story finds Jeffrey Combs (Transformers Prime; Star Trek: Enterprise; The Witches of Oz), playing the timid scientist Crawford Tillinghast, apprentice to mad scientist Dr. Pretorious (Ted Sorel). Pretorious has created a machine called "The Resonator" designed to stimulate the brain's pineal gland, thus expanding the power of the mind. There are unforeseen occurrences, and the device opens up a gateway to a parallel dimension with slimy creatures who take over control of Dr. Pretorious' body and mind. When Tillinghast shuts down the Resonator to try and save Pretorious, he finds himself accused of murder and locked up in an insane asylum. In step the beautiful Dr. Katherine McMichaels (Barbara Crampton) and officer Bubba Brownlee (Ken Foree) to accompany Tillinghast back to the lab to observe him to see if he can recreate the events he described and prove he is innocent. When the Resonator is turned back on, a groteque Dr. Pretorious returns, ready to prey on Tillinghast and especially the lovely Dr. McMichaels. But the opening of the gateway to the parallel dimension also begins to affect the three in ways unimagined. Their sexual desires come to the surface, and all sorts of wild things begin to occur.
While nothing in this story leads one to believe that the dots are necessarily connected in a cohesive manner, Gordon does good work in taking Lovecraft's story and interpreting it with a wink and nod, while assembling a crew of extremely talented effects artists that make the visuals, even when they are so unbelievably fake, feel just right. The overriding sense of levity goes a long way into making From Beyond a more than palatable feast of gore for fans of the genre as well.
Video Quality
[Rating:4/5]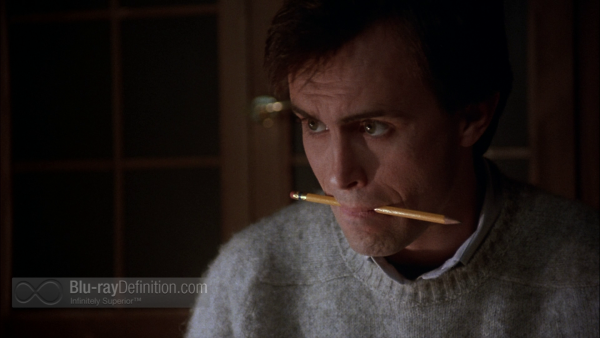 I previously reviewed the UK Blu-ray release of From Beyond from Second Sight, which I thought looked very good given the genre and age of this film. This debut offering from the OFDb.de on their OFDb.de FILMWORKS imprint looks just as good, perhaps identical, maybe slightly crisper in detail. The release opens the matte, however, to a full 1.78:1 aspect ratio from the original 1.85:1, which appears on the Second Sight release. There's very little difference in the two in that regard as well. Color temperatures and the overall film-like qualities of either release remain consistent and both will supply a pleasant experience for horror buffs.
Audio Quality
[Rating:4.5/5]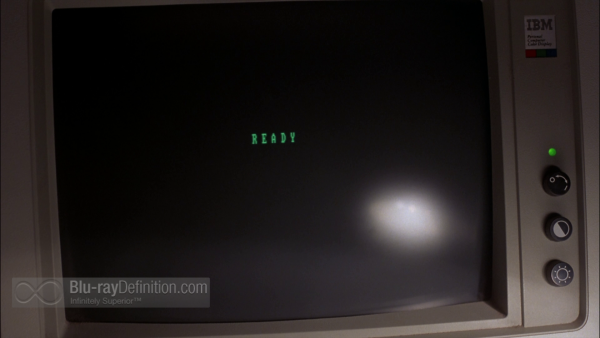 The German release of From Beyond from FILMWORKS is a slight improvement over the Second Sight, but only by the slimmest of margins. An English DTS-HD Master Audio 4.0 (48kHz/24-bit) track is offered alongside a German dub in DTS-HD 2.0 (48kHz/24-bit). The sounds is spacious and ambient, with some low-level atmospherics in the surround channels that sound just a bit more audible than the UK Second Sight Blu-ray's DTS-HD Master Audio 4.0 16-bit track, and an equality wide stereo soundfield with highs that are a tad more natural.
Supplemental Materials
[Rating:5/5]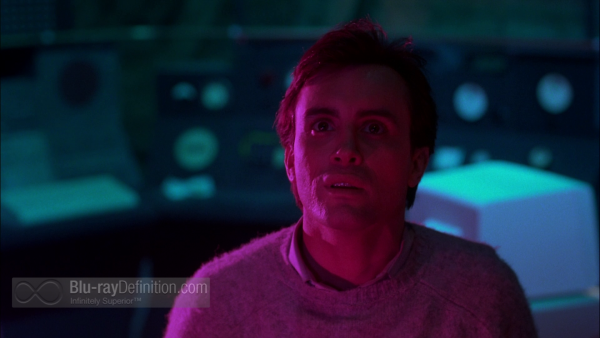 Almost all of the supplements on here also appear on the Second Sight release from the UK, but this release adds two more audio commentaries, a multiple dimensions featurette, and the original trailer.
The supplements:
Audio Commentary with Stuart Gordon and Cast
Audio Commentary with Denis Paoli
Audio Commentary with Film Historians Marcus Stiglegger and Kai Naumann
Stuart Gordon on From Beyond (1.78:1; 1080p/24; 00:20:34)
The Director's Perspective: Interview mit Regisseur Stuart Gordon (1.78:1; SD/PAL; 00:08:53)
Gothic Adaptation: Interview mit Drehbuchautor Dennis Paoli (1.78:1; 1080p/24; 00:16:02)
A Tortured Soul: Interview mit Darsteller Jeffrey Combs (1.78:1; 1080p/24; 00:17:46)
Paging Dr. McMichaels: Interview mit Darstellerin Barbara Crampton (1.78:1; 1080p/24; 00:13:44)
The Doctor is In: Interview mit Darstellerin Barbara Crampton (1.78:1; 1080p/24; 00:14:28)
An Empire Production: Interview mit Produzent Charles Band (1.78:1; 1080p/24; 00:05:02)
Interview mit Komponist Richard Band (1.78:1; SD/PAL; 00:04:34)
Multiple Dimensions (1.78:1; 1080p/24; 00:23:41)
Monsters & Slime (1.78:1; 1080p/24; 00:20:43)
The Editing Room: Lost & Found (1.78:1; SD/PAL; 00:04:47)
Storyboard-/Film-Vergleiche (1.78:1; SD/PAL)
Englischer Trailer (1.85:1; SD/PAL)
Booklet with Essay by Lovecraft expert Kai Naumann (German)
Exclusive "hard box" edition available
The Definitive Word
Overall:
[Rating:4/5]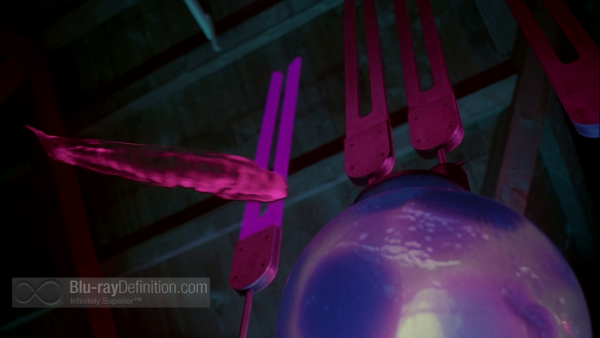 Whether hinting on what the Japanese might call "shokushu goukan" or "tentacle rape", or just giving us a straight up sci-fi tech spoof, the '80s cult classic From Beyond has it all. The transfer to Blu-ray made available by the OFDb.de's FILMWORKS label is an impressive beginning for the fledgling distributor from Germany's largest online database of film and television.
Additional Screen Captures