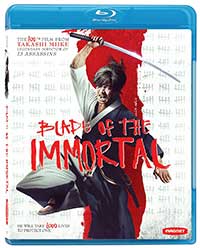 Blade of the Immortal arrives as the 100th film from legendary director Miike Takashi (13 Assassins). Based on the manga by Samura Hiroaki, this modern chambura style film follows a skilled samurai warrior, Manji (Kimura Takuya), who when we first meet him, is on the run with his sister for killing his superior officer. After an epic battle against bounty hunters wherein his beloved younger sister is killed, Manji finds himself slain, but rather than dying, he his cursed with immortality via "blood worms" by a mysterious woman. Decades later, still haunted by the death of his sister, and in hopes of redeeming himself and regaining his soul, Manji agrees to help a young girl, Rin (Sugisaki Hana) avenge the death of her parents who were killed by a ruthless ronin named Kagehisa Anotsu (Fukushi Sôta). Their violent journey together will change both of them in ways they never expected.
Blade of the Immortal is brutal, make no mistake about it. This is a not a film for the timid or weak of heart. Miike throws up a relentless amount of blood sport and swordplay. Limbs sliced off, eyes gouged – it's all here. But there is also more to this film beyond what's on the surface. It stays true to its manga roots, for one, with its somewhat anachronistic caricatures of samurai and ronin, like the bleach-blonde female mercenary working for the government or the sexy, high-heeled opponent of Manji.
The most compelling aspect of Blade of the Immortal – aside from the edge-of-the-seat action – is the growing bond between Manji and Rin who become more than just a girl and her hired sword, but a makeshift family. It must be said that the young Sugisaki Hana displays acting skills beyond her years as Rin, showing a range of emotions and depth, holding her own next to the imposing Kimura Takuya as well.
The Video
Blade of the Immortal begins in black and white before switching to a shocking color.  I say shocking only because the blood-drenched prologue is tamped down by the stark black and white cinematography. That doesn't hold for long as the color quickly allows Miike to let loose with this sanguinary onslaught. The image looks filmic, if at times a little soft and there is some noisiness in the shadows.
The Audio
The Japanese DTS-HD Master Audio 5.1 mix is not as aggressive as the subject suggests it would be. This is a more restrained mix with a fairly front-heavy balance. Engaging Neural:X  in my Atmos/DTS:X capable setup livened it up more, but don't take that to mean the mix is bad. It is well-balanced and had good dynamics with a reasonable amount of motion during the relentless action sequences. The high frequencies are also presented wonderful, never becoming fatiguing as they convey the clanking of metal on metal during the sword fights.
The Supplements
A few 'making of' featurettes with some on-set footage and interviews with the cast and crew round out a solid offering of supplements.
Manji vs. 300 (1.78:1; 1080i/60; 00:18:24)
Cast Interviews (1.78:1; 1080i/60; 00:56:10)
Takuya Kimura Interview (1.78:1; 1080i/60; 00:28:44)
Poster Gallery (1080p/24)
Trailers
The Final Assessment
Miike delivers the goods in what is a relentless piece of action and blood with a heartfelt story of redemption and coming of age at its core. A contemporary chambara, Blade of the Immortal fits right in to the style of Miike's previous works and is satisfying for fans of this genre.
Blade of the Immortal is out on Blu-ray, Blu-ray Steelbook, and DVD February 13, 2018 from Magnolia Home Enterainment's Magnet Releasing
[amazon_auto_links id="108690"]
R (for bloody violence and carnage throughout)
Rating Certificate
Warner Bros. | Oriental Light and Magic (OLM) | Recorded Picture Company (RPC) | GyaO | Ken-On | Kôdansha | Rakueisha | TV Asahi | Toei Kyoto Studios
Studios & Distributors
Samura Hiroaki (manga) | Oishi Tetsuya (screenplay)
Writer
Japanese DTS-HD MA 5.1
Audio
English | English SDH | Spanish
Subtitles
English DTS-HD MA 5.1 | English Narrative
Secondary Audio
Summary
After being cursed with immortality after an epic battle against bounty hunters, Manji (Kimura Takuya), a highly skilled samurai haunted by the death of his beloved younger sister, tries to find redemption and reclaim his soul by helping a young girl named Rin (Sugisaki Hana) avenge the death of her parents by killing the ruthless ronin Kagehisa Anotsu (Fukushi Sôta) and all of his minions. Along the way they build a bond they never thought they would have. Miike Takashi's 100th film, Blade of the Immortal is a blood-soaked modern chambara that should satisfy his fans and fans of the genre with its relentless action and the heart at its core.
What people say... Login to rate
Be the first to leave a review.
Show more